It had been nearly two years since a high school track and field meet was held at Summit High.
On a blue-sky, windless spring afternoon Wednesday, the program with 17 state titles hosted its first meet since the Mountain Valley Conference Championships in May 2019. The meet included smaller schools Sisters, Gilchrist and Paisley.
"We had a lot of victories today," said Summit coach Dave Turnbull. "I don't think we are going to see a ton of incredible marks, but I am just excited for all of the kids to have a great experience."
Perhaps no other event brought as much intrigue as the girls 800 meters. There was a runner who had Turnbull and a couple of assistants dancing after a shattered school record, as well as possible safety issues for runners, who are still required to wear masks when competing.
A couple of meters from the finish line of the 800 and with everyone else in the race in her wake, Maggie Williams began to fall.
She was parallel to the track before skidding across the finish line in a time of 2 minutes, 8.45 seconds.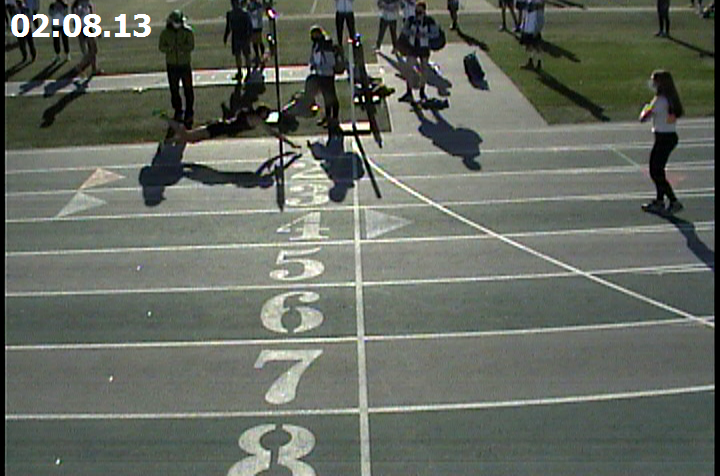 "I was pushing so hard and everything went blurry and I just fell," said the junior speedster. "But luckily I fell at the right spot and crossed the line with my head."
Once she regained consciousness, surrounded by coaches and nearby teammates cheering her on, she said she was a little scared to be waking up on the ground. But her attention quickly returned to her time and where it placed her in Summit's storied record books.
It was the fastest time in school history, breaking Izzy Max's 2019 record of 2:10.54. It is currently the fastest time in Oregon this year, as well as the fourth-fastest high school time recorded in the country.
"I really wanted to know if I had broken it," Williams said. "I was so excited when I found out. When I joined the program Izzy Max was a role model to me in the 800. This year Turnbull said I could break it so that has been my goal."
While thrilled to see a record broken, Turnbull was also fixated on freshman Karsyn Walton, a freshman who was bringing up the rear of the race in her first ever high school track meet.
"I'm equally proud of Karsyn," Turnbull said. "Those are the victories … you have a freshman who hasn't done track in years and wants to try the 800, which is the hardest event. But she comes out and does it. Kids can move people, and I saw a lot of kids moving people today."
Wednesday's meet also brought to light the issue of wearing masks while running.
Mask-wearing has been common practice this past year, and high school athletes in Oregon are required to wear them during competition. Oregon is one of 20 states to mandate mask-wearing during competition.
Turnbull raised the question of whether or not it is safe for athletes who are giving max effort in a race to wear a mask.
"I am concerned with the mask rule," he said. "This is what I am worried about and I said this at the beginning of the season. You get a kid running the 800 with a mask on, it is actually dangerous. They don't get the oxygen that they need. This rule needs to change."
Washington changed its mask mandate for cross-country and track earlier this year, and now allows competitors to run without a mask.
"Unfortunately in Oregon we have to follow the OHA (Oregon Health Authority)," Turnbull said. "And the OHA is not reasonable. I would like those people to come out and run an 800 with a mask on."