When Bend pet portraitist William McCollough learned that Jane Venable of Redmond was grappling with the death of her dog, Dan, he asked their mutual friend, his neighbor Gaylynne Wright, to find him some pictures of the yellow Labrador retriever.
"I painted the dog and got it all finished and put it in a matte, and I had it sitting on my art table at the house," he said. "We invited (Venable) over to look at my studio. She wanted to see what I was painting."
After showing Venable a painting of birds he was working on, "Gaylynne said, 'Show Jane the dog you've been painting.' And so I walked over and I said, 'Well, this is the dog I just finished.'
"She looked at it, and she said, 'That looks just like Dan.'
"I said, 'Well, it is Dan.' And she just burst into tears. Then we were all crying by the time it was all over."
Venable had Dan for 10 years, whom she rescued when he was 8 months old.
"He was a rescue from Brightside (Animal Center). He and his sister had been tied to a tree apparently. That's the story that we heard: They ate every piece of wood in sight," including, but not limited to, furniture, windowsills, baseboards and leather.
When his sister developed a seizure disorder, they had to put her down. Six months later, Dan developed the disorder too.
"But he was able to be managed," Venable said. "But he kept on getting crazy things." Anemia necessitated a blood transfusion.
He developed an enlarged heart, "so then he had a cardiologist," Venable said. He needed surgery when he developed a growth on his leg, and also developed glaucoma.
When he collapsed one day about a year and a half ago, she thought it was his heart
.
"We took him for an emergency scan, and he had cancer through every organ in his body," she said.
"So I took him home, my vet came over, and we put him down."
When she later saw McCollough's painting of Dan, she "cried and cried," she said. "Now it is framed and it's (hung) right on the side of my bed, so it's the last thing I see at night, and it's the first thing I see in the morning."
McCollough, a dog owner himself, understands the bonds people forge with their pets.
"They become such a part of your life," he said. "The main reason I do the portraits is because of the joy I've seen (of course, tears also if the pet has passed on) on my client's faces."
McCollough, 72, has been drawn to realism since he began painting 25 years ago, frequently painting scenes of the Northwest. But it's the self-taught artist's lifelike animal portraits, usually done by commission or as gifts, that are winning him fans in Central Oregon.
McCollough, whose friends call him "Buzz," estimates he's painted somewhere in the neighborhood of 60 portraits and counting.
"I haven't done any snakes or anything like that. It's been mostly dogs, cats. I've done some horses, a few birds," he said over coffee in November. McCollough moved to Bend two years ago from Seattle, where he lived for 30 years and was a member of the Seattle League of Arts.
The number of animals he's painted is actually higher than the sum number of paintings, as a single piece sometimes contains more than one critter — for example, his painting of Karen and Richard Brodsky's three dogs.
"Karen got them sitting in the back of their SUV," McCollough said. "She said, 'I got this picture, but I tell you, it took me almost two hours to get them all to sit still and face me to get this. … I hope you appreciate it.' I said, 'Oh yeah, I do.' She gave it to her husband for Christmas."
McCollough, a retired medical professional, always paints from photographs. Though he's sometimes met his subjects in person, it would be difficult to get most animals to pose long enough for a few brushstrokes.
Getting a sharp photograph to work from is crucial, McCollough said.
"A lot of people take them with a flash, and the best picture to use is one that's taken with natural light," he said. "Because a flash tends to wash out the natural eye color, and I prefer a head-on photo so you can see both eyes, both ears and the nose and mouth. It makes the best picture, and I think people prefer something like that."
However, it's not always possible to get the right picture. Oftentimes, his paintings are memorials of dead pets.
"Sometimes when the pet has passed away, they don't have a picture like that, so I have to go with whatever they have and do the best I can with that," he said. "In many cases people contact me, and many of their pets have passed away and they want a remembrance of their pet. I would say maybe half of the portraits that I paint are people's pets who have passed away."
McCollough said that his life partner calls him "The dead pet painter."
Venable was so impressed by McCollough's painting of Dan that she commissioned him to paint her daughter's dog, Duke, a pit mix.
"He's got all these colors, and these crazy ears," Venable said. His ears are so large she makes a reference to "The Flying Nun."
"He looks like he could fly away, but (he has) a super cute face. So I gave her that present last year for Christmas. … She loves it, and of course cried as soon as she saw it. Duke and Dan were friends."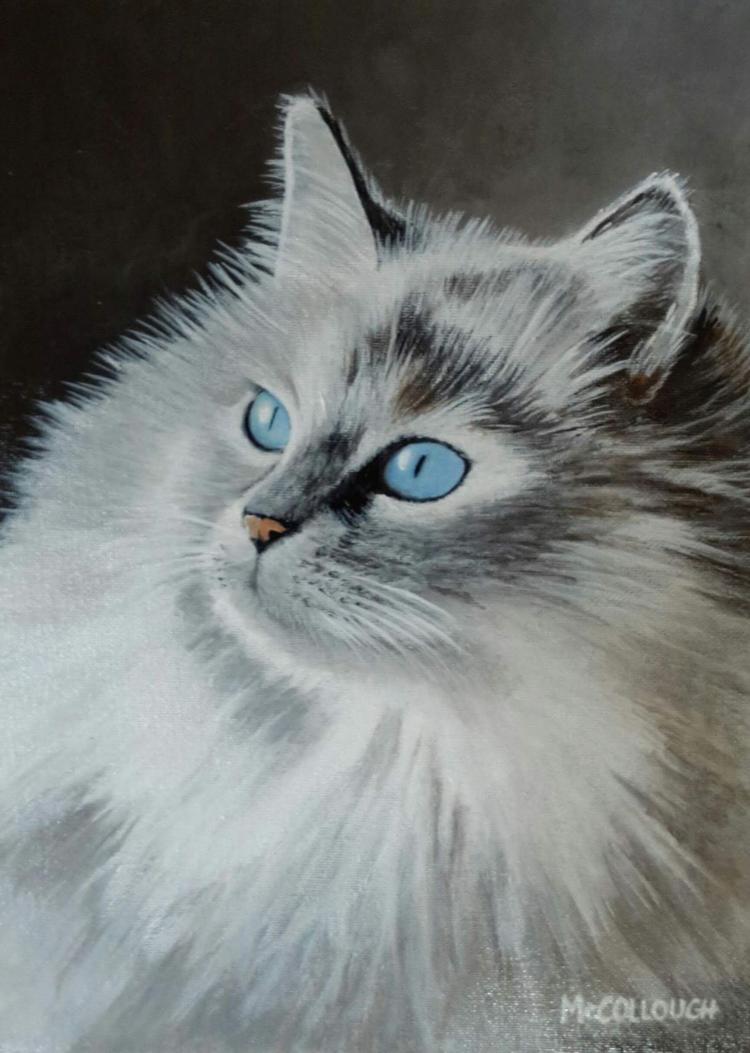 Venable stressed that Duke is very much alive, and joked that when McCollough told her he wanted to paint her new dog, Onyx, "I was like, 'You leave my dog alone,' she said. "I don't want my dog getting killed off."
Though he does pet paintings by commission, he often does them gratis. McCollough donates his services to organizations such as Central Oregon Locavore, which promotes local food and farmers, and Fences for Fido, a nonprofit that provides fences for families so their dogs have room to roam instead of being chained.
Just as he painted Venable's dog as a memorial gift, McCollough wanted to do one for Linn County resident Jennifer Julian after her mixed-breed dog was attacked by a pit bull at Reynolds Pond near Alfalfa in August.
Monty Zooma's trachea was torn and his spine possibly broken in the incident. Julian made the painful decision to have the dog euthanized.
McCollough's first-ever animal painting had been of his dog, Tilly, which he describes as "a little rescue dog."
"She's 14. That's kind of what inspired me to get in touch … with Jennifer Julian, because I just couldn't imagine how we would have felt if our dog had been killed like that," McCollough said.
"He's a good painter, and he took really great care," Julian said. "He talked to me about the care that he took in making sure that he got the features right, or just the expression of the dog right."
Unlike Venable, she isn't quite ready to see Monty Zooma's likeness every day.
"I can't really have it up right now," she said. "Someday I will. But it's a very beautiful quality of painting. He took great care."
Julian said she appreciates the kindness behind McCollough's painting of Monty Zooma.
"It was just very, very kind of him. I mean, really what's been important in this time is just to have a few really kind people step forward and just do something very out of the ordinary and very empathetic and kind," she said. "So it was a really, really welcomed, sweet gesture that he made."