Joseph Childers is ready to take his next steps in life.
He wants to pay off some old traffic tickets and licensing fees, get his driver's license back and start a steady job. The Bend resident has already applied for a couple of transportation-related jobs. The soft-spoken 48-year-old was on the streets after a breakup with his girlfriend a few weeks ago and found refuge in Bend's first low-barrier homeless shelter.
"I'm safe," Childers said as he scrolled through apartment listings on his phone on a recent Tuesday evening. "It's been good."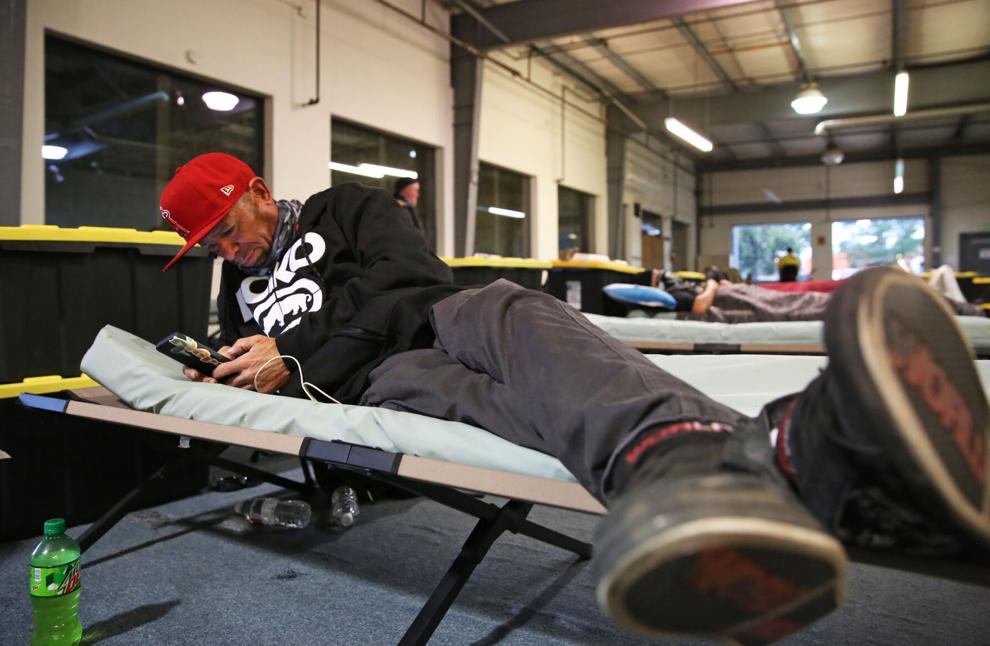 The shelter gives Childers a place to eat, sleep and charge his phone, and he's not alone.
The same night Childers spoke with The Bulletin, dozens of others had found respite on cots: A man recovering from hernia surgery, a domestic violence survivor waiting to get her trailer home back, a man whose ride home from a work trip fell through.
The facility is the city's first long-term shelter open to anyone who will follow the rules and evening curfew, and where drug tests, background checks and sobriety aren't required — all guidelines that are often used to define a low-barrier shelter.
Despite Bend's slow pace to negotiate alternatives to its harder-to-access homeless shelters, Oregon's fastest-growing city is in the midst of a historic investment in resources for the homeless. In the past 18 months, at least 10 new housing projects have been proposed and at least partially funded in Central Oregon. In addition to Bend's current low-barrier shelter, another is on track in Redmond. Transitional projects will establish tiny-home villages in Bend and Redmond, and Deschutes County commissioners have dedicated funds for a managed camp and permanent supportive housing. Organizers in Madras have received funds for a homeless service center and home for the city's warming shelter, and a novel form of state funding is turning hotel rooms in Bend and Redmond into shelter options, too.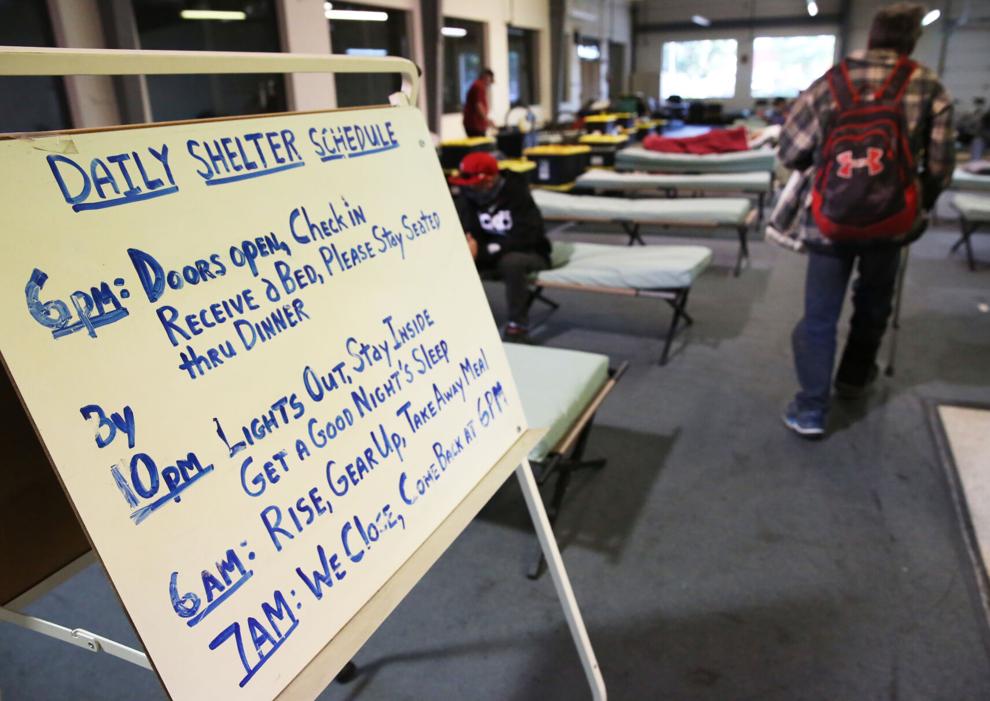 More than 14,500 homeless people have been identified in Oregon, giving it the nation's fourth-highest rate per capita, with over half of those people living outside, according to the U.S. Department of Housing and Urban Development. Central Oregon's homeless population rose by 13% from 2020, to 1,098, according to an annual count, which doesn't include those couch surfing or at risk of becoming homeless.
Communities throughout Oregon confronted with rising rents, record growth and historic wildfire seasons are turning to more kinds of shelter options for their unhoused populations, but continue to be limited in what they can accomplish with low housing availability.
Central Oregon's increase in the unsheltered homeless population is undeniable, as tents and tarp-covered shelters pop up near highway on-ramps and public lands, an industrial-size dumpster on Hunnell Road collects trash from the people who are living in cars and campers and camp evictions by city officials have drawn protests.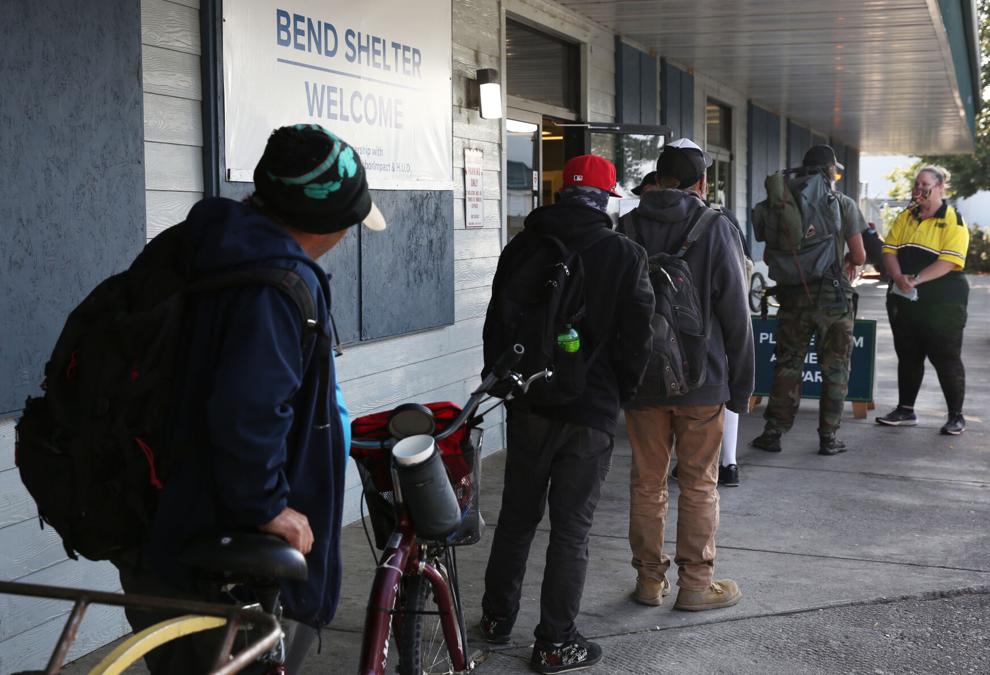 But the region has been on a search for solutions, with millions of dollars backing handfuls of projects to make a dent in the 1,000-plus housing units needed to shelter the houseless.
Bend's first low-barrier shelter, operated by Shepherd's House and long-sought by advocates, is a continuation of the city's winter warming shelter, which opened in November after the annual scramble to find a suitable location, though not before Bend man David Savory froze to death on the streets.
The winter shelter wound down operations as temperatures rose in March. After a few months of cleaning and resetting, the shelter reopened again, this time redefined as a low-barrier shelter without a definitive end date.
"The shelter is the opportunity to give them somewhere else to go," said John Lodise, the emergency services director at Shepherd's House. "The service seems very basic, but it's kind of a big step forward."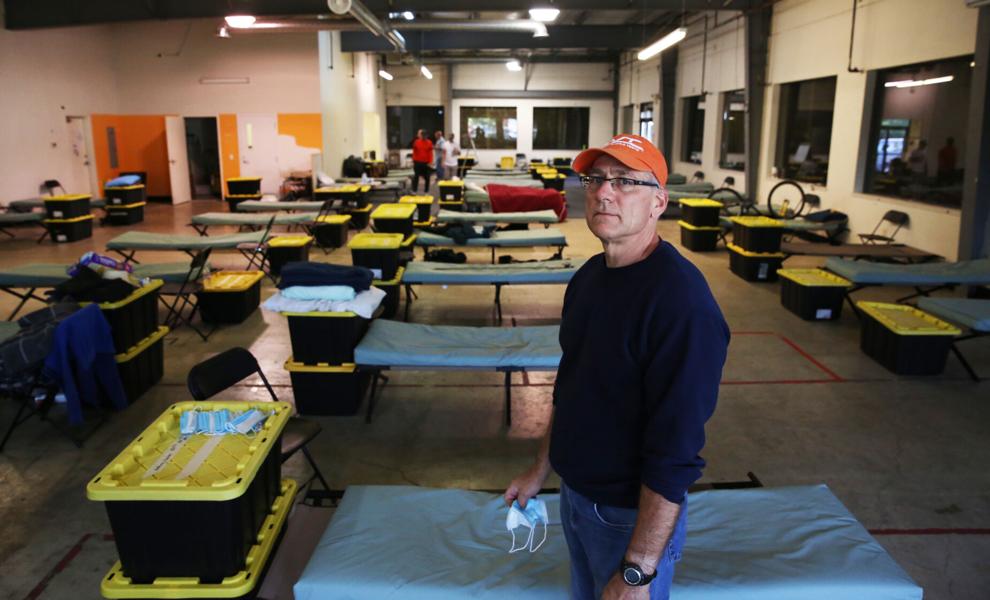 The support provided at the shelter is fairly informal. Guests can choose if they want to work with nonprofits or medical care teams that might stop by on any given night.
In recent weeks, Lodise said the shelter has been housing 50 or 60 people each night and could shelter around 70 in total.
Christopher Heald lived at the unsanctioned camp on Emerson Avenue when a sweep of that camp coupled with a summer heatwave to push more people toward the low-barrier shelter.
"Life was better on Emerson," Heald said, noting that he has more trouble sleeping on the shelter's cots. "There was more of a continuity down there than there is here."
Still, the 61-year-old is grateful he has a place to stay.
"I'm appreciative of the abundance," Heald said over a burger and chips, the meal provided to shelter guests by Bend's Family Kitchen that evening. "I'm weirded out at how dignity-dispersing it is."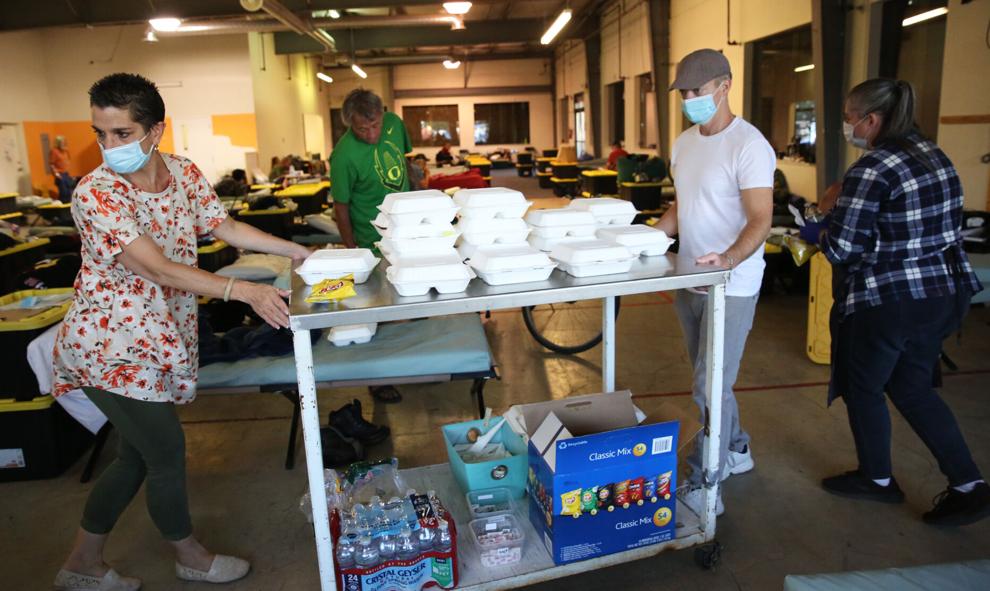 The need for shelter has increased across the state, and particularly during the pandemic, as the supply of available housing decreased and pushed housing costs up, according to Connor McDonnell, a housing integrator with the state's housing agency.
"There's been a really high increase in rents across the state and there's not enough available housing," McDonnell said. "There's many more resources that are needed."
A statewide study released earlier this year estimates Oregon is behind by 110,000 housing units necessary to keep up with present demand. Additionally, the state is behind by the 29,000 housing units needed for those currently experiencing homelessness. Deschutes County is behind by 4,800 housing units to meet demand and 1,200 more to house the homeless.
In Central Oregon, elected officials and nonprofits have been ramping up efforts to increase the region's shelter options in recent years as the region's homeless population has risen steadily for nearly a decade.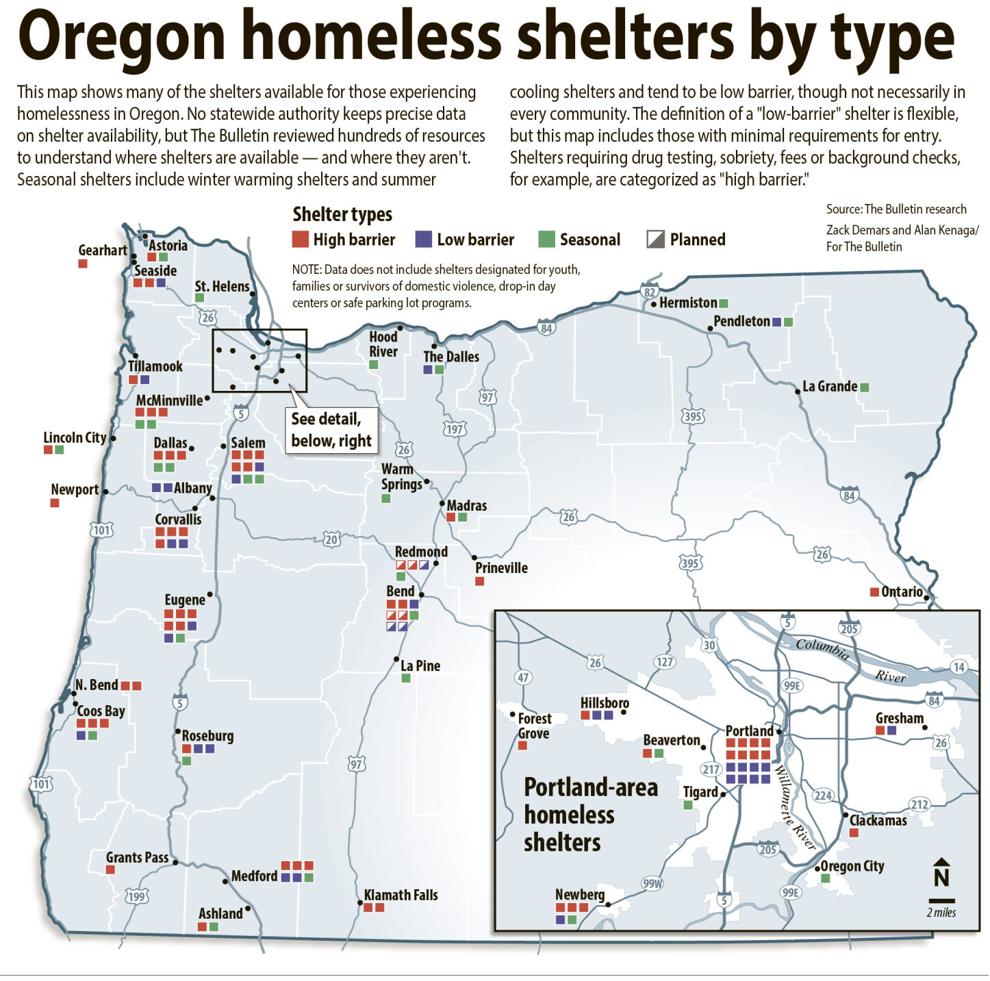 According to McDonnell, all those efforts are part of the region's work to build out its shelter system, giving those experiencing homelessness an entry back into housing.
"One thing (that) the system is working on is moving people into permanent housing. That's the intervention and the solution that really works," he said. "That, from any other intervention, is a really important thing."
'Medford Model' shows the spectrum of shelter options
Central Oregon is not alone in its search for more housing and shelter options.
As COVID-19 tore through Jackson County, the need — especially for socially distanced shelter — grew. When historic wildfires raced up a greenway of grass and trees to Medford's edge last September, over 2,400 homes burned, including vast swaths of nearby Talent and Phoenix, tightening the region's housing market and pushing rents up.
In response to the growing need, Medford city officials and social service providers took a chance on a unique project: A managed campground to shelter the homeless.
Last July, the campground started as 48 simple tents and canopies to provide people who'd been living on the city's Greenway — a 20-mile strip of bike path and greenery — a place out of the elements and closer to resources that could help them. Since then it's grown to 75 spots with plans for more.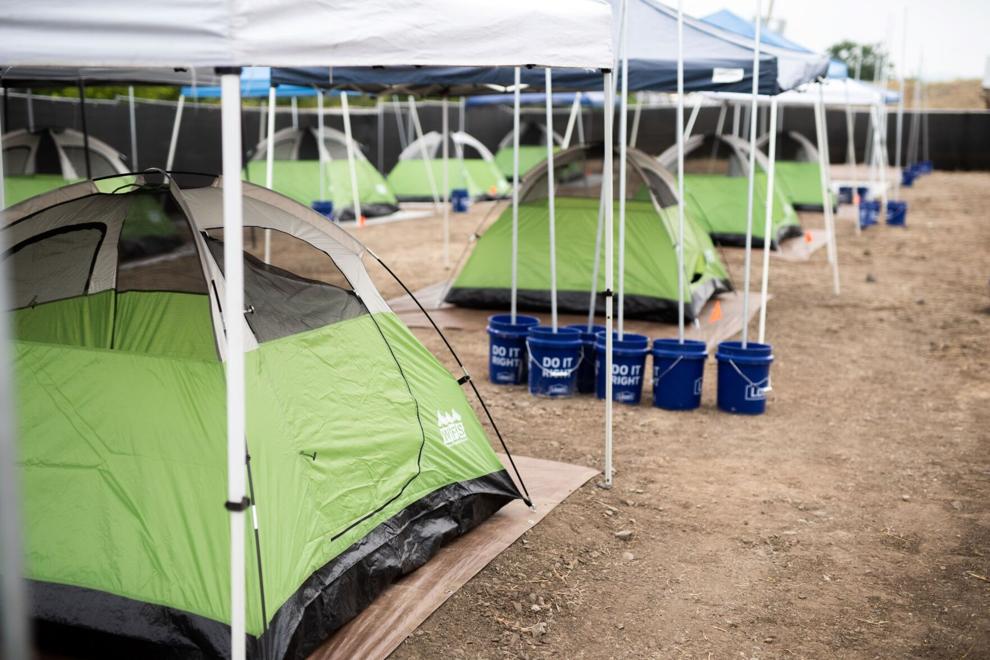 The site is operated by area nonprofit Rogue Retreat and has become something of a example for smaller Oregon cities addressing homelessness.
"The Medford Model," as Development Director Matt Vorderstrasse calls it, is made up of a spectrum of services, ranging from a low-barrier campground to low-rent apartments, each with direct connections to Medford's web of social services.
"Having all these different levels allows us to really wrap support around these individuals and rebuild family and community," Vorderstrasse said.
The nonprofit has gained attention: Leaders from around the state have visited Rogue Retreat's sites on weekly tours. Similar programs are percolating in Grants Pass, Ashland, Coos Bay, Bend and Redmond.
At a high level, Rogue Retreat's spectrum of housing programs work like a ladder of services.
The ladder starts with the Urban Campground. As spaces open, police refer those living on the streets to a spot in the campground.
Tents and small hard-walled shelters are arranged in neat rows across the property, an empty lot covered with woodchips to block the mud underneath. Utilities aren't available in individual sites, but a few large tents in one corner of the fenced-in site provide a place for community meetings and meals.
Porta-potties provide basic sanitation services, and regular inspections require residents to keep their sites clean.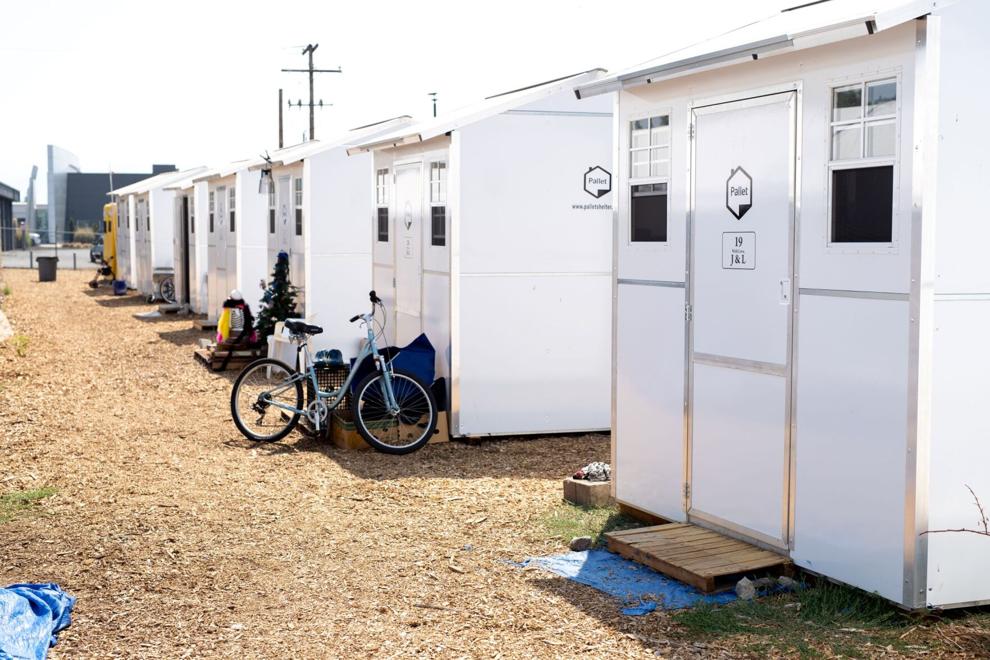 Though for some having to work with the police is a barrier itself, the campground generally fits into the low-barrier category of services, as residents just have to agree to abide by a few rules, like a curfew and a commitment to be respectful of other residents. A drug test isn't required for entry, though use isn't allowed on the property.
Vorderstrasse says giving people a safe place to sleep without too many rules allows an important respite away from the dangers of living on the street and an opportunity to focus on what's next.
"By the end of the day, people are exhausted just trying to survive," Vorderstrasse said. "When people come out of crisis mode, they can come out of the survival mode of 'I, I, I,' and they start to think of a community."
For police, who are tasked with enforcing a new anti-camping ordinance the city established this spring, the campground has provided officers with a first-stop place to send homeless campers.
"Once the urban campground was open, it became much easier for us to funnel people into Rogue Retreat's pipeline, kind of this ladder of services," said Medford Police Sgt. Geoff Kirkpatrick, who oversees the Livability Team, which deals exclusively with prohibited camping and code enforcement matters.
Residents can stay at the campground as long as they need, or, if spaces are open, move into some of the nonprofit's other shelter options — the next rungs on the ladder — like a low-barrier congregate shelter, a higher-barrier tiny home village or a low-rent apartment. Residents meet with Rogue Retreat case managers and staff who make connections to drug or alcohol treatment, mental health services and housing opportunities.
Since the campground opened, police say the number of camps along the Greenway has decreased, though advocates point out the enforcement of the camping ordinance has just moved camps to other parts of town.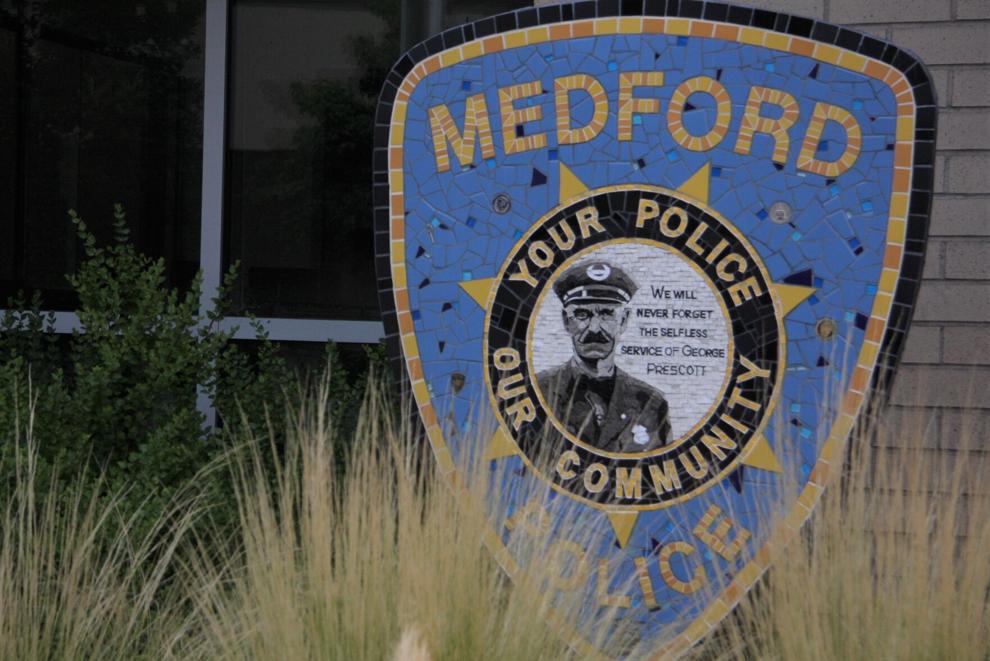 Rogue Retreat leaders say the campground saves the public money. Annual Medicare costs are on average around $1,400 lower for someone housed in its programs compared to someone on the waitlist, since Rogue Retreat staff help residents get help with minor medical issues before they rise to the seriousness of a costly emergency room visit, according to a 2019 study.
But for the lives of the people who move through Rogue Retreat's options, success is harder to measure.
Christine-Marie Caligiuri, who's been living on the Greenway and on the streets of downtown Medford since she discovered chemicals in her home made her sick, has tried the campground twice.
Both times, she faced barriers to her success there: She lost her sense of safety when a charging station broke and she couldn't use her phone in case of an emergency, and she didn't feel respected by certain residents and staff members.
"I don't want to be treated like I'm being babysat or like I need a babysitter, and that's exactly how I'm going to feel," Caliguiri said.
She's tried the nonprofit's congregate shelter, too, but living in dormitory-style housing just didn't work for her and her service dog.
What's more, because of the demand, the programs often have waitlists ranging from six months to four years, according to Vorderstrasse.
Still, the leaders at Rogue Retreat point to the number of people who've had contact with their program. Of 686 who've lived in the campground, 234 have moved onto "something better than they had before," according to the nonprofit.
That may not sound like a lot. But Executive Director Chad McComas argues what's important is the incremental change that can be made. He noted that, while someone might not move immediately from Rogue Retreat's programs directly to employment and permanent housing, "we might move them through ten times before they might get it."
A permanent low-barrier shelter?
The precise future of Bend's lone low-barrier shelter is unclear, but staff at Shepherd's House say they plan to keep it operating indefinitely. According to Development Director David Notari, the organization is still working through the details of how to fund the future of the shelter, which was originally supported by funds from NeighborImpact and the city of Bend.
Notari said the nonprofit and the city hope to purchase and renovate the building to include a full food facility and to house 20 individuals on an emergency basis and 20 more as part of Shepherd's House's already established long-term program.
The annual cost for that operation will be about $500,000, plus costs for upgrading and maintaining the building, Notari said.
Steve Lonien hopes future changes to the shelter can do something about long waits for the building's bathrooms.
Sitting on a cot next to one of those bathrooms last week, Lonien said the shelter is often better than sleeping outside, where he'd had to one night when he didn't get to the shelter before its curfew.
Lonien is no stranger to homelessness, he said after plugging his phone in and setting aside the book he'd been reading.
The 65-year old has spent his whole life in Bend, and much of the time since his 1996 divorce homeless.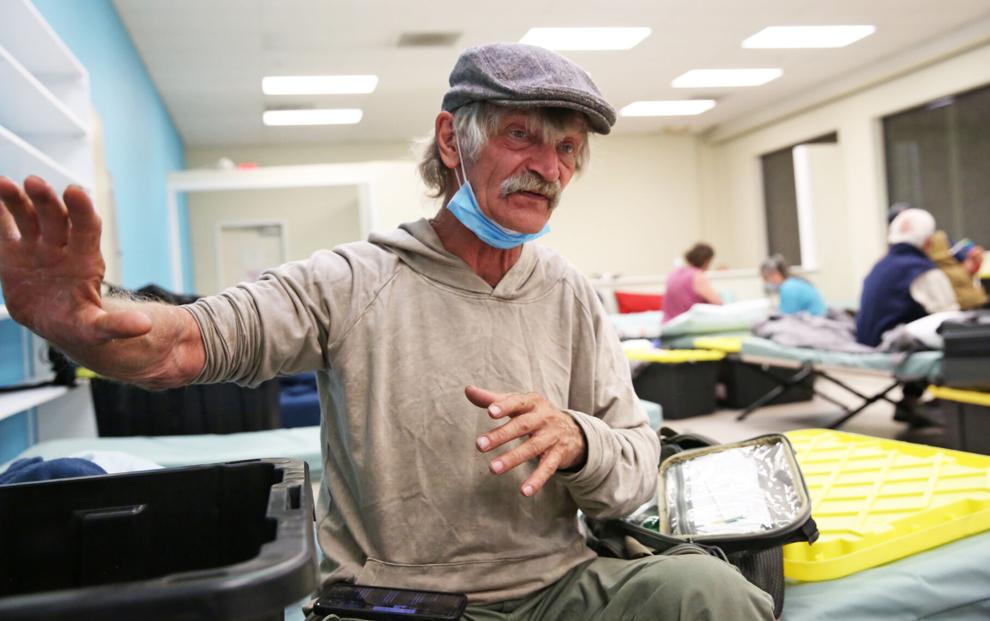 His most recent stint of homelessness came when the trailer home he'd been living in in Alfalfa burned down this summer, he said. When first responders found he had nowhere else to go, they took Lonien to Bend's low-barrier shelter.
"And I'm happy they did," Lonien said from his cot in the shelter.
While he said parts of the shelter aren't perfect, Lonien noted that he appreciates getting to connect with the staff and providers that come in, like Mosaic Medical, which helped him get a cancer screening.
"They seem to be working through the problems," Lonien said. "There's a headway where it's improving."