For bike shop owner Dan McGarigle,  crossing Bend by bicycle is, for the most part, good exercise and fun. There are some leisurely stretches and great views, but when it comes to crossing an intersection, that all changes.
An element of danger creeps in. 
"You've just got a ton of traffic. Anyplace that doesn't have a stoplight is unnerving," said McGarigle, owner of Pine Mountain Sports. "That is a place where you have to get it right or you could get hit by a car."
The dangers of the crosstown routes for bike riders like McGarigle are not lost on city leaders who are looking into ways to create a safer cycling experience in Bend. Ariel Mendez,  a Bend Park& Recreation District board member, and Anthony Broadman,  a Bend city councilman, have launched a proposal to build 17 miles of cross-city divided bike lanes that will separate bike riders from cars.
Mendez and Broadman introduced their ideas earlier this month to the Transportation Bond Oversight Committee, which oversees how Bend will spend a $190 million transportation bond that voters approved in November. The bond measure includes plans to spend $19 million on bike and pedestrian-focused projects.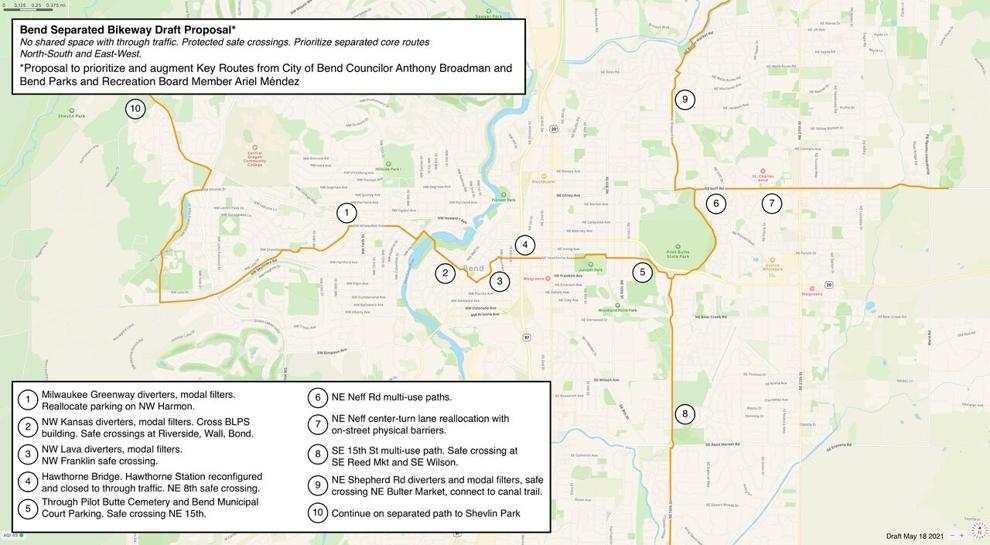 The plans in the bond include a "low-stress network" of bike lanes, including lanes painted green to designate that they are for biking. But Mendez and Broadman said the low-stress lanes need to be beefed up to include dividers and barriers to keep cars out.    
"This proposal for a separated route goes farther by requiring that people biking not share physical space with through traffic," said Mendez, an advocate for commuter cycling.
Broadman said he hopes the city will build a safe bike lane network so "a kid can ride from Big Sky Park to Shevlin Park without parents being worried about losing their child to car violence."
"The network we have isn't safe enough for people," said Broadman. "If people don't feel safe walking or on a bike, they simply won't do it."
The current greenways or buffered bike lanes that exist in some parts of town would not be sufficient to meet the higher standard in the Mendez/Broadman proposal. The new proposal would include posts or barriers to prevent cars from entering bike paths.
The new proposal would increase safety, said McGarigle, and would also help to increase bike ridership and reduce the number of cars on the road.
"The way Bend is growing right now we are going to need that. Something along those lines will benefit the community as a whole and I am pumped to see it happen," said McGarigle.
The dedicated bike lanes also make for a better experience for the rider, he said. Bike riders using dedicated lanes can socialize as they ride, rather than keep all their attention on traffic around them.
"It seems like it builds camaraderie and cordialness out on those paths," said McGarigle. "In bike lanes, you just don't have the ability to communicate with or interact with other cyclists, because you are so focused on everything that is going on in the road beside you."
The route of the bike path is similar to the one proposed by the city, meandering from Shevlin Park in the west and past St. Charles Bend to the east. There is also a north-south component that follows 15th Street and continues past Pilot Butte.  It would create 17 miles of dedicated bike paths in Bend. Mendez and Broadman are simply looking to upgrade the current plan to add features that will improve safety.
Sinclair Burr, principal engineer with the city of Bend, said the bike lane alignment identified by Mendez and Broadman was not included in the city's recently completed transportation system plan. And since it wasn't included, the plan isn't identified for funding by the general obligation bond. But that doesn't mean he is shutting down the proposal. 
"There is a path forward for the inclusion of this proposal," said Burr. "The oversight committee can consider the merits of this proposal and divert funds from other key routes to this alignment. This would also likely require an amendment to our TSP, which would require some time to accomplish."
Burr said the next bond oversight committee meeting is scheduled for late June, at which point the group will elect a committee chair who can assist in the development of the meeting agendas.  The chair can choose to have the committee consider proposals such as the one brought by Mendez and Broadman, Burr said.
Bend's population growth could be another factor to persuade the committee to make changes. Broadman said the population of Bend could move past 153,000 people within the next 20 years, up from a current level of 100,000, and the population increase will require more transportation options, including safe biking areas.
"We are growing so quickly, and our exceptional city needs an exceptional transportation network," said Broadman. "There is no reason we can't be the most bikeable, drive-able, walkable, bus-able City in Oregon."