Serena Garcia from Redmond was strolling through Farewell Bend Park on Saturday morning when she noticed people congregating along the banks of the Deschutes River carrying trash bags, shovels and plants.
"I thought to myself, 'I'm not doing anything, I might as well help out,'" she said.
So she grabbed a trash bag and joined them.
"The river was a lot cleaner than I was expecting," she said, now holding a trash bag filled with garbage. "It feels nice to live somewhere where people actually care."
The event Garcia participated in was the 25th annual Deschutes River Cleanup, organized by the Upper Deschutes Watershed Council.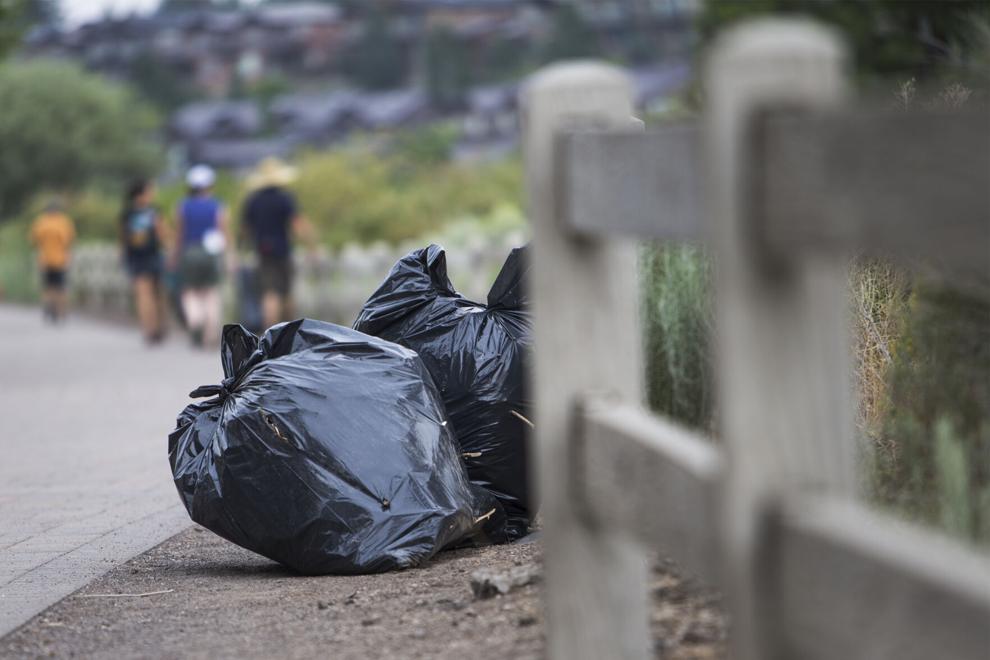 This year, volunteers collected 87 garbage bags of litter and weeds. They also removed a 40-pound metal cot and a very old piece of metal debris left behind from when lumber mills used to operate on the banks of the river.
Normally, the event features 30 to 40 scuba divers from Central Oregon Divers, paired with boaters and kayakers, who scour the riverbed for garbage and lost items such as sunglasses, cans, hats and cellphones.
One year, a whole canoe was dredged up. Another year, a precious wedding band was found and returned to its owner.
No divers were present this year however due to COVID-19 safety concerns, and volunteers focused on pulling invasive weeds, picking up garbage and planting native riparian species.
Volunteers split up into six different areas — Meadow Camp, Farewell Bend Park, Riverbend Park, McKay Park, First Street Rapids Park, and Tumalo State Park — to allow for social distancing. Each site had a 30-volunteer cap.
Tumalo Creek Kayak and Canoe partnership
In addition to cleaning the river, the Deschutes River Cleanup event is meant to educate locals and tourists about the importance of river stewardship, said Kolleen Miller, education director for the watershed council, who's helped coordinate the event for the past 16 years.
According to river recreation specialist Ryan Richard, 48,000 people floated down the Deschutes River in June alone, and some 200,000 float the river per year.
So many floaters means lots of garbage, Miller said. Additionally, riparian habitats are damaged by people who use unauthorized access points to the river.
"We're working on creating better access points, because trampling causes erosion," Miller said.
Part of that work will be accomplished through a partnership between the watershed council and Tumalo Creek Kayak and Canoe, a company known for their tube and kayak rentals for Deschutes River users.
This summer, Tumalo Creek began donating one dollar from each of their tube rentals to the Upper Deschutes Watershed Council.
According to Tumalo Creek owner Geoff Frank, the effort is expected to raise $30,000 for the watershed council in 2021 alone.
Those funds will be used for restoration along the Deschutes River, youth education programs and river stewardship, such as future Deschutes River Cleanup events, according to Executive Director Kris Knight.
"I really appreciate Geoff Frank and his openness to doing this," Knight said. "He's passionate about keeping the river clean and healthy for our future generations, and we hope that this fund will continue to support our river and restoration fund."
Saturday morning at Farewell Bend Park
At Farewell Bend Park on Saturday morning, volunteers broke into separate groups, each one led by a different community partner, such as Mt. Bachelor, Sun Country Tours and REI.
The morning was overcast and humid, but not too hot.
One group picked up garbage, another pulled invasive weeds and another planted native species.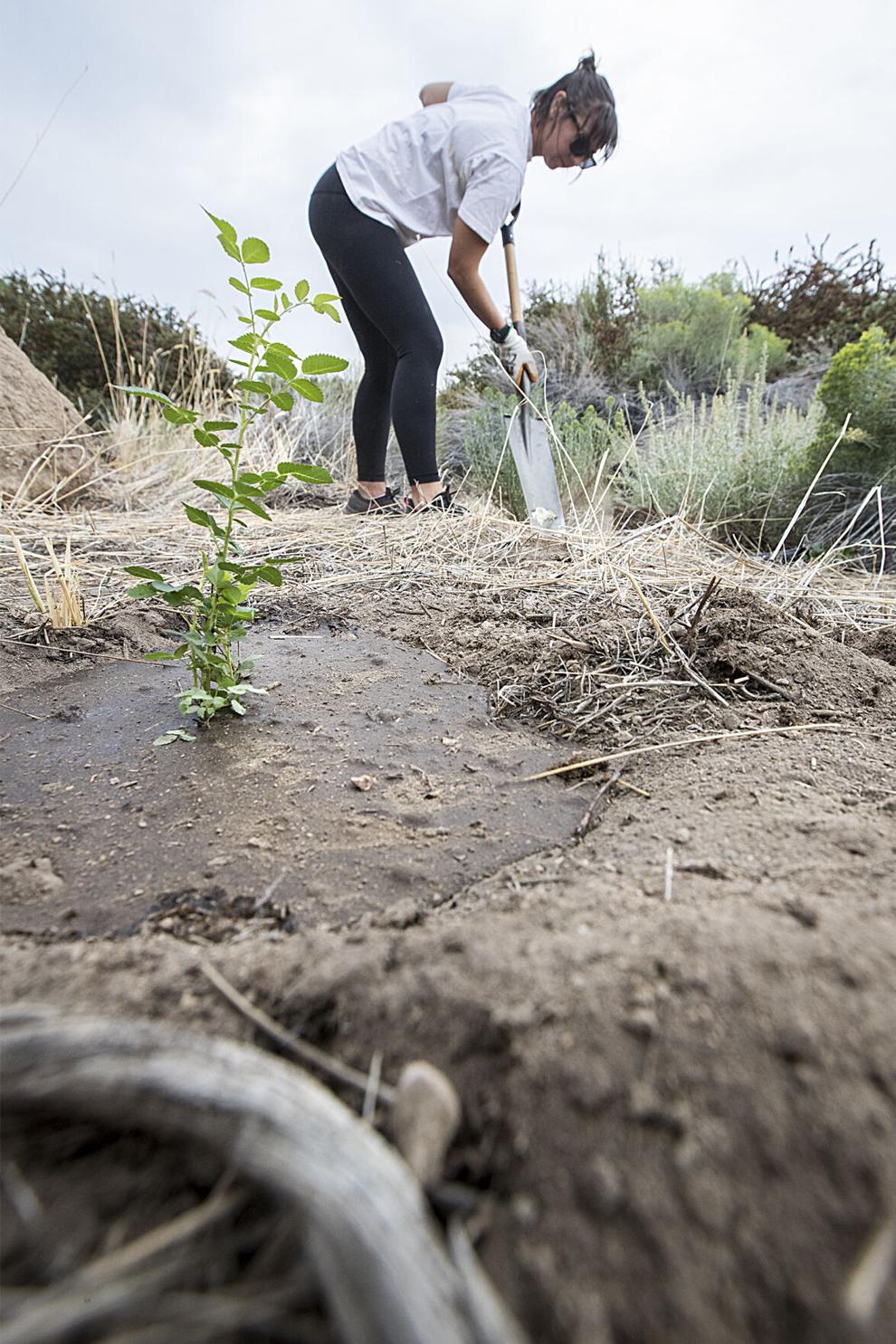 Wendy Edde, storm water program manager for the city of Bend, was standing with a group of volunteers while a lead volunteer showed them how to plant native species such as woods rose, spirea, willow, chokecherry and serviceberry.
"It's just a feel good event, to give back to our river and to our community," Edde said. "The Deschutes River is such a lifeblood for Bend. It's a wonderful resource, and it's heartwarming to see everyone come together to help and protect it.
Down the river, Courtney Nicolls, a sales operations director from Bend, was picking up garbage with her two daughters beneath the Bill Healy Memorial Bridge. It was her fourth year participating in the event.
"I think it's just really important to not only give back to your community, but I would say also to teach your children to give back to your community at a very young age so it's instilled in them," she said.
Rachel Colton, a Park Planner with the Bend Park & Recreation District, was picking up garbage with her daughter, Sierra. The Coltons moved to Bend last year from Sunriver.
"This event is important to me because my family and I love the river," she said. "We want to make sure it's clean for everyone to use and enjoy it."
In the early afternoon, a light rain began to fall.
Tyler Rumble from Three Rivers, volunteering with Mt. Bachelor, was digging up a particularly stubborn bull thistle, an invasive weed, as the rain started to fall.
"The rain is kind of nice, it's a nice change from the heat," he said. "I could do with less humidity, but I'll take it."
He tossed the uprooted bull thistle into his garbage bag, filled with scotch thistle and ragwort, and moved on to a spotted knapweed, an aggressively invasive species.
"I come to this park often," he said. "It's actually really nice to get out here and pull some weeds."
Along the river, volunteers were digging small holes for native riparian plants. The rain was picking up.
One planter, Angela Salido, who's participated in the event for many years, took a quick break from her digging.
"I've volunteered when the river is low, and I've gone out in a canoe and picked up stuff that way," she said. "I just feel like we need to take care of where we play."
Miller, with the watershed council, watched over the volunteers along the banks, chatting with them and occasionally snapping photos.
"It's probably been at least 12 years since it's rained at this event," she said. "It's usually really, really hot.
"The rain is great for everything," she continued. "For one, people don't get too hot or dehydrated, but it's especially great for planting. The roots won't get burned, and all the plants have a chance to get established."
For the next few weeks, volunteers will continue to visit the site to water the new plants, she said.
"This event is awesome, pulling weeds isn't necessarily fun, but it's wonderful to see the community so excited about it," Miller said.