Maybe it's the thrill of the hunt that draws people to antique shops. Or maybe it's the feeling of nostalgia that can waft over you when you see the exact serving dish your grandma would serve cookies on during the holidays.
Whatever the reason, Central Oregon hosts several shops that offer great antiquing experiences that can give you all the thrills and chills you can hope for.
So what makes a great antiquing adventure?
Volume, variety, value, and vintage.
Volume: The more items stacked in a space, the better. Having to bob and weave through aisles, watching your step, keeping your hands in your pockets for fear of breaking something and literally digging through things to find those treasures.
Variety: The more items the better. If you're looking for something to fit your lodge -style home, or add to your midcentury obsession, you can find anything and everything you're looking for and everything you're not.
Value: Dickering on prices aside, are the tags on the items enough to make you salivate with the feeling of scoring the perfect deal?
Vintage: Can you feel and see the age in the item? Or has someone tried to 'update' it? Are there more repop's, upcycles and shabby chic items than actual antiques? If the answer is no, you're in the right place.
I visited one of Central Oregon's amazing shops a couple months ago and discovered there is a list of the best antique stores in Oregon — and the one I was at was one of two listed for this side of the Cascades.
With so much history in our part of the state and great shops of our own, here are the five best shops in Central Oregon for that perfect antiquing experience.
A note: Thrift, pawn or largely consignment shops that may also have a great selection of vintage items were not considered in this list, only shops that specifically sell antiques.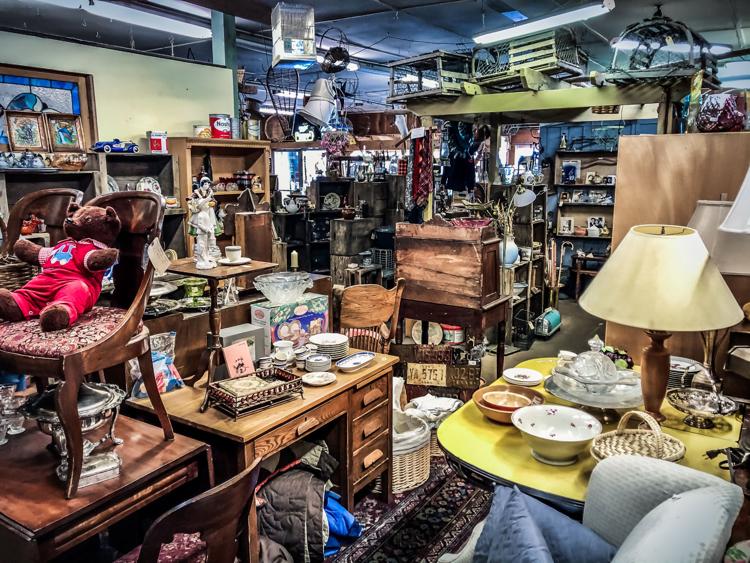 1. Eddie's Iron Horse — Bend
The original Eddie's Iron Horse is tucked away on Congress Street in downtown Bend, and it can be an adventure in itself to find it. Over the years, the shop has expanded and continues to impress with its variety and generally reasonable prices.
The shop features several different vendors, all with their own special flair and variety.
One of the best things about Iron Horse is the sheer amount of stuff that fills the space. Everything from cast iron, military gear, Pyrex, costume jewelry, cameras and everything in between stuffed in, leading to narrow aisles filled with tons of treasures to dig through.
Recently, Iron Horse has added a second location on First Street. The new location is a little smaller but no less impressive. This space has a little more furniture than the first location and some really unusual items (where else can you find a real tarantula paperweight?), but it still holds that same charm and pride in what they carry. The day I visited, the gentleman working the counter was more than happy to tell the story of how they got certain pieces and to make sure we got a good deal.
These shops feel so comfortable it's like shopping in your grandpa's barn full of treasures.
• Eddie's Iron Horse original location: 210 NW Congress St., Bend, 541-382-5175.
• Eddie's Iron Horse new location: 632 NE First St., Suite 110, Bend.
j.mp/EddiesIronHorse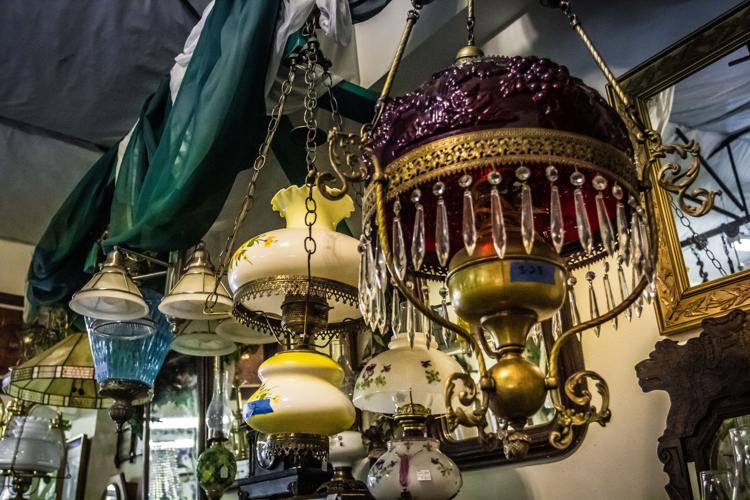 .
2. Antique Alley — Prineville
There is a small, white building surrounded by old steel wheel spokes, old farm equipment and a myriad of other outdoor items on the Madras Highway in Prineville.
Inside Antique Alley, there are antiques of all shapes and sizes. All are presided over by beautiful lighting fixtures, some for sale, some that are just on their way to the buyer's location.
There are certain areas of this small building where you literally have to dig through an organized mountain of antiques to uncover treasures underneath.
The owner knows what he's selling too, and sells with a smile.
Bring plenty of cash for all your finds as there's no credit card machine.
• Antique Alley: 896 NW Madras Highway, Prineville, 541-416-2623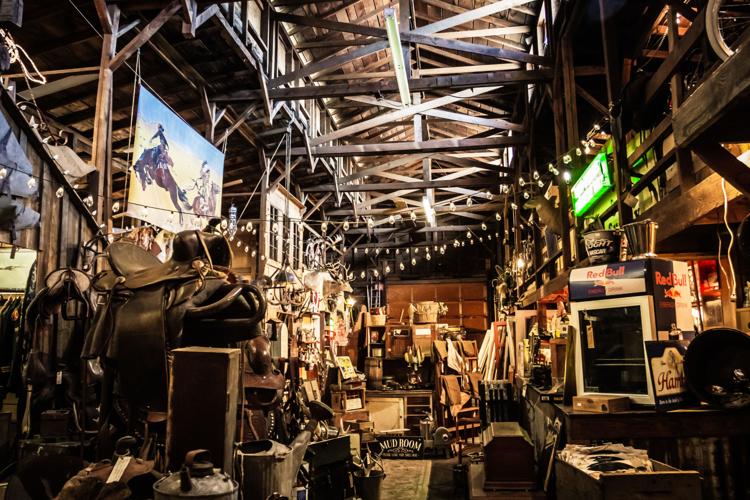 .
3. Beyond the Ranch — Redmond and Tumalo
These shops are chock full of everything old and rusted, plus a few repop items to give your home a shabby chic look.
Focused mostly on Western- and Native American -themed items, the shops do have a lot of variety sprinkled in among the lariats and cowboy boots.
The Redmond shop feels like a good antique store should. Housed in the old Tum-a-Lum lumber company building off Fourth Street and packed to the literal rafters with items, it's a fun scavenger hunt through the organized themed sections and piles to find those things you didn't realize you needed so much.
In Tumalo, the shop is another wonderful maze of items including furniture, tchotchkes and Native American -themed artwork.
• Beyond the Ranch Redmond: 339 SE Evergreen Ave., Redmond. 541-279-4867.
• Beyond the Ranch Tumalo: 19889 Eighth St., Bend, 541-390-3446.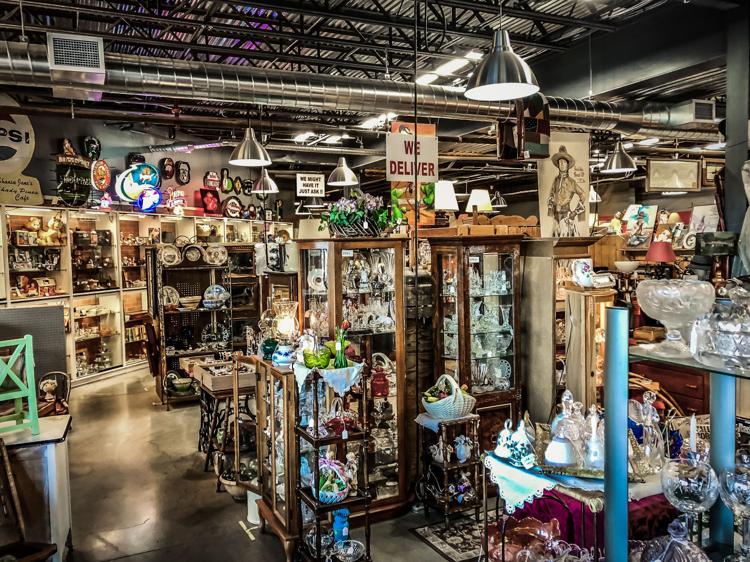 .
4. Redmond Antique Mall — Redmond
Located in a newer building off U.S. Highway 97 on the south end of Redmond, you wouldn't think there would be such a trove of antique treasures tucked within it, but there is.
Deceptively big, the Redmond Antique Mall has an incredible variety of items, including a great selection of antique furniture and primitives. My personal favorite was one vendor's collection of midcentury items.
While not as packed as the predecessors on this list, it is well laid out with a good amount of space in the aisles for those who need more navigable paths to their antiques.
As the name implies, this is a kind of mall where several antique sellers have booths set up where they can display and sell items they've collected. This makes for a wide range of prices throughout, meaning there is something for everyone's budget.
You can also check out neighboring Geek Geek Nerd Nerd, whose entrance is inside the antique mall for old and new comic books and a wide array new Funko Pops vinyl figurines of comic book, film and television characters.
• Redmond Antique Mall: 2127 S. U.S. Highway 97, Redmond, 541-548-6208 or redmondantiquemall.com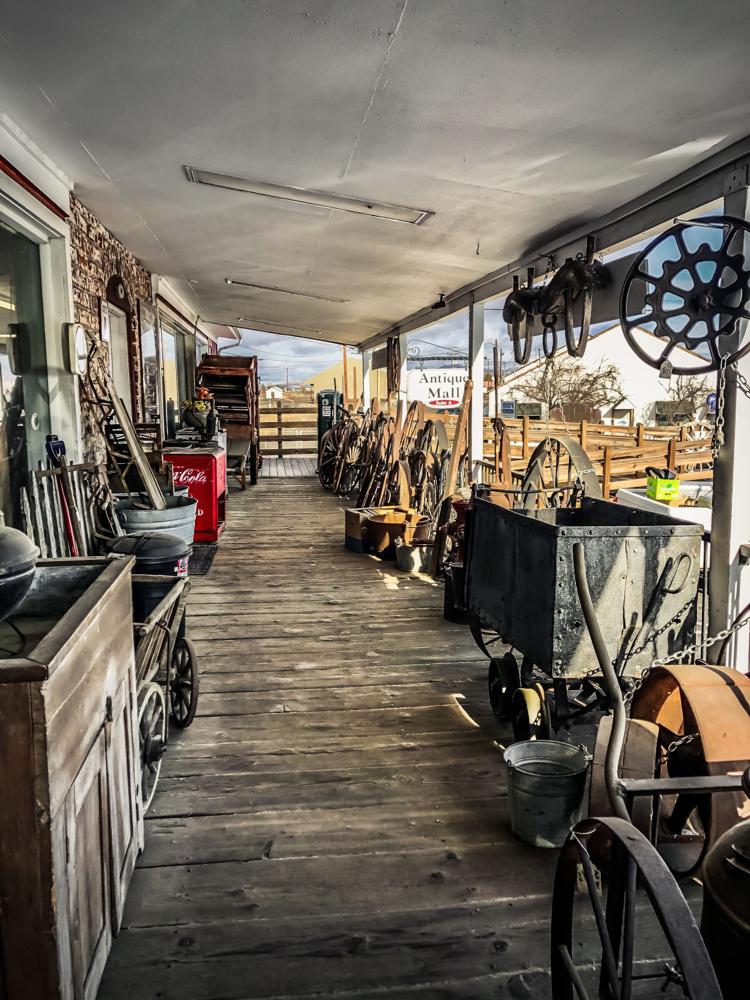 .
5. Farmers Cooperative Antiques — Redmond
This antique store is my favorite haunt. It's always the first place that pops into my mind when I think of antiquing in Redmond. Located on the other side of the tracks, literally, it's in an old building with a slightly uneven deck spanning the front filled with worn wooden items, early washer and wringer combos, creepy medical equipment and old doors. Inside it's filled with booths from antique sellers in the area featuring an overabundance of Pyrex and Pendleton jackets with some really unusual items thrown in for good measure. There's even one of those "fat jiggler" machines that promised to help tone and trim up bodies in the 1950s — it didn't work well.
The prices vary widely here as each booth's prices are set by their owners, but if you dig there are treasures to be found.
Set aside a good 45 minutes to an hour to explore the building in its entirety.
• Farmers Cooperative Antiques: 106 SE Evergreen Ave, Suite A, Redmond, 541-548-7975 or facebook.com/redmondfarmerscoop.
Honorable Mentions:
Trivia Antiques is the last of the antique shops in downtown Bend and soon will move to a new location on First Street, right next to Eddie's Iron Horse's second location. Trivia has an incredibly unusual selection of items, and the shop is full to the brim, though the prices can sometimes be a bit high.
Kalamazoo Antique Mall is in a prime location in Downtown Sisters and, while a little smaller than its counterparts, it still offers a nice variety of items.