Grove Market Hall in Northwest Crossing will ultimately be home to a bar, a coffee shop, Italian food, Thai food, a burger place, a juice bar/health -food spot, an ice cream bar, a seafood and specialty market and a breakfast burrito cart. Last week, I visited ThAiPAS Thai food and Greenleaf health food and juice bar. This week I check out breakfast at Bend Breakfast Burrito and Thump Coffee. And I got a couple of creamy desserts at Elly's Ice Cream.
Elly and Tim Sisney and their kids live in Northwest Crossing. Elly noticed that there was no place nearby to get ice cream. She knew the Grove would be "the perfect place."
"Adults stop at the Waypoint bar in the front, and the kids run back to get ice cream," she said.
Once they had the location, they partnered with a maker in Maltby, Washington. The company makes small batches of ice cream. This technique uses less air for a creamier consistency. Elly's ice creams are made with certified organic milk, cream, eggs and berries.
With the Maltby maker, they let their imaginations go wild with crazy custom flavors. The Cookie Monster is blue ice cream with three types of cookies bits — Oreos, Chips Ahoy chunks and cookie dough. It is a creamy, cookie extravaganza. PNW Blueberries is fruity with a touch of cardamom to make it taste like blueberry pie (a la mode is built-in). Other ice cream offerings include Green Tea, Cherry Amaretto and seasonal flavors like Pumpkin Spice Pecan. If you don't want the scooped flavors, you can choose soft serve.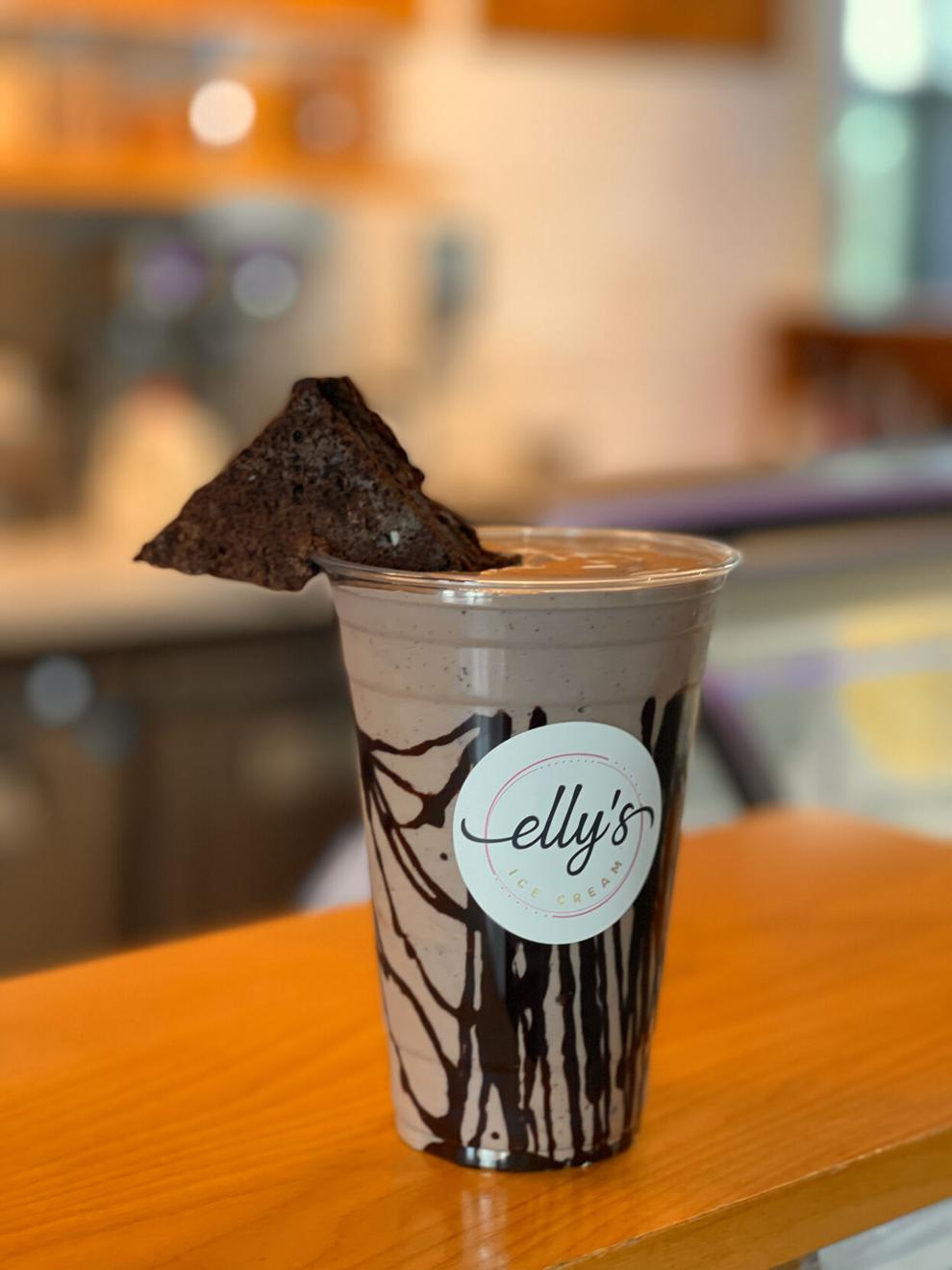 Ice cream can be served in flights, pints or waffle cones and bowls made by an in-house baker. Toppings for ice cream include Elly's Sprinkles, house-made nut crunches and granolas with pistachios and dried cranberries, fresh fruit, honey and salt, homemade whipped cream , Bordeaux cherry, and many more.
On my first visit, I considered the unique special sundae combinations. Sundaes include Gone Glamping, which is like an ice cream s'more, and The Grizzly Bear, with peanut butter and crushed pretzels. I'm a chocoholic, so I created a hot fudge sundae with Triple Chocolate Bomb ice cream. The delicious creamy ice cream had rich chocolate with no bitterness. Despite the abundance of chocolate, it was still light and airy — and easy to finish the whole thing.
You won't necessarily want a straw for milkshake combos — they lend themselves to being eaten with a spoon. The Lava Butte includes chocolate sauce and brownie bits and is topped with a deliciously fudgy brownie. I was in heaven.
A lone food cart sits among the dining tables at the center of the Grove. Bend Breakfast Burrito has moved indoors from its location near the Commons in downtown Bend.
Val and Trent Hilton had worked for Stone Fire Grill from the beginning, being part of its growth to 13 locations in Southern California. Before the pandemic, the Stone Fire Grill was sold. It was the perfect time for the couple to use their savings to embark on "the adventure of a lifetime," traveling the world with their kids and ultimately landing here in Bend.
When the Grove was being built, Val knew she wanted to be part of it. The family always sought indoor market halls like those in Budapest or Singapore's hawker centers during their travels.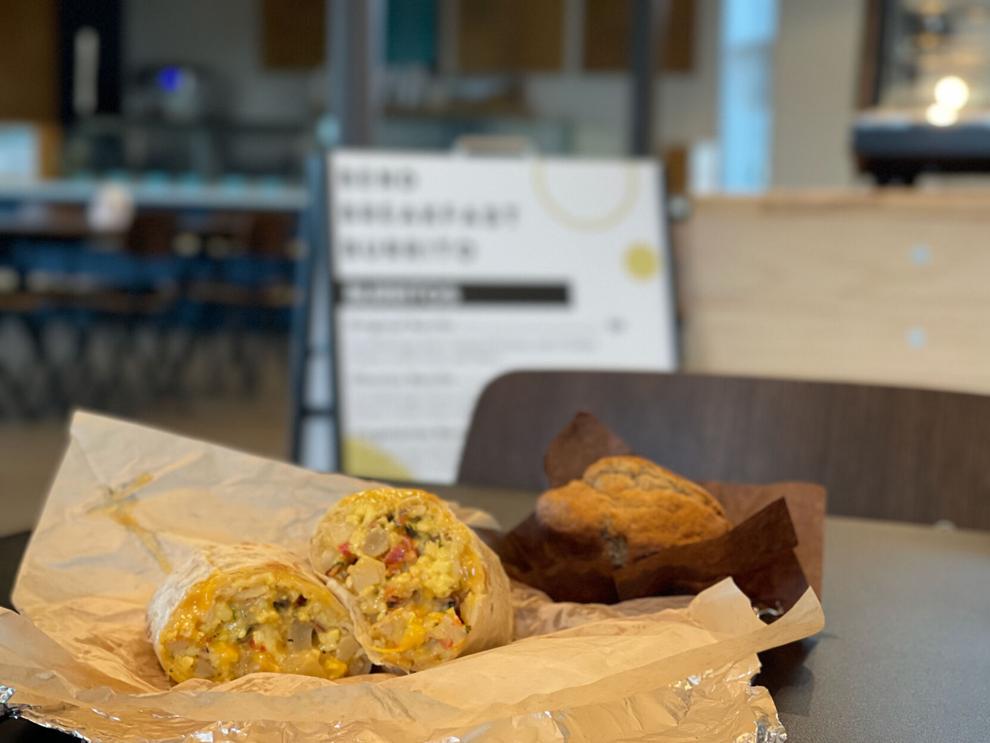 Trent prepares the food at the Prep Kitchen in Midtown. The cart offers only burritos, banana muffins, breakfast bars and packaged granola. Burritos are wrapped in foil and kept warm.
Four burritos are available to suit anyone's palate and diet, including a vegetarian burrito and a vegan burrito with scrambled tofu. The Burrito Bowl is a gluten-free option. The ingredients are scrambled together. Val explained, "We want every bite to have all the flavors." Tomatoes, onions and cilantro are chopped into tiny bits and scrambled with the fluffy egg.
Burritos are cut in half, so you don't have to get a mouthful of tortilla as you bite off the end. "The first bite is the best bite. Those little touches all add up."
You won't find big chunks of bacon or potatoes in the Original Burrito, as all the ingredients are chopped and mixed with the eggs. Jack and cheddar cheese are generously mixed in, creating a creamy, fluffy, cheesiness that doesn't weigh you down. Burritos come with a choice of Val's made-from-scratch mild green salsa made with tomatillos, or a red salsa made with tomatoes, serrano chili peppers, onion, and garlic. I've already returned to have another one.
On another visit, I tried the chorizo burrito. Because chorizo is quite oily, the recipe has less cheese. The chopped mixture had just a hint of chorizo flavor. It wasn't my favorite as it was drier than the Original Burrito. My preference for a chorizo burrito is one that is dripping oil and strong, spicy and sausage-forward.
The cart also offers banana bread muffins made using "grandma's recipe." It is a dense muffin with cinnamon and caramelized bananas.
In 2006, Bobby Grover took over a coffee shop in downtown Bend. Since then, Thump Coffee has continued to grow.
Thump moved its roastery to a warehouse on NW York Drive in Northwest Crossing about three years ago. Thump has also expanded — opening locations in Denver, Colorado, and in the Grove.
While it initially offered breakfast pastries from Sparrow and Nancy P's, Thump absorbed Fearless Bakery a few years ago. Pastries are made in-house at the York facility and sold with Thump's smooth coffee at all locations.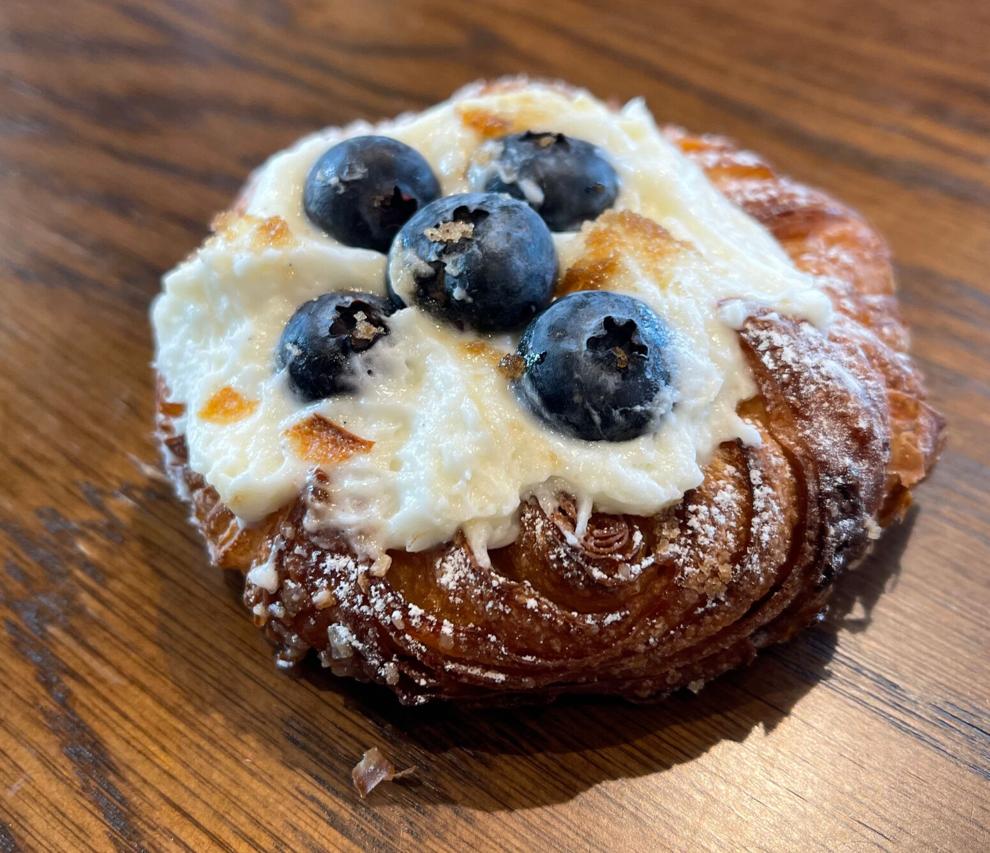 Over a couple of visits, I sampled each type of pastry. All were very good. The fresh bagels were huge and light, but the Everything Bagel could have used a little more salt. The plain croissant was wildly flakey with only a hint of butter flavor. I might have preferred more butter, but it was perfect when smeared with jam.
I had a savory scone. Ham, cheese and green onion are finely chopped, with more cheese added to the top of the scone. With all the ingredients mixed in, it was a good meld of tastes.
Danishes are made with croissant dough. Laminated in the same way as the chocolate croissant, the dough is folded into a small round. The Danish is then finished with a dollop of cream cheese icing and fresh fruit. Fat, juicy, tart blueberries on my Danish balanced the sweetness of the icing.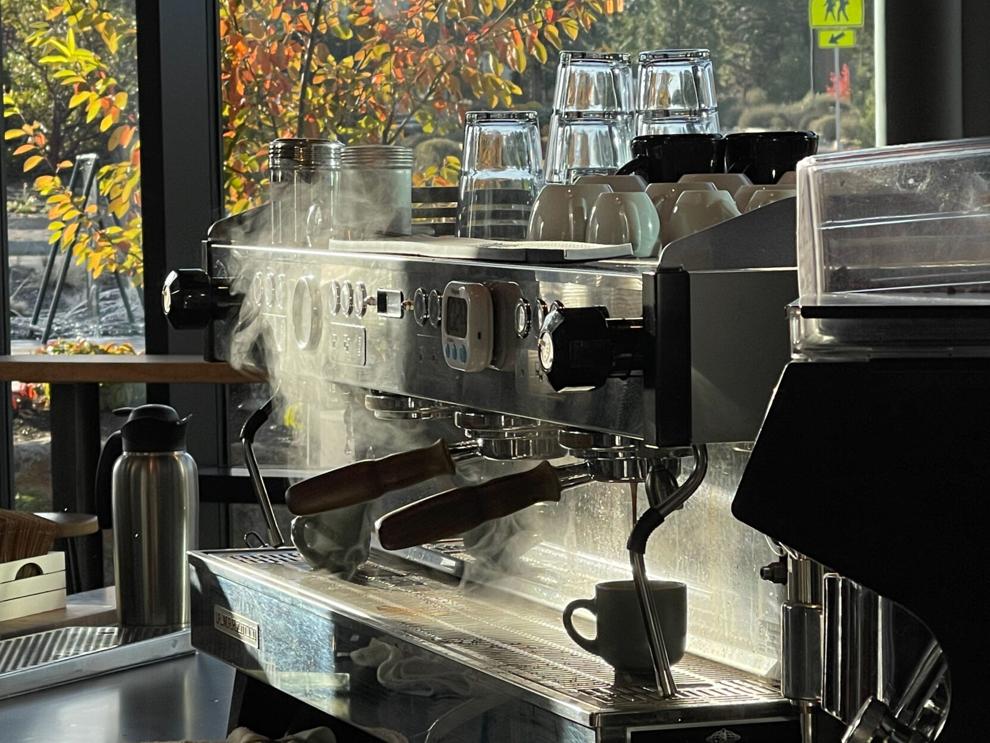 The Danishes pair perfectly with a smooth, foamy Thump Genuine Coffee latte. Operations Manager Anne Lodahl explained that the Thump baristas are put through an in-depth training process to learn to pull espresso shots and do latte art. At the end of their training, they are certified to ensure each cup of Thump coffee is consistently good.
Other restaurants are still under construction. Sunny's Carrello will move inside, and LCB (Left Coast Burger) should open any day. I will review the new spots when The Grove is fully opened.