Oregonians have been asked to stay home.
Bars are closed. Spa days are out. Movie theaters have gone dark. So, what better way to spend your time while sheltering in place than streaming shows you somehow missed, wondered about or you'll be glad GO! Magazine recommended?
Yes, I've watched everything on this list, which is why I recommend snuggling in with your comfiest pair of pants and checking these out. Remember to stay hydrated, and the pause button is your friend.
NOTE: Some of these shows are available on multiple streaming services, or are still airing on major networks.
Netflix
"Adam Ruins Everything" — For fun and informative looks at everything you thought you knew. Using sketches, animation and exasperated friends, host Adam Conover explains the ins and outs of things like security, restaurants, even death. Sometimes gross and morbid, the show has a pretty light tone when dealing with some dense topics. 20 episodes are on Netflix.
"Anne With An 'E'" — Based on the "Anne of Green Gables" series of books, we find precocious orphan Anne just as she moves in with her new family on Prince Edward Island, Canada. The whole series is incredibly wholesome and heartfelt while they explore more modern topics in the world of 1900s rural Canada. Stream the whole series on Netflix.
"Breaking Bad" — Still haven't watched what became a cultural phenomenon? Now's your chance! Follow a seemingly nebbish high school chemistry teacher as he becomes the murderous drug kingpin of Albuquerque. It has probably the best series finale of all time. I blew through it all in a week once, but I don't really recommend that, for mental health reasons. For a bonus, check out "El Camino" the follow-up film that finishes Jesse Pinkman's story arc beautifully. The full series and "El Camino" are available on Netflix.
"Better Call Saul" — The companion piece to Breaking Bad may be slightly better than its counterpart. Mostly this is due to Bob Odenkirk's portrayal of a super flawed human and lawyer as he slowly works his way to becoming Saul Goodman, the guy who eventually represents Walter White's interests in Breaking Bad. The first four seasons are available on Netflix with the new season airing now on AMC.
"Call the Midwife" — A great long-running series care of the BBC that highlights 1950s and 60s of East London's families and the nurses who bring their babies into the world. The show is packed with rich characters and accurate depictions of women's health for the time. There is at least one birth shown on screen each episode and, while not graphic, it can be a lot to handle to some, but still vital to the story. Stream eight seasons on Netflix and watch the newest season on OPB (streaming available with OPB Passport, available to sustaining members who give at least $5 a month).
"The Chef Show" — Jon Favreau had so much fun making his 2014 film, "Chef" he decided to make a show just about the food. Taking collaborator and actual chef Roy Choi to various restaurants across the US discovering the different kinds of foods they make. There are several episodes with celebrity appearances, including one where they share food with a few "Avengers: Endgame" co-stars, producer Kevin Feige and directors the Russo Brothers. Season one's three volumes are all available on Netflix.
"The Good Place" — Whoever thought you could make a half-hour comedy about ethics and the nature of an afterlife and put it on network television? Tackling everything from Aristotelian philosophy to the Jacksonville Jaguars, a group of four dead humans work together to be better people. Both emotional and one of the best written comedies of the century. Stream the first three seasons on Netflix (the fourth and final season has already aired but will be available Aug. 25).
"Grace and Frankie" — Septuagenarian delights Jane Fonda and Lily Tomlin team up in a buddy comedy about two old family "friends" that are left by their husbands who turn out to have been having a secret affair together for years. Grace (Fonda) and Frankie (Tomlin) move in together after finding themselves newly single and navigate being a woman nearing 80 and growing closer in the process. Stream it on Netflix.
"The Great British Baking Show" — No Netflix binge is complete without mentioning the phenomenon that is a bunch of British people in a tent baking some showstopping edible delights. Yes, it's a competition show, but with people who are genuinely kind to one another. Plus the only thing they win (besides the secondary noteritity) is a cake plate and a bouquet. That's it. No £1 millon prize. No guaranteed publishing contract. It's like a hug and cup of tea when you turn it on, oozing with Britishness. Stream six seasons (that's what's available in America) on Netflix.
"Jane the Virgin'' — When Jane Villanueva was 23-years old, she was accidentally artificially inseminated. Catch is, she's never had sex, so explaining it to her cop-fiance, mom, traditional grandmother and just about everyone she knows is a bit hard. The show follows this aspiring writer and lover of telenovelas as she navigates motherhood, romance, death, intrigue, murder and everything you'd come to see over on Telemundo on an afternoon. The show follows telenovela plots gloriously even with a great narration from a "Latin Lover" type voice. Hilarious, campy, poignant and heartfelt with a great cast, Jane always shines. Stream the entire series on Netflix.
"Lucifer" — The Devil moves to Los Angeles after feeling bored in Hell and as a way to get back at his dad, decides to remain there. He teams up with the LAPD and solves murders aiding an attractive detective (and the only person he loses his angelic abilities around). It's a fun show based on the character of Lucifer in "The Sandman" graphic novels by Neil Gaiman. The show was canceled by Fox after three seasons and was luckily picked up by Netflix for season four (and an upcoming final fifth). The fourth season is the series' best it's ever been. Stream it all on Netflix.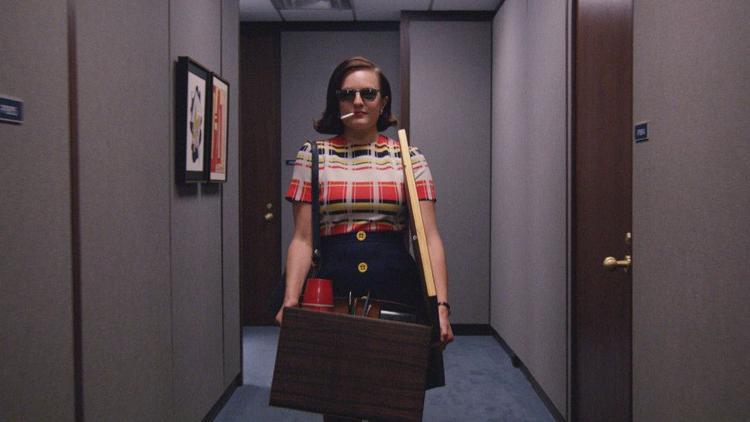 "Mad Men" — What a beautiful show to look at. The cinematography, costumes and set design are lush and make me want to rush out and buy a mid-century home tomorrow. If you already caught this one when it aired on AMC, it's worth another look post-#MeToo. It's amazing how much of it still holds up and how opinions on characters have changed drastically. All seasons are available on Netflix.
"Outlander" — If you like Scotsmen, time travel, history and feminism, look no further. World War II nurse Claire Randall gets transported via some magic stones in the Scottish Highlands to the 18th century just before the Jacobite uprising. The show is full of great historical references, badass ladies and the chiseled and caring Jamie Fraser. The first four seasons are on Netflix, season five and six (currently airing) are available on Starz.
"Ozark" — When Marty Byrde's money laundering scheme goes wrong, he moves his family to the Ozarks. He still has to pay back the crime boss that he was working for, so he schemes more and more, getting involved in local crime rings. It features a solid dramatic performance from Jason Bateman and the always wonderful Laura Linney as Byrde parents, plus nuanced (and Emmy Award winning) performance from Julia Garner. Stream the first two seasons on Netflix with the third to be released Friday.
"Queer Eye" — A new fab five tackle making over (inside and out) people who are deserving of a fresh start. From the straight guys of the show of yore, to transmen, moms, sisters and everyone in between, the show will make you cry frequently, while giving you all the warm fuzzies you may need while under quarantine. Stream it on Netflix and don't forget the special "We're in Japan!" four episode show.
"Santa Clarita Diet" — A Netflix original series, this one is a delightfully quirky show starring Drew Barrymore and Timothy Olyphant as married realtors who have their lives turned upside-down when Shelia (Barrymore) becomes undead (not a zombie in the traditional sense). It's a shame that Netflix decided to end it after three seasons but it's worth the episodes that were made. The entire series is available on Netflix.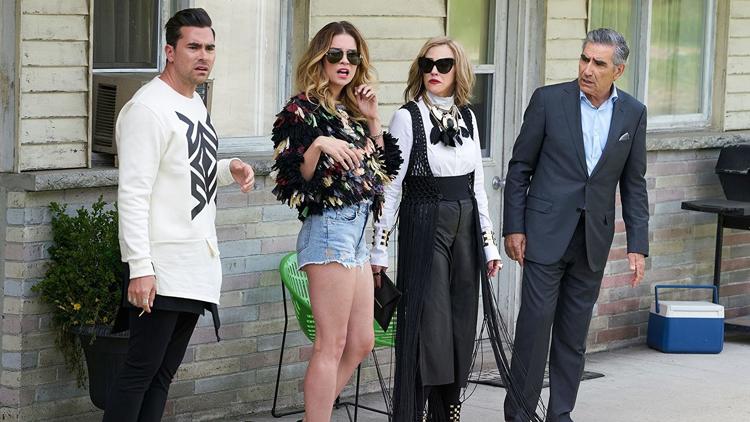 "Schitt's Creek" — Speaking of one of the best comedies of the century, from the minds of Dan and Eugene Levy comes the story of the Rose family (the father and son team plays father and son Johnny and David Rose in the show). The Roses were rich, and after all their money is taken from them they are forced to live in the town Johnny bought as a joke, Schitt's Creek. The fam now needs to learn to pick themselves out of the ashes and try and survive living in a roadside motel and navigate the tiny town of characters. At first they all seem so completely annoying that you'll never feel any sympathy for them — keep going. Each season shows how these entitled bunch learns and grows and it's beautiful to watch. I have never cried so much or loved a show as much as I love this one. Stream through season five on Netflix, season six is currently airing weekly on PopTV (whose app can be used with your Dish and DirecTV subscribers).
"Stranger Things" — Hop on the nostalgia train and join a group of nerdy boys when they meet a mysterious girl with a shaved head and telekinetic powers and must save one of their friends, Mike, from the "upside-down" an alternate reality inhabited by monsters intent on taking over our world. Joined by Mike's mom, brother and Sheriff Hopper, they all must fight for the truth and their lives. Seeing the characters grow over the past three seasons has been amazing and the writing keeps you wanting to click that next episode button as fast as you can. Stream it on Netflix.
"Star Trek: The Next Generation" — Still good after all these years. OK, so all the special effects didn't age well and some of the acting is pretty indicative of the early 90s, but oh man are there some really great things in this show. Watching the entire series took me a good four months recently so jump around if you want, skipping a couple won't leave you out of the loop too badly. Stream it all on Netflix, Amazon Prime Video, Hulu and CBS All Access.
"Supernatural" — It's cheesy, it's silly and it's been on the air probably too long, I clearly don't care. Sam and Dean Winchester save people and hunt things. Monsters, demons, you name it, they've probably shot it (or at it). It can drag a bit, man are those finales and season premieres great! Too bad they're finally parking their Impala for good this season. Seasons 1-14 are available on Netflix, the current season can be streamed on the CW app (it's free but ad supported).
"The West Wing" — Following the administration of Josiah "Jed" Bartlet, played brilliantly by Martin Sheen, and full of still relevant political discussion and top-notch writing from Aaron Sorkin for the first four seasons. Sorkin left the show after that and, while the show is still wonderful, the story is a little more far-fetched than before. The full series is available on Netflix.
Hulu
"Bob's Burgers" — An animated comedy that focuses on the Belcher family and their mostly failing burger joint. Between the great voice acting of the cast anchored by H. Jon Benjamin and some stellar writing the show is charming and laugh-out-loud funny. Stream it on Hulu, season 10 is currently airing Sundays on Fox and episodes are available on the streaming site Monday.
"Brooklyn Nine-Nine" — Another show canceled by Fox and picked up elsewhere, in this case NBC nabbed the cop comedy starring Andy Samberg. The show manages to be irreverent and fun while still managing to highlight deeper issues including representation, racial prejudice and more. Stream all episodes on Hulu, new episodes air on NBC Thursdays and uploaded to the streaming site Friday.
"The Handmaid's Tale" — This may be too intense to sit and watch every episode back-to-back, maybe sandwich it with something lighter. With stellar acting and writing the show follows June/Offred as she is made a Handmaid to an affluent commander and his wife in the country of Gilead (formerly a large section of the U.S.). June's purpose is to give them a baby, since the majority of women in this not-so-distant dystopia can no longer conceive. The show features scenes of rape and other abuses against women which can be difficult to watch. Steam three seasons on Hulu, a fourth season will be released later this year.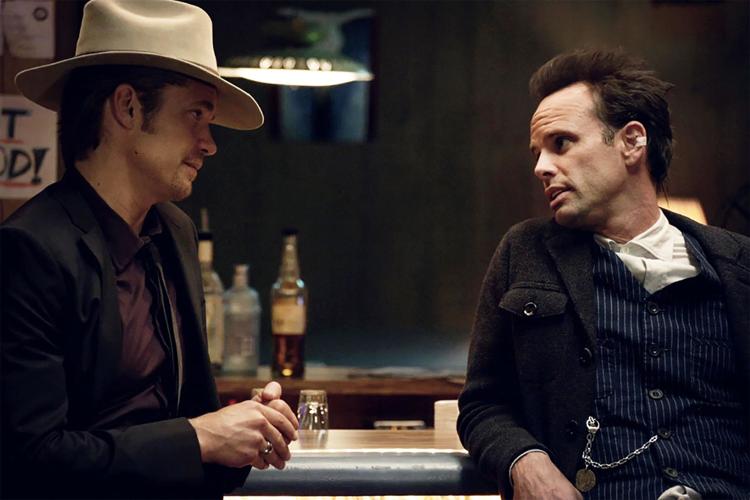 "Justified" — The other side to the coin that is Timothy Olyphant, now playing a U.S. Marshall who is transferred back to his native Kentucky and must go against an old friend (played by the often underused Walton Goggins) and now hardened criminal, the Dixie mafia and many family crime rings in the hills and hollows of Harlan County. Stream the full series on Hulu.
"The Last Man on Earth" — A half-hour comedy dealing with the after-effects of a virus that wiped out nearly the entire earth's population may seem a bit macabre given the current situation, but the heart of the series is about a small group of people finding each other and finding family in the process. The show was unfortunately canceled after four seasons and ended on a cliffhanger but it's still a fun watch nonetheless. Stream the full series on Hulu.
Amazon Prime Video
"The Marvelous Mrs. Maisel" — A completely different tone than the shows above, this Amazon Prime Original follows Midge Maisel, a homemaker in the late '50's Manhattan who begins a career in standup comedy. The show is loosely based on the life of comedianne Joan Rivers and has some incredibly fast-paced, razor-sharp and profane laiden dialogue that is a delight to watch. The first three seasons are available on Amazon Prime Video.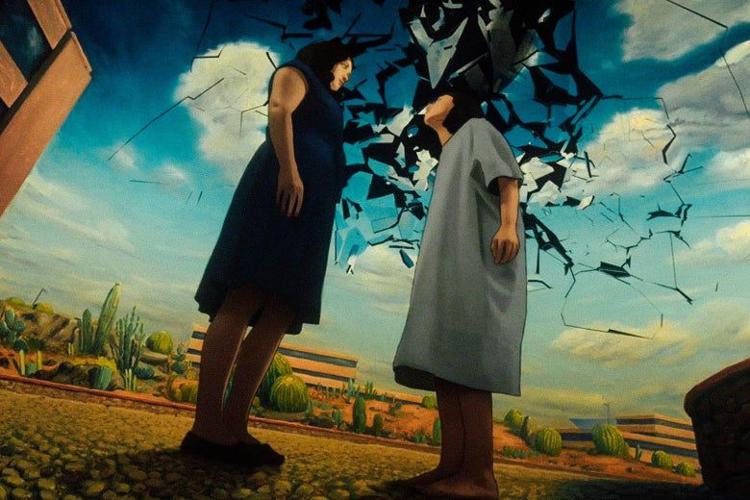 "Undone" — A woman gets in a car accident and is told by a vision of her dead father that she can play with the concept and rules of time and space. It's pretty out there and uses rotoscoping animation (live action sequences are traced frame by frame) to create a visually stunning piece that perfectly mirrors the fantastic script and acting. Bonus, it's also got Bob Odenkirk! The first season is available on Amazon Prime Video.
HBO Go/Now
"Barry" — Barry is a hitman who finds a passion for acting while carrying out a hit in Los Angeles. Full of all too real situations for the LA acting scene, great performances from Henry Winkler and star and co-creator Bill Hader and really poignant moments throughout.
"Chernobyl" — Maybe not one to watch all of in one sitting as it gets incredibly detailed and intense which could lead to anxiety in some viewers. Only five episodes long, but it follows the disaster at the Chernobyl nuclear power site in April of 1986 as the disaster unfolded and the investigation and clean-up that followed. Is it entirely accurate? No. It paints a stunning picture of the broad strokes and a very Hollywoodized version of the actual events through top-notch acting. Plus it does a great job of showing the effects of radiation on the human body, graphically so.
CBS All Access
"Picard" — For a more cynical look at space the final frontier, the new series as an aging Captain Jean Luc Picard trying to make sense of Starfleet's ban of synthetic (droids) life while trying to save a synthetic lifeform from the a group of militant Romulan insurgents. The first season comes to a close Friday on CBS All Access. Non subscribers can watch "Picard" for free by using the code GIFT, you still have to make an account though.
Disney+
"Agent Carter" — I'm still not over the fact they canceled this show. Following Agent Peggy Carter after the end of World War II and her true love, Captain America, saves the day and ends up in the ice. Peggy works for the precursor to SHEILD (if you follow Marvel, you know how that ends) and is stuck mostly in administration. So she has to prove that she is worth more than the shelby men who she's passed over for. Its delightful, a little campy and only two seasons so easily watched.
"The Imagineering Story" — A fascinating deep dive into the wonderful world of Disney parks. In chronological order the show delivers us to the House of Mouse and doesn't shy too far away from the organizations failures, shortcomings and all out bad decisions on the way to creating the empire it's become.
"The Mandalorian" — Only one season has aired and the episodes are only about 30-minutes a piece so it's a low commitment binge. If you love Star Wars, even if you were disappointed by the last film, the series restores your faith in the franchise, giving all new characters to follow and fall in love with. It's a space western/samurai show (at least the first season, who knows what's next).
"The World According to Jeff Goldblum" — If you don't like Jeff Goldblum, you will hate this show. If Jeff's alright with you, check out his hosting skills while delving into seemingly ordinary subjects including ice cream, demin, shoes and more. The lanky actor brings such wonder to each subject and always seems genuinely interested to learn more.