Whether you've just heard about The Grove or driven by it, you may not be clear on what it is. Located at the traffic circle where Mt. Washington and NW Crossing drives intersect, The Grove Market Hall is like a food court, but it's more than that. The Grove is home to a bar, a coffee shop, an ice cream counter, Italian, Thai and health food. A specialty food store and Left Coast Burger Company should be open by the end of the year.
Tables are set up in a common area with a sliding door that integrates indoor and outdoor dining with fire pits. Greenleaf Juice and Elly's Ice Cream are new in Bend. The remaining spots are new ventures from owners with other restaurants in town.
The Bend Brewing Company opened Waypoint. ThaiPas is the new venture from the owners of the Incred-a-bowl cart (now closed). The Italian offshoot of Sunny's Kitchen, Sunny's Carello, is still in their food truck, but should move to its inside spot soon.
The brightly lit white and grassy-green counter screams "fresh!" and "healthy." A sign recommends that customers order from the app before arriving. This juice, soup and bowl bar has pulled together some surprising combinations. The result is a balance between healthy and tasty, without the dullness of some vegetarian flavoring.
Owner Laura Flynn described the flavor profile: "The ingredients are so simple, and that's one thing that is beautiful about it. We have so much accessibility in terms of flavor, just in the fruits and vegetable profile. It's healthy made easy. You're not choking as it goes down."
Laura met her husband, Garret, at his smoothie truck in Portland. They soon opened a brick-and-mortar location, got married, opened three more locations around Portland, and now have the Grove location. Though the couple met in Portland, they are from Indianapolis, Indiana, and recently moved back to their hometown. They have opened a new Greenleaf Juice in Indianapolis, where they are finding that they have to do more education about healthy foods.
Three soups are on the menu. The soups can be ordered alone and are used as a base for the Quinoa Bowls. I had the Buddha, which had the Miso Broccoli Soup with black beans, fresh green onion, broccoli and cauliflower florets, and cashews. Carrot juice in the soup added just a touch of sweetness. Beans added umami. And the cashews brought nutty earthiness. It's best to mix up the ingredients in the bowl as it is dusted with cayenne. I quickly ran back for a juice to put out the spicy fire.
I chose the Green Lemonade — from several smoothies and juices, expecting a bitter aftertaste of juiced kale and spinach. Instead, it was a refreshing, well-balanced mix of ginger, the sourness of lemon and pineapple, sweet pear, and refreshing cucumber. Its cool freshness put out the fire.
I had the Morning Berries Oatmeal Bowl filled with strawberries, blueberries, and bananas on a return visit for breakfast. Chia seeds and raw oats were generously sprinkled on top. Granola added crunch, and a hidden dollop of almond butter brought more nuttiness. The fresh and crunchy ingredients were tasty but, even though it was before 9 am, the oatmeal had been cooking too long, making it pasty. If it was cooked properly, the ingredients would have made for a good breakfast.
I'm still not convinced the cool, delicious blend of the Soma Acai bowl could be as healthy as they say — packed with nutrients, fiber, and antioxidants. The Soma's acai blend includes almond butter, blueberries, bananas, kale, and orange juice. It's topped with crunchy granola and cashews, bananas, shredded coconut, and drizzled with maple syrup and cinnamon. The crunchy cacao nibs add a hint of chocolate.
When speaking with Flynn, she mentioned that the menu would be changing with the season. Greenleaf will add more grain bowls, soups with cauliflower rice and turmeric, and elderberry syrups in the smoothies. I'm looking forward to trying them.
ThaiPas is a play on "tapas" — those small-plate offerings in Spanish bars. Owner Chip Rothenberger wanted to offer an experience like you might have sharing Thai food entrees when you go out with your family. ThaiPas offers "sets" made up of two or three small-portion entrees, so you can try a couple of dishes even if you dine alone.
Rothenberger is confident in running a Thai food restaurant. In 2007, he opened and operated Thai Noon in Portland, but left it many years ago. Still, Chip's wife, Prang, is from a tiny island off the southern coast of Thailand. With ThaiPas, Prang brings the recipes and cooks as she did back home.
"The food is not always colorful. Sometimes it's just one color," Prang said, referring to the Panang Curry. She wants to stay true to the traditional ways of Thai cooking. Although many customers may ask for green pepper in the curry, she won't add it, as it is not the way it's made in Thailand. The online description of the restaurant states "At ThAiPAS you won't find the traditional dishes that you will find at most Thai restaurants in the U.S. We offer dishes for all (palates) from sweet and savory, to authentic Spicy Dishes, not dumbed down for the westerners (palate)."
With a hint of lemongrass and curry spices, the Panang Curry had plenty of flavor without the green peppers. I also enjoyed the Chicken Teriyaki prepared in the traditional Thai manner — a light sauce with a hint of sweetness rather than the thick and dark Teriyaki used in Japanese dishes.
As much as I liked those dishes, others were a miss. The dry curry pork was indeed very dry with nary a hint of curry flavor. The brown rice was also dry with some uncooked grains.
The Geow Tod (Crab Rangoon) starter had light flaky wontons filled with creamy cheese and (cue record scratch) imitation crab. It came with a delicious sweet chili sauce that Prang told me she buys but adds her own touches. Unfortunately, the "crab" tastes rubbery and fishy.
Tom Kha is one of my favorite soups, with its mixture of lemongrass and coconut. The ThaiPas soup was too watery and one-dimensional, with almost no trace of the usual flavors.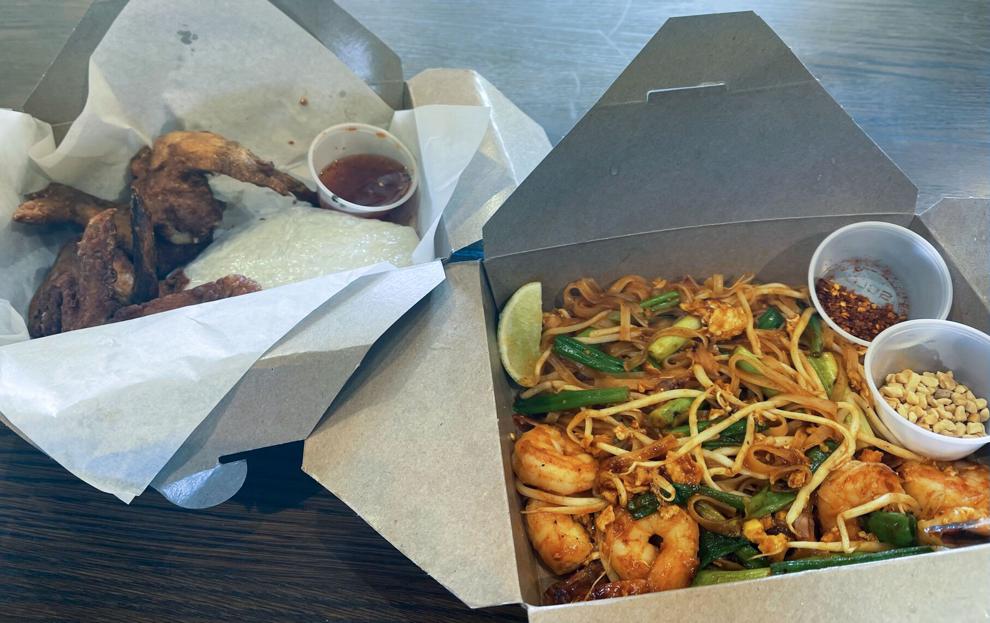 Unfortunately, there was no Tom Kha when I returned. Instead, I had two satisfying dishes. The lightly breaded, full-sized Thai Fried Chicken Wings was served with sticky rice and chili sauce. It made for a good, light lunch.
The Shrimp Pad Thai was simple, without a strong, sweet or nutty flavor. Six tender shrimp came with stir-fried rice noodles, eggs, and bean sprouts. It came with chopped peanuts and ground chili flakes to put on top that added complexity along with fresh scallions.
In part two of The Grove review, I'll cover Elly's Ice Cream, Thump, and the Bend Breakfast Burrito cart that are also open.