While the SCP Redmond Hotel's restaurant and bar The Rooftop has been open for a few years, a couple of new restaurants have been added at street level, including the Wayfarer Club. SCP stands for Social Community Planet, a hotel group dedicated to environmentally friendly accommodations and healthy living.
The Rooftop has lovely views looking over downtown Redmond. But the interior of the historic hotel is equally welcoming. Its outdoorsy decor features clean, modern tweed sectional sofas with leather-trimmed ottomans, and is accented with wood trim, inspirational quotes painted on the walls, and antiques.
The Wayfarer Club is located just left off of the lobby. According to SCP, the restaurant/bar is "inspired by the rich history of Oregon exploration featuring a plant-forward menu with tavern-style small plates." Like the Rooftop, the menu is what SCP calls "plant-forward" emphasizing vegetarian and vegan options like jackfruit tacos. Still, there are several meat options, including charcuterie meats and cheeses.
Chef Sean Hulecki was chosen for his experience developing vegan-based menus in his work for a hospital kitchen. He's coupled that experience with working at the Four Seasons in San Diego, then at Pronghorn when he came to Bend three years ago.
On my first visit, my friend sat on a leather couch, and I snuggled into a tweed barrel chair on the other side of the antique trunk chest that acted as our table. Wayfarer Club has other sofa arrangements, tall tables and a long pine table with several chairs, and a mid-century black rotary phone sitting on the end. The wall behind the bar is bare brick showing off the wall of the original historic Redmond hotel. It had a tavern feel that inspired us to order one of the craft cocktails.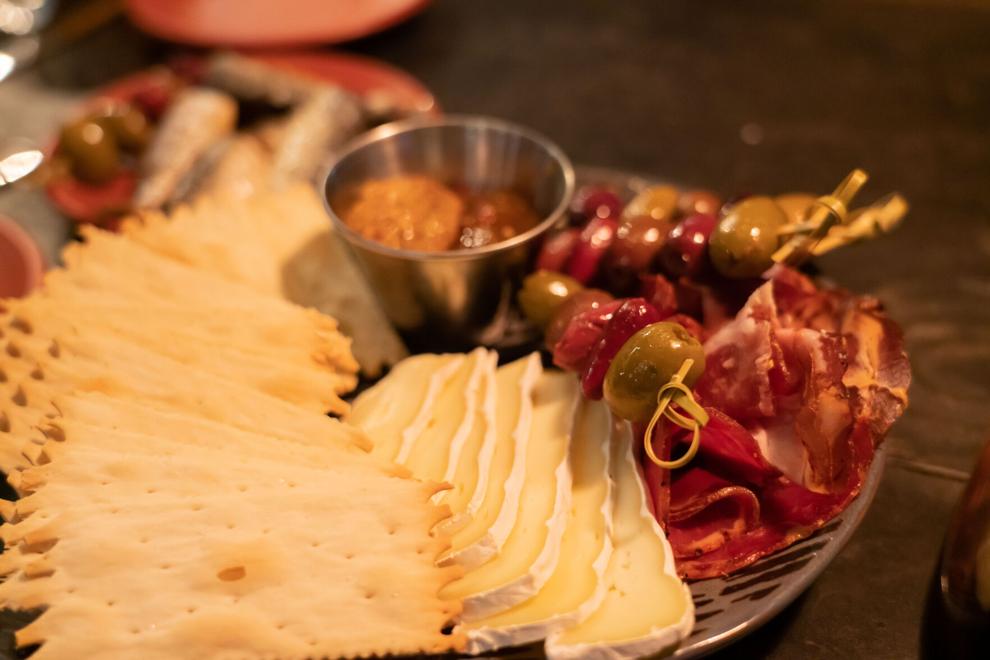 We wanted to start with a variety of the "tastes" to make up a charcuterie board. The thin slices of the Hot Coppa Pork Salume weren't spicy, as the name implied. The meat went well with the French Prairie Brie cheese, crispy, light croccantini crackers, and a dip into a ramekin filled half with mustard and half with housemade jam.
Castel Vetrano olives from Sicily were served on skewers and prepared in a citrus marinade. The bright, mild olives combined with the citrus masked the olive flavor. They were less than satisfying as they were more mushy than firm. We didn't finish them.
Matiz Sardines from Spain aren't your typical oily, skinny fish from a can. These sardines were substantial, fatter than my thumb, with little oil and lots of flavor. If you like sardines, don't miss these.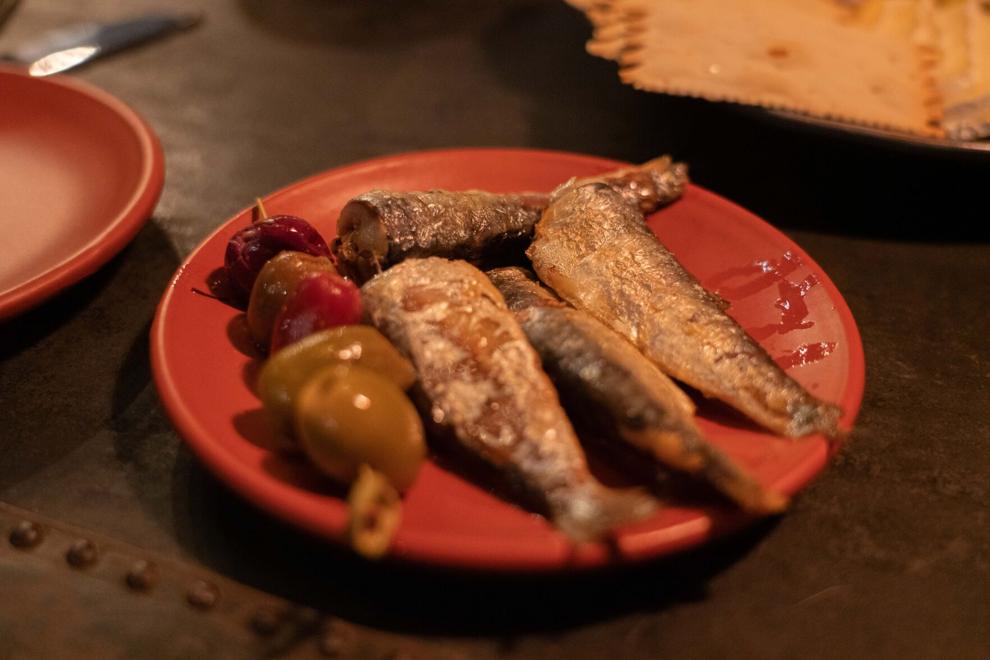 Unfortunately, the meal was not "coursed out." That is, everything came to the table at once, so we weren't able to enjoy our appetizers before eating our entrees. Possibly this is due to the kitchen's location on an upper floor of the hotel and the food coming down on carts. Next time, I would probably order the appetizers, then the entrees once the appetizers arrived.
The Portobello "Steak" Salad was one of our "Main Event" entrees. A pile of heavily marinated sliced portobello mushrooms sat atop fresh mixed garden greens, herbed croutons, tomatoes, and Point Reyes bleu cheese. The menu says heirloom tomatoes, but they appeared to be standard globe tomatoes. During this time of supply chain issues, I'll give that a pass. The tomatoes were firm and tasty. It was a fine salad. It was fresh. But I didn't consider the sliced portobellos a satisfying meat substitute, as they were soft and cut too small.
Our second entree was Pork Tonkatsu with Japanese curry. Bone-in Carlton pork was thickly Panko-breaded. The pork sat atop slightly sweet sticky rice coated in the Japanese curry. Having never had Japanese curry, I can't compare its specific preparation. It is not supposed to have the strong coriander and cumin flavors of Indian curry. Hulecki assured me that it is authentic as his line cook, who suggested the dish, is Japanese. Still, it had a gelatinous consistency reminiscent of bad Chinese food I ate in my childhood. I thought that it was upsetting my stomach as a reaction to the memory. But as Hulecki listed the ingredients, I discovered that green peppers are blended into the mix. There were no chunks of pepper, but I'm allergic to green peppers, and it was probably a bodily reaction to the trace amounts. The salty drizzle of Tonkatsu sauce (made with Worcestershire, hoisin, and ketchup) cut through the curry. I was able to enjoy the meat and sticky rice.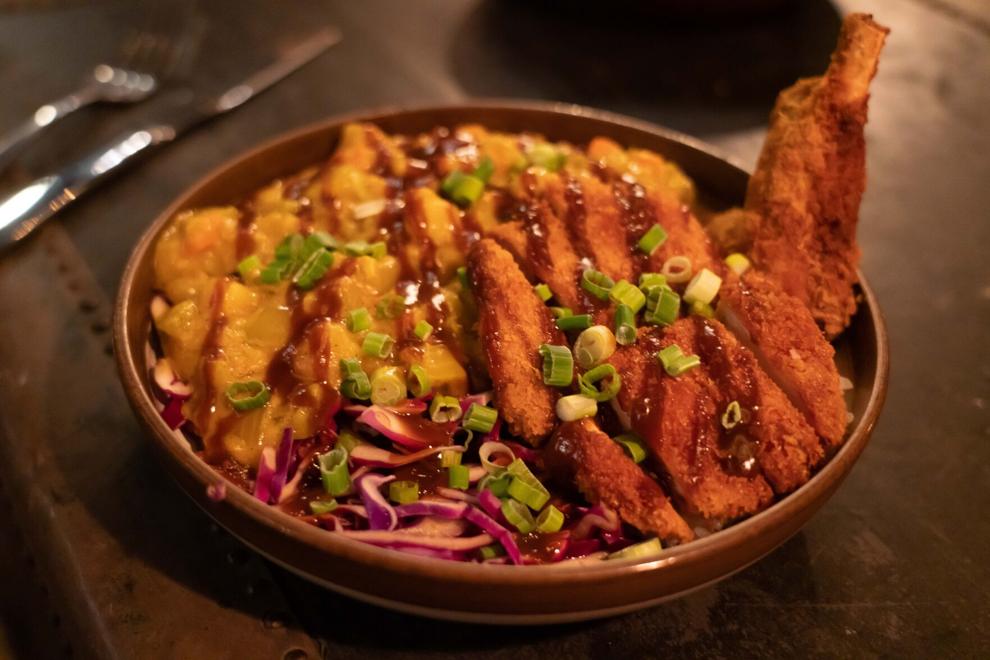 The Oregon mixed berry cobbler dessert was a grand ending to the meal. Warm oat crumbles added texture and a finish to the fresh berries. It was topped with a scoop of vanilla ice cream.
A few days later, a friend, my corgi, and I went for a hike in Redmond. I had to try a couple of more dishes. Although I'd seen a dog in the Wayfarer before, dogs aren't allowed in the bar. She was allowed to hang out with us in the lobby, where they would serve us.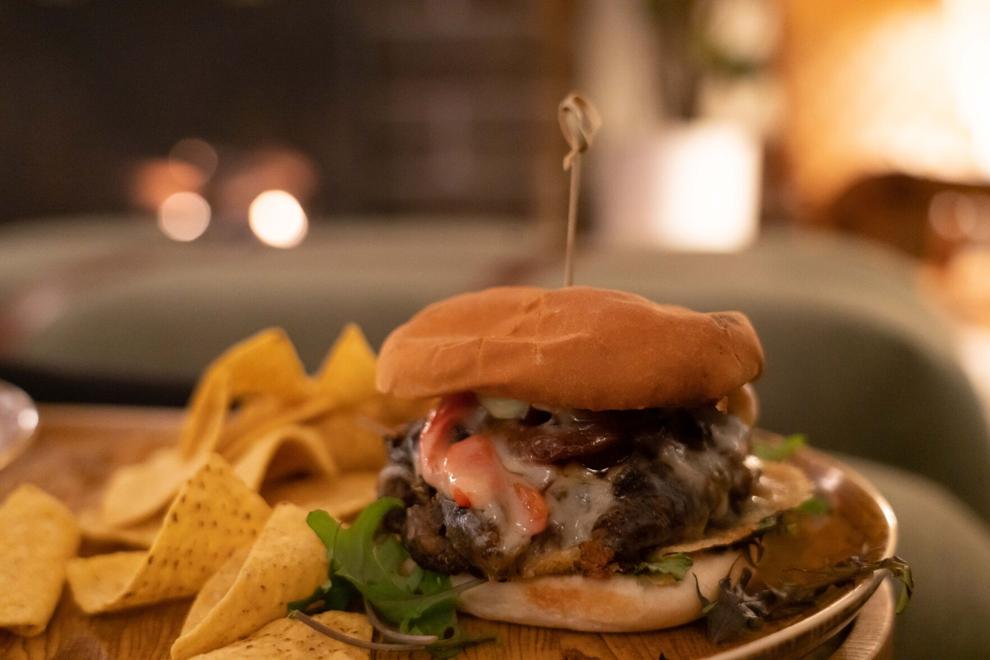 On this visit, we tried the flatbread and the Forager burger. Both dishes were perfect for after a hike when paired with the Wayfarer's housemade Sangria. The flatbread's toppings frequently change. This time it was a red sauce with mozzarella, zucchini chunks, and sausage. The sauce was more like a light marinara than a heavy tomato paste. It was a wonderful blend of spices and fresh veggies on a lightly charred flatbread.
The Forager burger was likewise a light yet filling choice. It was even better than when I had it at The Rooftop. The "burger" is made from porcini mushrooms and quinoa. It has a meaty flavor, yet the taste of the mushrooms and quinoa come through. The moist and juicy patty is covered in melted Gruyere Swiss cheese. Caramelized onions, red peppers added dimension, and charred green onion aioli balanced all flavors. It's worth going to SCP Redmond to order this vegetarian burger. My only complaint was that it came with a pile of ordinary corn chips. Nonetheless, my corgi seemed to enjoy sharing them.