Another customer comes into Palmer's Cafe and greets owner Dave Langmas with a hearty "Hello!" The man must have been the fourth person in 15 minutes to be a friend or regular of the restaurant. Clearly, the warm, welcoming atmosphere is part of the reason that locals rave about the breakfast at Palmer's.
Palmer's Cafe is nestled at the back of the parking lot of the Palmer Motel on Greenwood Avenue. Built almost 100 years ago, in 1922, by Palmer Discus, it has been a cafe for over 50 years. Langmas bought the Palmer Motel 20 years ago and leased out the restaurant. A little over four years ago, an outside investor bought the quaint restaurant but didn't do well as an absentee owner. That's when Langmas decided to try his hand at running the cafe, starting with a complete renovation of the deck, the kitchen and dining room. When COVID-19 shutdowns happened, the reopening was postponed. The cafe was closed for three years before reopening in March 2021.
The eatery has some of the most cordial and caring servers I've ever come across. On my first visit, I was the sole diner on the deck (with my pup) on a cold morning, and I was impressed and thankful when my server came out every few minutes to warm my coffee. On my second visit, the server made sure to light the heater next to my table, keeping me warm.
When I sat down to talk with Langmas, it became evident that attention to service comes from the top down. Langmas owns the motel, but don't expect to book a room. Langmas' past health issues fuel his compassion for people experiencing trouble — those who are in Bend for medical care, and homeless families. The motel rooms are used for people in need.
When I visited Palmer's Cafe in the past, it was known for big omelets and scrambles, and unfussy, affordable breakfasts. They served terrific fresh cinnamon rolls and coffee cake. Langmas knows that the breakfast pastries were a customer favorite, but he has yet to find a source that works for the restaurant.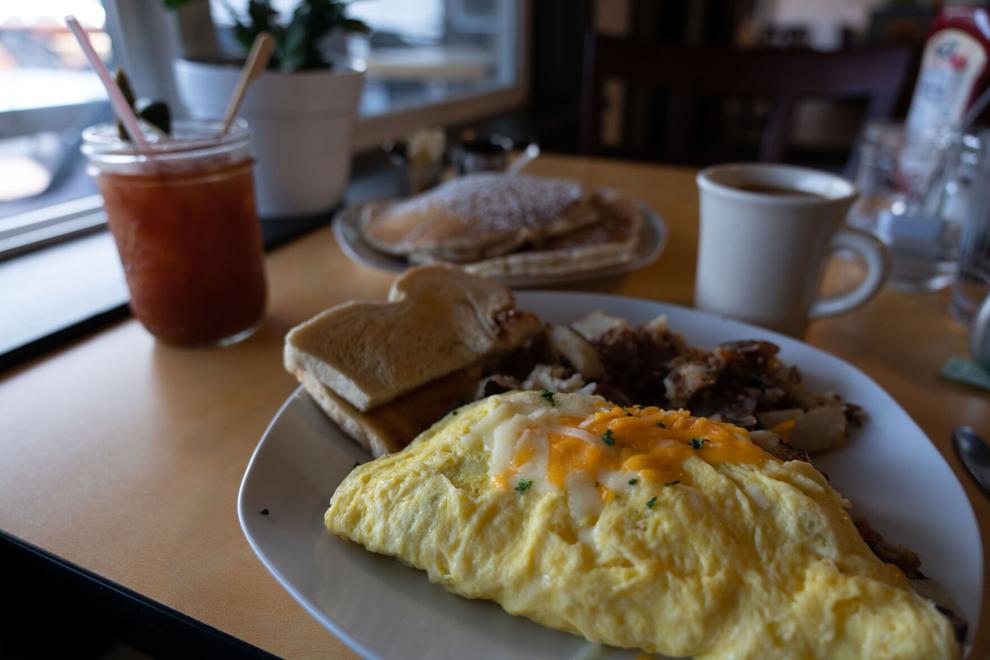 I'm hoping the pastries return, but even without them, the rule here is good food with generous servings. Though there aren't fancy preparations or unique dishes, the food is dependably satisfying. The menu offers several omelets, from Meat Lover's with bacon sausage and ham, to the Todd Lake, with grilled chicken breast, bacon and cream cheese. Scrambles include a Mediterranean Scramble with sausage, tomatoes and olives and the Pilot Butte (aka kitchen sink) with peppers, onions, mushrooms, tomatoes, cheese and a choice of meat (so large Palmer's offers a half portion).
On my first visit, I tried the Sparks Lake. Like its namesake location, it is sure to become one of my favorites. A large, fluffy-egged omelet was stuffed with corned beef hash — big chunks of meat, onions, tomatoes and mushrooms. The top was covered with just the right amount of cheese. The corned beef was well-seasoned, without any fat in sight. The accompanying homestyle breakfast potatoes are made with skin-on red potatoes and tossed with roasted garlic. It was a delicious alternative to greasy hash browns.
Another time, I tried the eggs Benedict. Despite some faults, it too was satisfying. The eggs were not poached long enough and were too runny, and there was a thick covering of lemon-forward hollandaise sauce. But they sat atop two tasty slices of Canadian bacon, adding salty, smoky flavor, and a large English muffin. When I scraped away some of the excess hollandaise, the individual ingredients were able to come forward and worked well together. Next time, I'd order the sauce on the side.
Along with the savory dishes, I tried the Swedish pancakes and the French toast. Swedish pancakes contain more eggs and milk, making them thinner than traditional pancakes. While not fluffy, they are rich and flavorful. I chose the cinnamon bread French toast and requested cream cheese to go with it. The cinnamon bread was mild and not too sweet. Disappointingly, Palmer's doesn't have real maple syrup available. Both the pancakes and French toast are served until 11 a.m., when the grill starts being used to make burgers.
Finally, Palmer's offers a few lunch "specials," including a hamburger, bacon cheeseburger, Reuben sandwich and chicken club on a Big Ed's brioche bun. Ever on the search for great hamburgers, I tried the bacon cheeseburger. Palmer's uses baby spinach instead of lettuce on their burgers and sandwiches. It works, as the leaves stay firm and add a hint of spinach flavor. The bacon cheeseburger also comes with a thick slice of onion and tomato and a bit of mayonnaise spread on the bottom of the brioche bun that's big enough to handle all of the ingredients and the Oregon grass-fed beef hamburger. The meat was cooked perfectly — crunchy sear on the outside and dripping juicy. Coated French fries came with the burger. This will go on my list of where to get a good burger.
At Langmas' insistence, I ordered a Reuben to-go but took a couple of bites before leaving the cafe. I won't commit to saying that this is the best Reuben in town, as he and his staff kept telling me, but it was excellent. The thick, toasted marble rye held up a load of tasty, lean corned beef and a pile of sauerkraut. Melted cheese stretched as I pulled it apart. Palmer's Reuben is more sauerkraut-forward than others in Central Oregon, with very little dressing. I asked for more Thousand Island dressing to balance it with a bit more sweetness and flavor. It was just right for me that way.
It's easy to see why Langmas has so many friends. As I watched him chat with diners at each table, I began to think he may be part of the reason people keep coming back. It's a great place to get a tasty, unfussy breakfast when you don't want to make it yourself. And with all items under $15, it's affordable, too.