I'm thankful I didn't grow up in the '50s or have parents who did. Between a seeming overabundance of organ meat, molds, canned meat, obsession with Jell-O and aspic — a savory dish made of meat stock gelatin containing pieces of meat, seafood or eggs for my fellow youths — its enough to make your FitBit buzz in horror at the thought of it.
But not all '50s cooking is appalling or inedible to our modern palates.
Cracking open just two vintage cookbooks gave recipes for an entire meal that was surprisingly flavorful and hearty for my family and guests who were up for being guinea pigs.
What came out of the meal were more conversations about what the food reminded them of and the recipes their parents used to make — the weird and the wonderful. For a trip a down a more palatable memory lane, here are a few recipes worth trying out.
Note: The 1950s had a serious cooking problem when it came to vegetables, and most recipes only included them in a casserole dish or by boiling or glazing the poor things. If you use these recipes for a full meal, just grill up your favorite veggie to join the authentic foods.
From "The ABC of Barbecue" Peter Pauper Press, copyright 1954
The cookbook, contrary to first glance, is not just about how to cook your favorite meat dish. Instead, it is a collection of recipes that can be taken to various cookouts or potlucks as finger food, side dishes or main courses.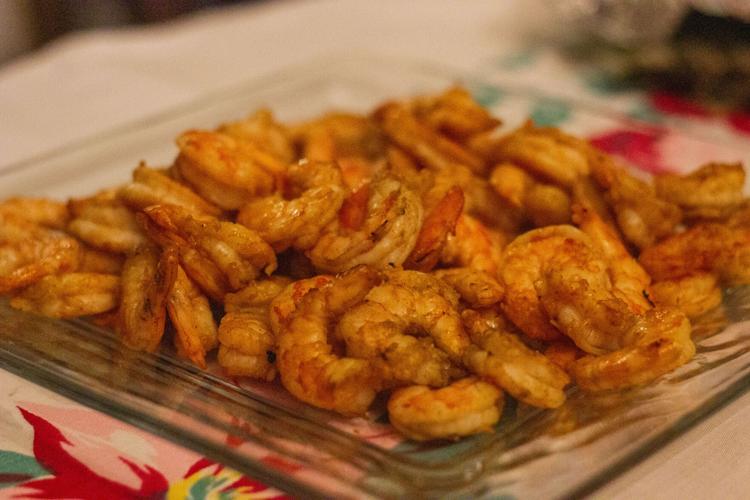 Divine Shrimp
The name alone conjures up a nifty-fifties image of cocktail parties and cigarette holders. The recipe is very simple and easy to execute.
Ingredients
2 pounds shrimp
1 pint salad oil
1 tablespoon salt
4 tablespoons ketchup
1 teaspoon paprika
1 clove garlic
For raw shrimp, remove the shell, devein and wash thoroughly or use deveined, tailless shrimp for easier preparation.
Chop the garlic finely and add ketchup , salt and paprika. Beat in the oil until well combined then pour over the shrimp and refrigerate overnight.
The original recipe leaves out the fact that with so much oil going into the fridge, the marinade will congeal, so the next day, give the mix a stir a couple of times before cooking to make sure the shrimp are all getting a proper immersion.
When you're ready to cook, the recipe states to "place shrimp on sides in shallow pan, pour over some sauce, broil." Today, using a grill pan works just as well and you can get a flavorful char on the shrimp if you desire. Don't overcook your shrimp or it will toughen. Luckily, these days you can use precooked shrimp and get the perfect cook-time without turning them into boot leather.
Serve hot.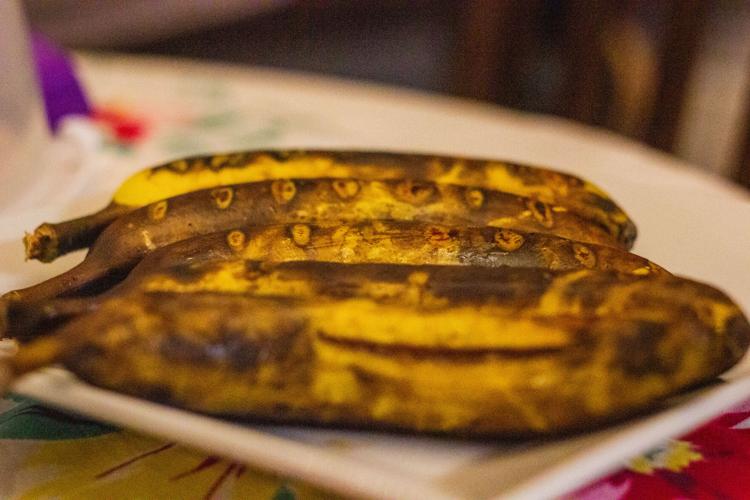 Honey-Grilled Bananas
They may not look like much when they come off the grill, but they are nevertheless delicious.
Ingredients
Bananas (however many you desire)
Honey
Leaving your bananas in their peels, cut a three-inch slit in the skin of each banana and fill it with about a half tablespoon of honey.
Cover with plastic wrap and set aside for at least one hour.
Place the bananas on a grill and turn them frequently for about 8-minutes.
Serve hot.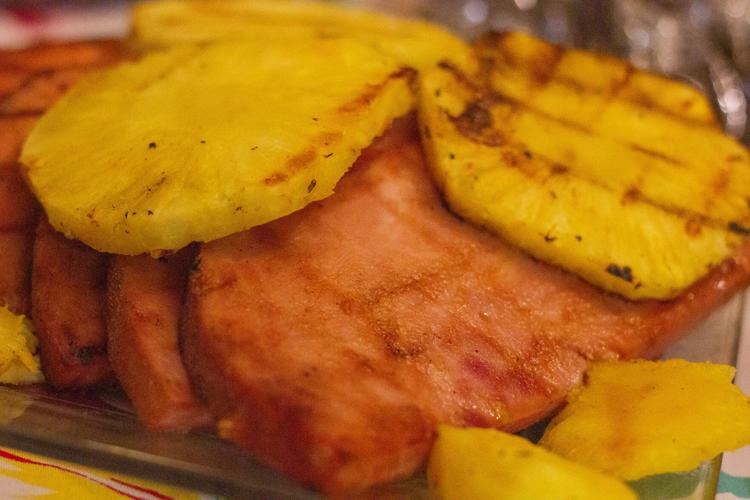 Ham, Pineapple Garni
The pineapple was huge in the '50s thanks to advances in farming and shipping of the sought after fruit. Canning too made it much more accessible to American households so it's no wonder they put pineapple in many dishes including ham.
Ingredients
Ham cut into thin slices, or ham steak
1 cup brown sugar
½ cup vinegar
2 tablespoons dry mustard
1 cup pineapple juice
Make a basting sauce by mixing sugar, vinegar and mustard together in a medium saucepan and cook on low-medium heat for 3 minutes. Remove from heat and add pineapple juice, stir to combine.
Broil the ham on a grill and baste frequently until ham is golden brown and tender. Garnish with grilled pineapple slices and maraschino cherries.
From "The General Foods Kitchens Cookbook" by The Women of General Foods Kitchens, copyright 1959
This book is full of not only recipes, but also gives the reader menu ideas for various events like weddings and graduations, and based around a particular main dish ingredient like pork, fish or vegetables. The foreword states that it is "designed to help you in the hundreds of everyday and special situations that call for the planning, preparing and serving of food."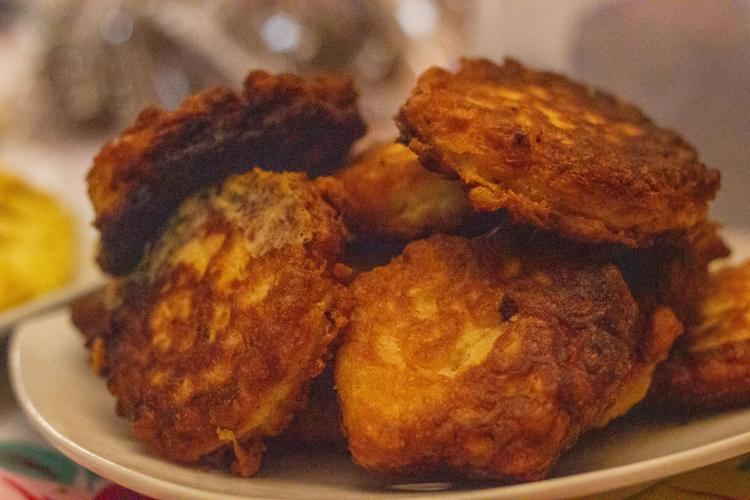 Pineapple Corn Fritters
These tasty morsels are nice additions to the ham dish and you can utilize the pineapple juice from this recipe with the garnish recipe above.
Ingredients
3 eggs
1½ cups milk
3 cups pancake mix
3 cups drained canned whole kernel corn (about two cans)
2 cups drained, canned crushed pineapple
Shortening or cooking oil
Blend eggs and milk together in a large mixing bowl. Add pancake mix and stir until fairly smooth. Fold in corn and pineapple until mixed well.
Heat a ½-inch of oil or shortening in a frying pan, keeping the temperature between 350 and 360 degrees.
Drop batter by the spoonful and cook until golden brown on each side.
Drain on paper towels to absorb excess oil.
Serve hot. Optionally you can serve with butter and syrup for breakfast.
Yields 12 to 15 fritters, which can be stored and reheated in a pan or oven at 350 degrees.