This Mother's Day is like no other. Family gatherings are best kept online, brunch at a winery or a restaurant is not an option, and traveling to be with you mother might be out of the question. The Bulletin wanted to help, so we offered to deliver messages to Mom by printing them in our Central Oregon Life section.
From our readers:
By Sajeela Ismail
At 36, I have come a long way in life. And when I turn back and see, if there is one person whom I owe every milestone in my life to, that is my mom. People tell me that I am a hero in my own ways. From boldly walking out of a disastrous marriage of many years and battling depression that followed, pulling myself together to go on and become a university topper, to being judged as presenter of one of the best scientific papers in India and then finally making it through to my dream of coming over to New Zealand, my journey has not been easy, to say the least. I have always believed that it was the mother in me who kept fighting with odds in life. My now 11-year-old and 7-year-old bundles of joy have been there with me in every trial I faced. But it took me long to realize that the real struggle behind each step I took went unacknowledged by me all these years. I am, because my mom is. Despite having major differences many times, she was invariably there for me, every single time I needed her. Physically, emotionally, financially — she was (and continues to be) my savior in all possible ways. Now I know, times when I must have closed my eyes before taking the plunge, I must have seen her confident face that must have made me bold enough to lunge for it.
My decisions were tough because many times it went against societal norms. But now I know, they were more easily welcomed because I am my mom's daughter. She defied norms, decades back, when she decided to do justice to the brains and skills she was blessed with. In an era when girls from her place were not to be educated beyond certain levels, she struggled her way to became a doctor. The best multitasker I would ever know of, she went on to take her expertise to a higher level all the while managing her profession and family equally well. One of the best gynecologists in town, there was no instance the society or her family missed her — that's the magic with which she balances everything. Last year, our state from India, Kerala, saw unprecedented floods. In a condition where commutation was impossible, she wouldn't abandon neither her patients nor her family. She moved in, with us, to the hospital to be with every soul who counted on her — be it her patients or her family.
For days on end, we stayed there till the last of her patients were discharged and sent back home. One year later, the world itself was in for a colossal catastrophe : COVID-19. At past 70, even today, my tigress is out there — serving humanity and once back home, taking care of Nana (my dad) and my kids.
She has passed on her values to me. But try how much ever as I would, I realize — a bit ashamed — that neither my struggles nor my achievements would match hers in any way. I feel the Almighty has blessed me in abundance and the best of it all is undoubtedly — my mom.
By Wendy McGrane
This will be the first Mother's Day since my mom Marilyn Monahan's passing on June 1, 2019. Last year on Mother's Day, she was suffering from metastatic brain tumors, which swiftly destroyed her quality of life and eventually took her life within a few months' time.
My mom had a way to make everyone around her feel special and interesting. She had a natural curiosity, selflessness and a strong sense of adventure. Relationships were important to her, and she was filled with creativity. She sure would have made this time of social distancing and quarantine more interesting for everyone she knew.
She also used to submit pictures of loved ones to the media for birthdays and other occasions. So, I'm channeling Marilyn and sending this for the upcoming Mother's Day issue in The Bulletin. I miss her dearly, and I hope to find a special way to honor her on Mother's Day this year.
This photo was taken shortly before her cancer diagnosis.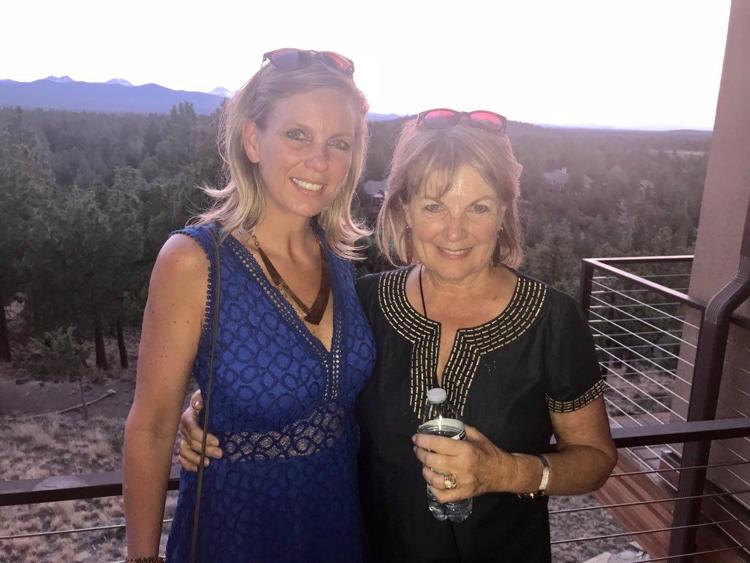 By Rick C. Vecqueray
My mom and I immigrated to the USA aboard a Dutch steamship from Canada in 1952 to follow my dad here who had come a year earlier. They soon divorced when I was 6 years old. My mom worked and supported us while we lived in the L.A. area. During that time, I received a school assignment to write an essay on "Why I love freedom." I'm not sure how, but somehow the essay found it's way into the L.A. paper in the community section. At the time, my mom had been hospitalized and diagnosed with cancer and was terminal. She had been taking the U.S. citizenship course for naturalization, but being terminal, she would not be able to finish the course to gain citizenship in time before her demise.
A federal judge read my little essay in the paper and sought me out. Upon learning about the situation with my mother, he visited us in the hospital and with his vested power, granted my mother, and by extension, me, being a minor, U.S. citizenship. My mother passed soon after, as a U.S. citizen.
My U.S. citizenship is my most valued possession. It is as dear to me as life itself, it will never be renounced or relinquished. I owe all this to my very special mother, and a very kind and empathetic judge in 1958, both have allowed me a fruitful life in America.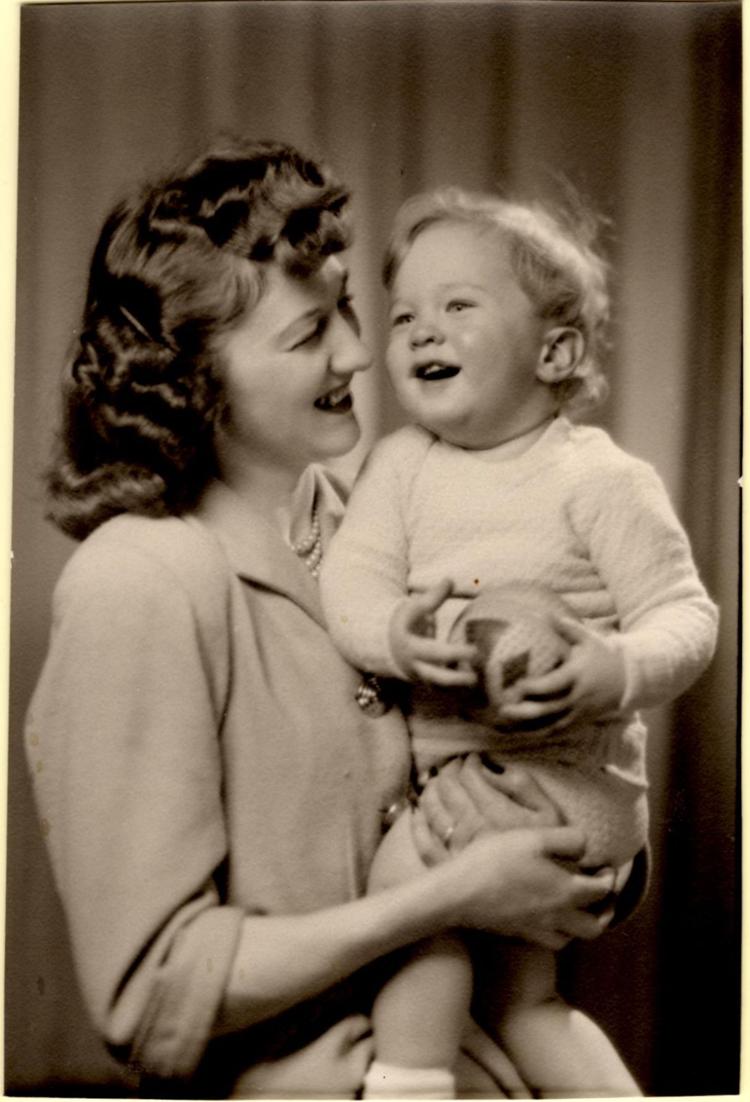 By Michele Clembury
My mom moved in with us about 15 months ago because her dementia makes it impossible for her to manage her life alone. She has joined our life with good humor, joining senior center lunches and an adventure group. She's also been sharing memories of growing up in war time Germany. She misses her friends but is happy to be in such a beautiful area. I think we are the lucky ones to have my mom turn us into a family of five!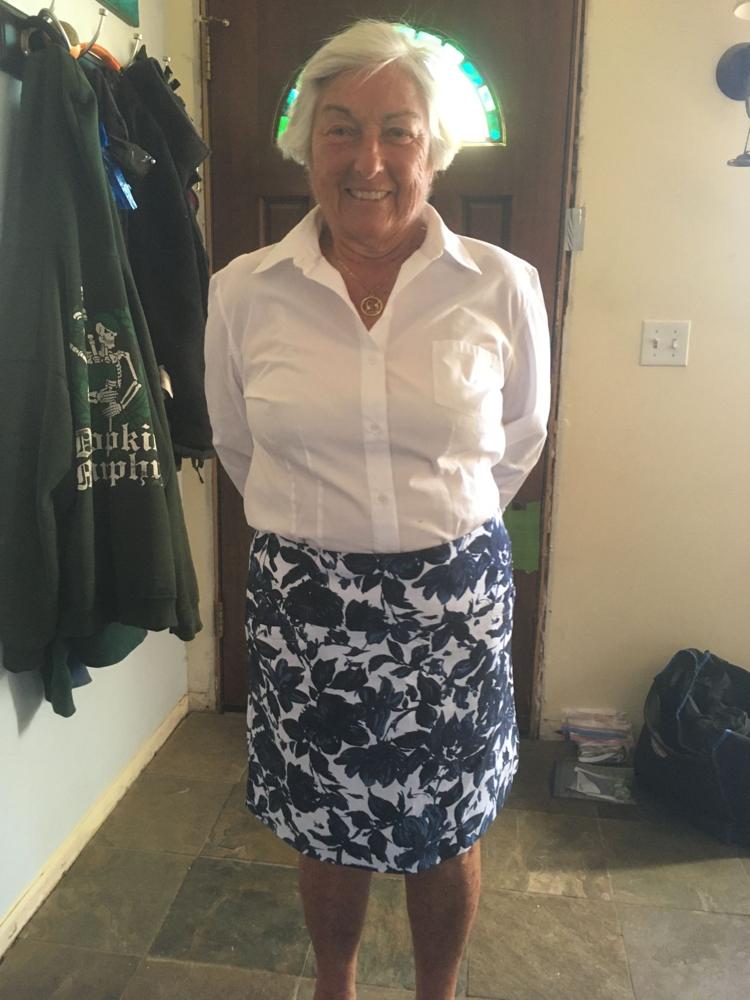 By Brenna and Kinsey Popham
It is hard to believe that a mom so dedicated to cooking, grocery shopping, and responding to every "Hey Mom!" could have time for a hobby. However, Hilary loves spending her free moments in the garden. However, it's a "little" tricky to spend time in this particular garden, considering it is only a few feet wide. Hilary enjoys planting mini shrubs and trees around tiny benches and walkways. Her only problem is that the deer who come to investigate are actual size.