I have taken John Legend for granted.
I'll bet at least some of you have, too.
I'm not saying the guy is underappreciated or overlooked. He is neither of those things. This is, after all, a 42-year-old man with multiple platinum records on his wall and a hit TV show that beams his smiling face into millions of American homes on a regular basis. He is one of 16 people — and the only Black male — to win at least one Emmy, Grammy, Oscar and Tony award. He is married to a supermodel who is famous in her own right. He has entered the People-magazine's-Sexiest-Man-Alive-plays-himself-on-The-Simpsons-and-owns-his-own-wine-label phase of his incredible career.
What I'm saying is Legend has become so ubiquitous, he's starting to feel famous for being famous. Or like really luxurious wallpaper. He's always just there, being John Legend. And it's getting a little too easy to forget about his world-class talent as a singer, songwriter, instrumentalist and performer.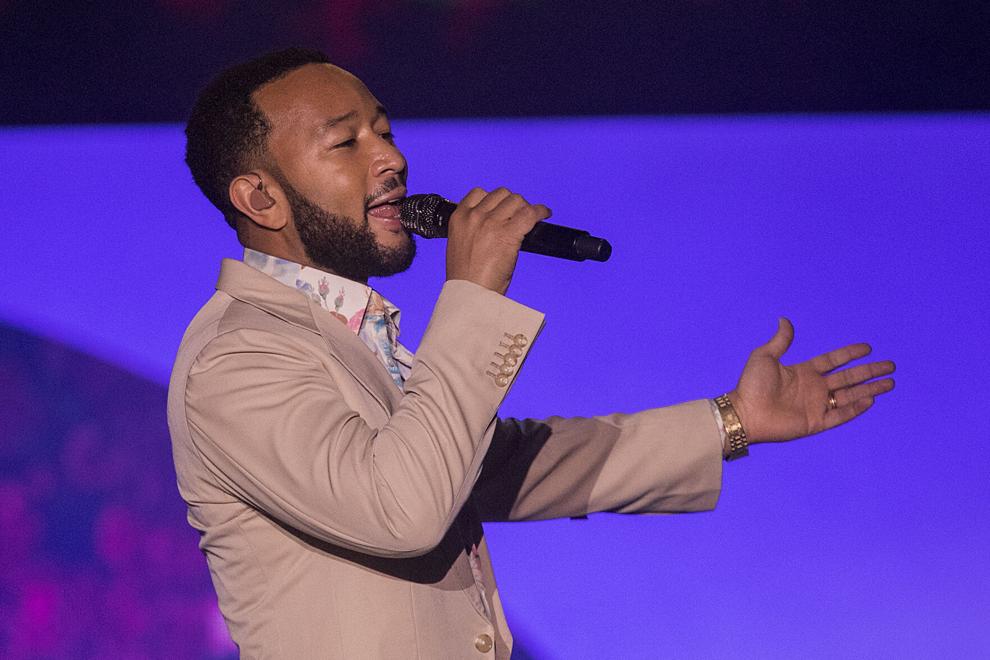 Sunday night's concert at Bend's Les Schwab Amphitheater was an excellent reminder of all those things.
After a stirring, church-like set by Michigan gospel 'n' blues duo The War & Treaty, Legend appeared on the amphitheater's stage as if by divine manifestation, with the classic doo-wop sounds of his sexy-time song "Ooh Laa" already shu-bop, shu-bopping out into the crisp Central Oregon evening. (The temperature plummeted between 6 p.m. and 10 p.m., a reminder of why the amphitheater used to resist booking shows after Labor Day.)
Actually, the first thing I noticed was not Legend, but the structure on which he was standing. It wasn't elaborate — a white box, less than 10 feet tall, with a decorative arch in the middle and two ramps swooping down off each side — but it struck me as the kind of set piece you didn't see on the Schwab stage in past years. That's because the old stage couldn't accommodate such an apparatus. For several months, amphitheater officials have said the venue's expansion will lead to higher profile acts and larger productions. Legend's show was an example of what they're talking about and, hopefully, a peek at the possibilities in future seasons.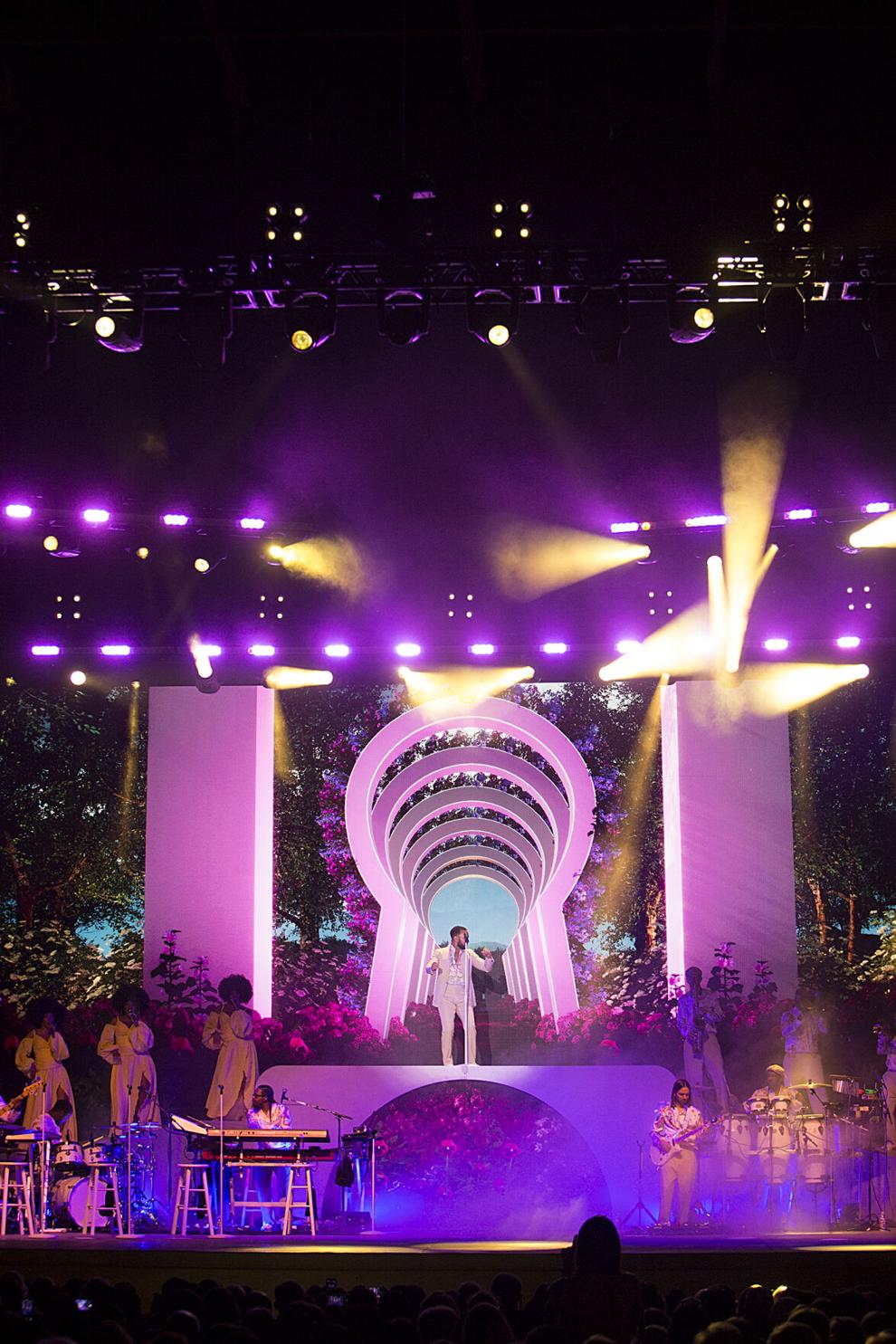 That same set piece also reminded me of the kind of live performances you often see during televised awards shows or the halftime of big football games. Indeed, Legend's entire two-hour set felt a lot like watching a well-choreographed TV special: costume changes, coordinated dance moves, matching clothes and projected visuals, black-shirted roadies moving things around in the shadows. At one point, Legend asked the crowd, "Y'all wanna hear me play piano?" and when he turned around, a white piano had suddenly appeared. Without breaking stride, he sat down and started plunking out the opening notes of "U Move, I Move," with Jhené Aiko's part from the recorded version handled by backup singer Natalie Imani, who popped up on the platform, like Legend, seemingly by magic.
The whole production was as seamless as it gets for a live show, and Legend was the perfect guy to steer the unsinkable ship. He was smooth as silk the entire night, from an early, well-received reference to the University of Oregon football team (which had a big win the day before) to an end-of-night shout-out to his wife, Chrissy Tiegen, whom he said was "hiding" just offstage. (She got her own loud cheer from the crowd.)
In between, he skillfully guided the sold-out crowd on a tour of his catalog, from "Ordinary People," a solo piano number from his 2005 debut album, to "Save Room," a retro rock 'n' soul track from 2006, to his spirited 2016 pop anthem "Love Me Now." He drew this biggest reaction of the night with his biggest hit ("All Of Me"), unveiled a new song ("Stardust"), sang the iconic jazz tune ("Feeling Good") he performed at President Joe Biden's inauguration and sprinkled in most of the tracks from his most recent album, 2020's "Bigger Love." Sonically, the set was unmistakably rooted in soul and R&B, but it was often accented with generous doses of funky horns, Latin rhythms and psychedelic vibes.
On the way out at the end of the night, I heard a guy describe it to his buddy as "fantasy soul," and I think he nailed it. Good job, guy.
The main set ended on a high note as Legend led his band through a series of upbeat songs — "Green Light" and "Actions" and "Used to Love U" — that turned the packed amphitheater lawn into a dance floor. But the best part of the show just might've been the midway point, when the band disappeared and Legend sat at the piano for a solid 15 minutes, playing songs and telling stories.
It was planned, of course, but it felt intimate and special — a testament to the guy's charisma and relatability. Now, "relatable" might be a relative term here, as most folks don't have stories about Kanye West and Lauryn Hill and Alicia Keys and will.i.am ready to roll next time they're faced with entertaining thousands of people. But Legend does, and it was a delight to hear him talking through his journey to superstardom, including rejection by the old TV talent show "Star Search" and his time working a regular job, complete with PowerPoint and Excel spreadsheets. ("Woo-hoo!" shouted a woman near me when he said that. See? Relatable!)
After the show, I told my friend I'd pay money just to hear Legend expand that solo-piano-and-stories section into a full show. Maybe someday he'll do something like that, and maybe he'll return to Bend. Whether he does or he doesn't, you can be certain of one thing: I won't forget how talented John Legend is again. After Sunday night, I have a new appreciation for the man and his work.