The Tower Theatre, Bend's historic downtown venue, has long been a pillar (er, tower) of arts and culture in Central Oregon. Like most venues, the theater went dark in mid-March as Oregon's economy shut down due to the pandemic.
That changed two weekends ago. The Tower opened for events at limited capacity, including screenings of the mountain biking film, "Accomplice," on July 17 and 18 and a showcase for theater students July 25.
Music returns to the stage Friday and Saturday for the Highway 97 Live showcases, featuring three local performers per night. Each act will play a 25-minute set. Friday will feature Cosmonautical, The Jess Ryan Band and Travis Walker, and Saturday's performers will be Jeshua Marshall, The Roof Rabbits and Mosley Wotta .
Kris Arnold, music director and midday DJ for 92/9, 92.9-FM, will serve as emcee both nights. Arnold, who worked at Atlantic Records in Los Angeles before moving to Bend about 16 years ago, also hosts the local-centric show "Highway 97" at 8 p.m. Tuesdays on the station.
"Ray (Solley, Tower Theatre executive director) came to us with (the idea) a while ago, and then everything got crazy with COVID," Arnold said. "Then we came back to it. We revisited it again and decided to try and make a go of it not only to obviously help support the Tower, which we need to do, help support our venues, but also for their reopening. He asked me to help out with booking the bands."
Walker is new to "Highway 97" playlists, but the other artists are all well-known entities in Bend's music scene.
The Jess Ryan Band will play the Tower stage for the first time Friday. This is a big deal for Ryan, not just due to the venue's prestige; one of her musical heroes, Ani DiFranco, played the Tower in February.
"It was right before everything went down, too; that was my last big show that I saw," Ryan said.
Bend rapper/poet/visual artist/writer Mosley Wotta, born Jason Graham, has kept busy during the lockdown. While performance-wise he's stuck to academic and writing circles, musically he and longtime DJ/musical partner Colten "Collothen" Tyler Williams have continued to work in the studio with Rory Restani.
"We are consummately critical of the kind of work that we're doing," Wotta said, "and have been using this time to hone our music based on the 'What Comes After' (2019) album and 'This is (Not) All There Is' (2020) EP and what responses we got from folks plus just how we feel about it. So most of our time has just been crafting the work itself. So we'll see what a performance is like live because it's been a while since we've done anything like that."
COVID-19 concerns
As of this writing, Central Oregon remains in Phase 2 of reopening, albeit with new restrictions announced weekly (gatherings at businesses were restricted to 100 people, down from 250, last week).
Due to COVID-19 restrictions, the Tower's capacity has been reduced to 100 people — 80 audience members and up to 20 performers and workers. There will be 65 tickets available each night of the Highway 97 performances, Tower Communications Manager Amanda Bird said.
The theater will accommodate groups of up to 10 people, with four empty seats between each group and two empty rows between each occupied row. Face masks and social distancing are of course required.
"Everyone has been so amenable, and I think everyone that's come in has said, 'Thank you for being here; thank you for being open,' which is heartwarming," Bird said. "We're not taking it lightly. There's a lot of fear, and lot of it out in the public, and then there's a lot of precautions that we've had to take and navigate our own (reopening). But we set it up in a way that yes, we want to be together and create the space for that and live performance. But if we need to pull back, we can. We're just going to be flexible and adapt and stick as close to our mission as we can."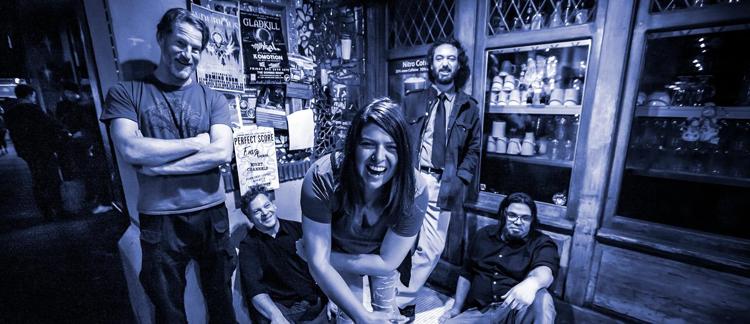 Ryan, whose band has performed at venues such as Worthy Brewing and Cabin 22 since Central Oregon reopened in Phase 2, has seen a mostly respectful response from audiences regarding the new social-distancing rules.
"We played at Cabin 22 recently, and the bartenders were like, 'Hey, can you just remind everyone on the microphone to wear their masks when they get up and to keep distance from each other?'" Ryan said. "Just to remind everyone, we love this, we want to keep it going, so everyone has to do their part to keep it that way. We have to keep each other safe. And I feel like most people are all about it. They don't want things to shut down again."
Wotta stressed the importance of supporting cultural institutions such as the Tower.
"I think we're paying attention to what institutions — which the Tower Theatre basically is now — need to stay open, as they benefit the greater community and that touches a lot of people," he said. "If the Tower puts on an event that brings a lot of different people — not just from this community but from surrounding areas and from other states — here and gives us a certain credibility. That economic impact is felt throughout the community. … When the Tower empties out, people tend to go out into the community. If this does all blow over, we want the Tower Theatre to remain open, the same way that we want all artists who are in this community to be able to keep playing."
The Tower and coronavirus relief
The Oregon Legislature's Joint Emergency Board last week allocated more than $200 million from the federal Coronavirus Relief Fund for Oregonians, small businesses and organizations affected by the pandemic. This includes $50 million in grants to music, arts and community venues and organizations that have had to close, postpone or cancel events due to the shut down across the state.
The Tower Theatre was not one of the venues listed as receiving a specific amount from the more than $24 million that will be distributed by the Department of Administrative Services. Rather, the theater will have to apply for a grant out of the $26 million earmarked for other arts venues that will be distributed through the Oregon Cultural Trust and the Oregon Arts Commission.
The Tower is preparing to submit its request in time for the Aug. 6 meeting of the board of the Oregon Cultural Trust. This meeting should lay out the guidelines for how the grants will work, Tower Executive Director Ray Solley said.
"We're teeing up our efforts and our information," Solley said. "A lot of this is going to depend on how much of this is going to cover expenses that we've already incurred — in essence to reimburse us for money that's already out the door — or will it be for money that is going to be coming that we'll use that to go forward and bring staff back on, do other shows, spend other money as we continue to work our way through the next phases if you will of COVID-19."
Worthy Roots Relief wraps up
In other live music news, the Worthy Roots Relief Fund recently wrapped up fundraising to support Central Oregon musicians and music industry workers who have lost income due to COVID-19.
The weekly Wednesday and Saturday live stream shows raised $12,800 in April, May and June though audience donations and Worthy Brewing beer sales, and the concert videos have been viewed more than 63,000 times, according to a Facebook post from Worthy Roots organizer and local promoter Ian Egan.
Live streaming and in-person shows will continue Wednesdays and Saturdays from Worthy Brewing. Rod DeGeorge's Guitar Gods Review, a guitar-centric tribute to classic rock's greats from Zeppelin to Prince, will kick off August's shows on Saturday.