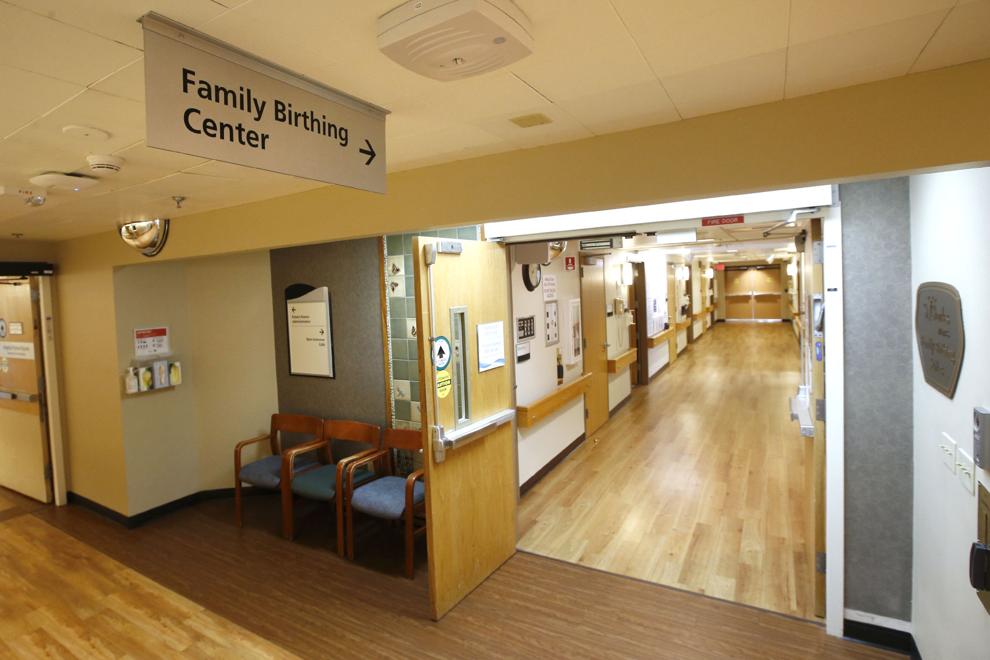 BEND — Itzel Wiewel was determined to control the circumstances of her second child's delivery. Her first daughter's birth at an out of state hospital was fraught with complications, evoking fear and helplessness. Her daughter spent a week in neonatal intensive care.
Wiewel had a different vision for her next birthing experience.
As her due date grew closer, Wiewel rethought her planned birth at nearby St. Charles Bend. At six months, she switched to the care of a certified nurse midwife and gave birth at St. Charles Redmond in a room with dimmed lights and wafting essential oils. The experience was the calm supportive setting she had imagined.
Pregnant with her first child, Denise Piza bypassed her closest birthing option at St. Charles Madras in favor of the care of her preferred doctor at the St. Charles family clinic in Redmond and gave birth at the hospital there. Piza sought respect and support for her maternity, something she had heard was in short supply for Latinas at the Madras hospital.
Both women's birthing choices were less about the location and more about the experience and partnership with their caregivers at the Redmond birthing center. The longer drive to their top choice was a consideration, but not a deal breaker.
"It was a huge debate if we wanted to drive from Bend to Redmond when I was in labor," Wiewel said. "I didn't want to have a baby in the car."
Access to obstetric services is becoming an issue for women living in remote areas of the country. But rural Central Oregon has it better than most. Many rural hospitals have stopped staffing birthing centers as the relatively low number of births makes it hard for hospitals to cover their costs and to keep up the skills of specialty health care providers. As of 2014, more than half of rural counties in the U.S. lacked hospitals with obstetric services, according to a recent study.
The year following the loss of the obstetrics services, more births took place out of hospitals or in hospitals without childbirth services in counties similar to those comprising Central Oregon. But those numbers went down when women adjusted to the change, the researchers speculated.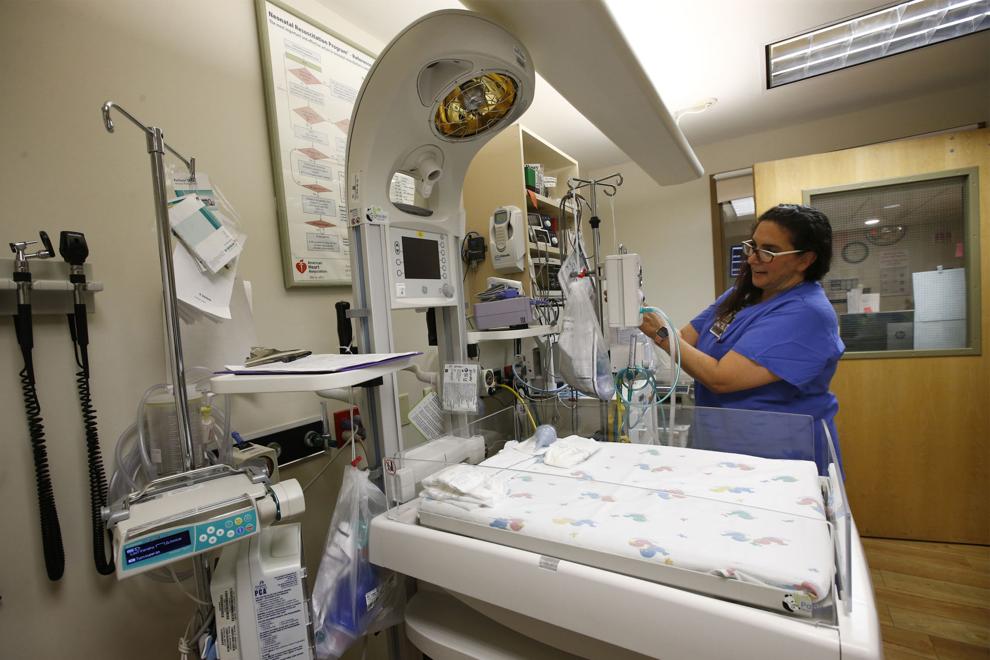 After St. Charles closed its low-volume birthing center in Prineville nine years ago, Crook County had no hospital with obstetric services. Redmond was the next closest. Now, women in Prineville and points east must drive 45 minutes or more to St. Charles Madras or St. Charles Bend.
That distance requires more planning, said Katy Kozhimannil, the lead researcher based at the University of Minnesota Rural Health Research Center. In prenatal care checkups, "they're not talking about their pregnancy, they're talking about how they will get to where they need to be," she said, whether that's a checkup or when going into labor.
"Most people in their mid-20s don't have a lot of savings. The car I had when I was 24 wouldn't have gotten very far. You don't always have two cars working reliably all winter long. You don't have a childcare facility where you can put other kids."
Transportation isn't the only issue when a hospital closes its birthing center. Your birthplace is a cornerstone of your identity, Kozhimannil adds, like where you went to high school. "In some cases, (the closing) may confer clinical risk," she said, "but even if not, you need to care for the community for whom losing births there is important."
Location led the community opposition to the decision to close the St. Charles Redmond birth center on July 13.
St. Charles officials say other changes in women's health services will provide a net benefit to families while controlling some of the health care costs, including adding a women's health clinic in Sisters and support and resources for pregnant women in Deschutes, Crook and Jefferson counties that extend beyond the St. Charles system.
The three counties that comprise Central Oregon embody a wide-ranging cross-section of health experiences and outcomes. Pregnancy and childbirth are no exception. Ranked by key health indicators, such as infant death and birth weight, Deschutes typically ranks near the top in the state, then Crook County in the middle, and Madras historically has been at the bottom, said Michael Baker, Jefferson County health services director.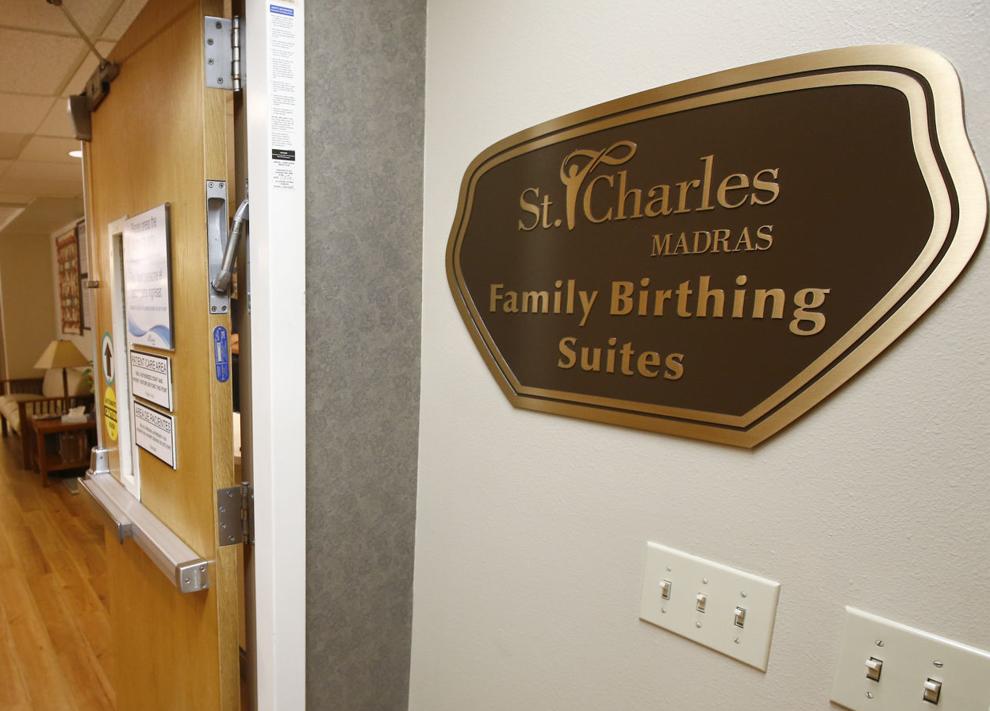 Giving birth in rural Oregon
The main entrance to the family birthing center at St. Charles Madras.
In July 2015, St. Charles Madras Family Birthing Center closed for six months to stabilize its staffing situation and provide a higher level of service, said St. Charles spokesperson Lisa Goodman. Deliveries were diverted to Redmond and Bend during this time.
"Now the birthing center is fabulous," Baker said. "Our biggest problem is convincing local folks that it's a quality center."
Piza applauds the Madras hospital's recent efforts to reach out to the Latino community. Last year, while serving on the city council, Piza was invited to a meeting to help inform more culturally aware and responsive policies and practices.
"They have already been doing that work for awhile with Warm Springs," she said. Last August, St. Charles Madras put together a Native American advisory council to improve care and delivery, and this fall they will be rolling out a similar Latino advisory council, said Chief Nursing Officer Candy Canga. At the meeting, one woman mentioned it was important the first meal after giving birth be chicken soup with lots of vegetables, not the hamburgers, grilled cheese sandwiches, pancakes and sour cream-smothered tacos on the menu.
The Oregon Office of Rural Health at Oregon Health Sciences University in Portland (ORH) defines Bend as an urban outpost set in a vast rural area. There are many different definitions of rural. The ORH labels urban to places where more than 40,000 people live within 10 miles of each other, while rural refers to places more than 10 miles away from a city of 40,000 or more.
About 2,200 babies are born every year in Central Oregon, with about 1,800 of them taking place in Deschutes County, said Pamela Ferguson, Healthy People & Families Program Manager for Deschutes County.
Ferguson heads the project The Regional Perinatal Care Continuum. The tri-county project aims to increase the percentage of women who receive prenatal care in the first trimester and reduce the percentage of low birth weight babies, two key health indicators. The project has been running for three years, the funding was just renewed through 2023 by the Central Oregon Health Council.
Slightly more than half of Oregon's mothers qualify for the state's health plan, a financial measure similar to the rest of the country.
"We've been lucky in Oregon to have robust prenatal coverage for undocumented immigrants and Medicaid recipients," Ferguson said.
Improving the Health of Mothers & Babies in Central Oregon is a regional referral system that helps connect pregnant women with prevention services and other support. Public health care coordinators are embedded in some of the busier obstetrics clinics throughout the three counties. They are now serving 53% of the pregnant women in Central Oregon, most of them in their first trimester, and want to connect with all pregnant women in Central Oregon.
"We're resource navigators," said Erin Hoar, the first embedded coordinator in Central Oregon. "Health care navigation is complicated. The more at risk people are, the harder it is to navigate. It's a nice marriage between the public health sector and obstetrics care providers, (who) are so busy clinically."
The coordinators can help women sign up for the Oregon Health Plan, enroll in the WIC nutrition and education program, navigate maternal mental health, arrange transportation and access dental and primary care services. Some women may also qualify for a home visiting nurse during and after pregnancy.
"Pregnancy can be isolating," Hoar said. "This is a glimmer of hope that the community cares about them and wants what's best for them. We want women in Madras to have the same experience as women in Bend."
Breanne Pinkert and her husband moved to Bend from Southern California to raise her family in a healthier environment. She was eight months pregnant, new to town, and had her first appointment with the certified nurse midwives at the St. Charles women's clinic, then based in Bend. There, Hoar, the embedded prenatal-postpartum care coordinator signed her up for the Oregon Health Plan and enrolled her in WIC.
"They also connect you to fun things, like storytime for kids in the library and a community baby shower this fall in the fairgrounds," said Pinkert, who had her first child in Bend, followed her nurse midwife to Redmond to birth her second, and is planning to birth her third child in Bend in December.
Before St. Charles made the decision to close the Redmond birthing center, a taskforce of health professionals and community members spent 10 months evaluating the women's and newborn's service line, said Dr. Barbara Newman, clinical director of women and children's services at St. Charles Redmond.
Unlike the usual story of a hospital closing because the need for obstetrics services were dwindling, births in Redmond had increased to about 500 annually. So, the task force was surprised to learn that the number of childbearing age women in the area were decreasing, Newman said.
"Our focus was on childbearing and maternity. We learned we needed more in the way of gynecological services," he said. "We needed to talk about older, menopausal women and about behavioral health that is severely lacking for community members."
The behavioral health needs are illustrated by the 2018 urine test results at the Women's Health Center in Redmond. Among women who underwent a urine drug screen as part of routine prenatal laboratory workups, 98 or about 20% tested positive for alcohol or drugs, Goodman said. Three-quarters of them had positive repeat urine drug screens The most common drug was THC (cannabis) (66%). Next came methamphetamine (8%), opiates and alcohol (8% each). About 21% of women tested positive for multiple drugs.
Every county is different. In Crook County, for example, the numbers show 22% of pregnant women smoke, which contributes to low birth weight infants, compared to 9% in Oregon as a whole, said Muriel Delavergne-Brown, public health director for Crook County.
The St. Charles Center for Women's Health in Redmond remains open to provide prenatal and gynecologic services, Goodman said. And in Madras, resources have been provided to enhance obstetric nursing skill and education.
To accommodate the 500 births per year that may be funneling in from Redmond, St. Charles Bend has expanded its obstetrics service. An obstetric hospitalist program has been created at the Bend hospital to provide round-the clock care for laboring patients and to manage obstetric emergencies. The hospitalist model has been shown to improve clinical outcomes, Goodman said.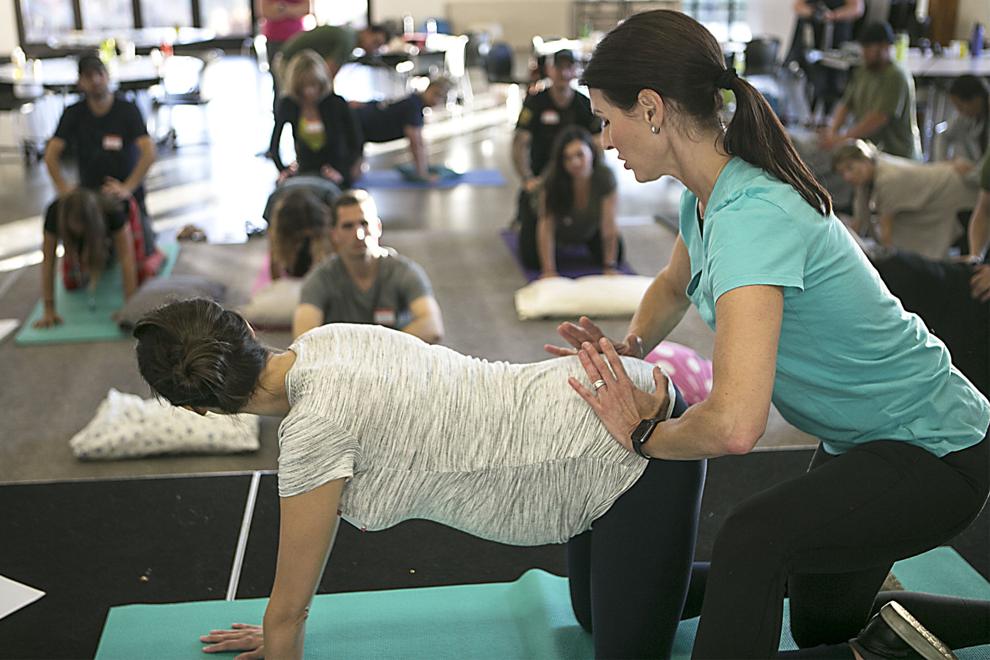 The Redmond-based nurse-midwife practice is expanding and will now be able to deliver babies in Bend. Three new certified nurse midwives have been hired, bringing the total to five by October, said Hannah Renzi, a certified nurse midwife who heads the Bend midwifery service. The nurse midwives are increasing access by seeing patients in St. Charles family clinics in Bend South, Sisters, and Prineville in addition to the main women's health clinic in Redmond. The midwifery services are meant for women with low- to moderate-risk pregnancies, according to the hospital literature.
A certified nurse-midwife typically has a bachelor's or master's degree in nursing with additional midwife training and is regulated by the state board of nursing and a national certification process. In Oregon, certified nurse midwives are licensed as both registered nurse and nurse practitioners, Renzi said.
Another category of midwives are those professionally licensed by the state health licensing office and credentialed through a national organization, also called direct entry midwives, who attend out-of-hospital births. Central Oregon also offers one birth center run by direct-entry midwives. Both are independent providers who have consulting relationships with physicians and other health care providers.
Midwives are becoming more popular statewide. Oregon saw an increase in births attended by certified nurse midwives from 2012 to 2017, according to a report on out-of-hospital births by the Oregon Health Authority. Planned in-hospital births attended by certified nurse midwives increased from about 17% to 22% (while those attended by a doctor decreased from about 83% to 77%). For planned out-of-hospital births, those attended by certified nurse-midwives increased from about 25% to 32%, while those attended by licensed direct-entry midwives decreased from about 52% in 2012 to 45% in 2017.
Another source of support during pregnancy are doulas, who offer professional birth support for families and the mother throughout the labor and are popular with first-time parents, said Bend doula Madeline Drescher. "We help them realize options in pregnancy and birth come when babies are born, and make sure they are supported informationally, emotionally and physically."
Insurance generally does not cover doula services.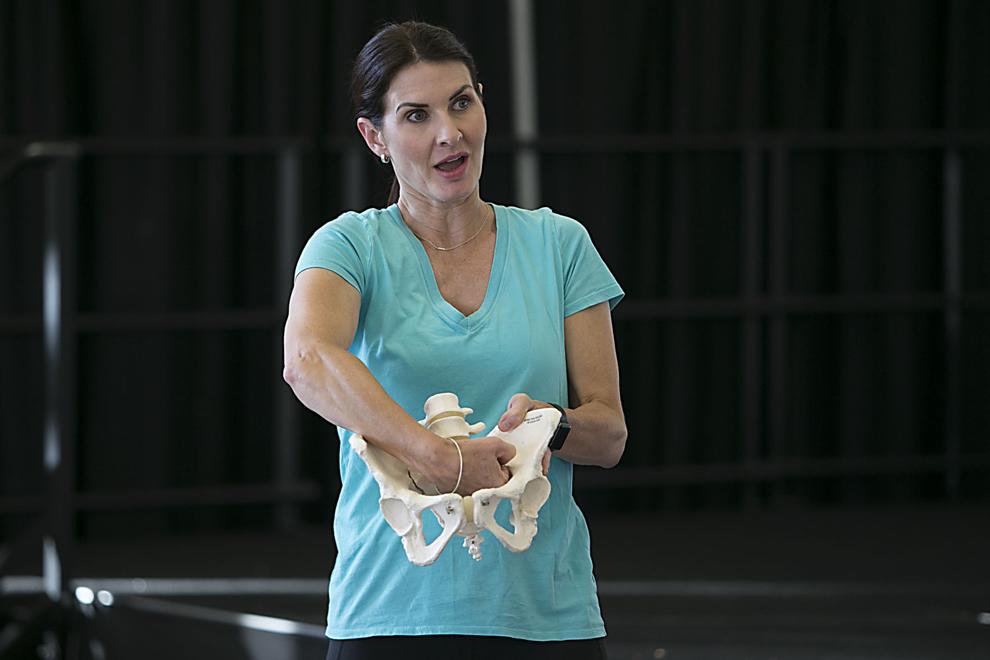 Giving birth in rural Oregon
Dakota Dawson talks about labor positions and how they help move the baby through the pelvis while conducting a birthing class in July in Tumalo.
Doula Dakota Dawson began working in Bend three years ago after practicing in Santa Cruz, California, and Port Townsend, Washington. She soon noticed disconnects between women and hospital-based birthing providers, as well as between hospital-based clinicians and community based midwives attending home births.
"What stood out most was a fear and animosity toward nurses and doctors here," Dawson said. "And we have a baby friendly hospital," a designation for hospitals that fulfill certain criteria to encourage mother-child bonding and breastfeeding, such as putting the baby on the mother's chest immediately after birth, called skin-to-skin.
In Central Oregon, 96% of births happen in the hospital, including about 14% of out-of-hospital births transferred to the hospital for safety and health reasons according to statewide data from 2017. Other births take place at home — usually planned — or at the Bend Birthing Center.
Dawson noticed a mutual lack of respect and trust between the nurses and doctors in the hospitals and the midwives working outside the hospital when a home birth is transferred to the hospital for unexpected safety concerns.
Renzi acknowledges the tension among some providers and hopes she and her fellow certified nurse-midwives will help bridge the divide. "We are all really on the same team. We all have the same goals: healthy moms, healthy babies. Women need to have choices about where they get their care and who they want to see."
For her part, Janette Gyesky welcomes the enhanced nurse-midwife service at St. Charles and hopes she will be able to make any transfers of patients directly to midwives at the hospital. Gyesky is a licensed professional midwife and owner of the Bend Birth Center. Of the 75 births attended by her group's practice last year, about a dozen women were transferred to hospital care before giving birth and 10 more while in labor.
"We're a low-risk provider," Gyesky said. "We're grateful for the OBs in this community. They take on all the risk." But when a pregnancy becomes higher risk, it's not easy to transfer the care. "The transfer protocol has been changing rapidly. Sometimes we have to leave a message on a transfer line and wait. Sometimes we need to contact the provider on call, and it's hard to get in touch with those providers," Gyesky said.
Despite being based in the hospital, Renzi also experienced professional discord. A pharmacy in Bend will not take prescription orders delivered with her nurse midwife title, but it will under her nurse practitioner credentials, "even though that's not what I identify as."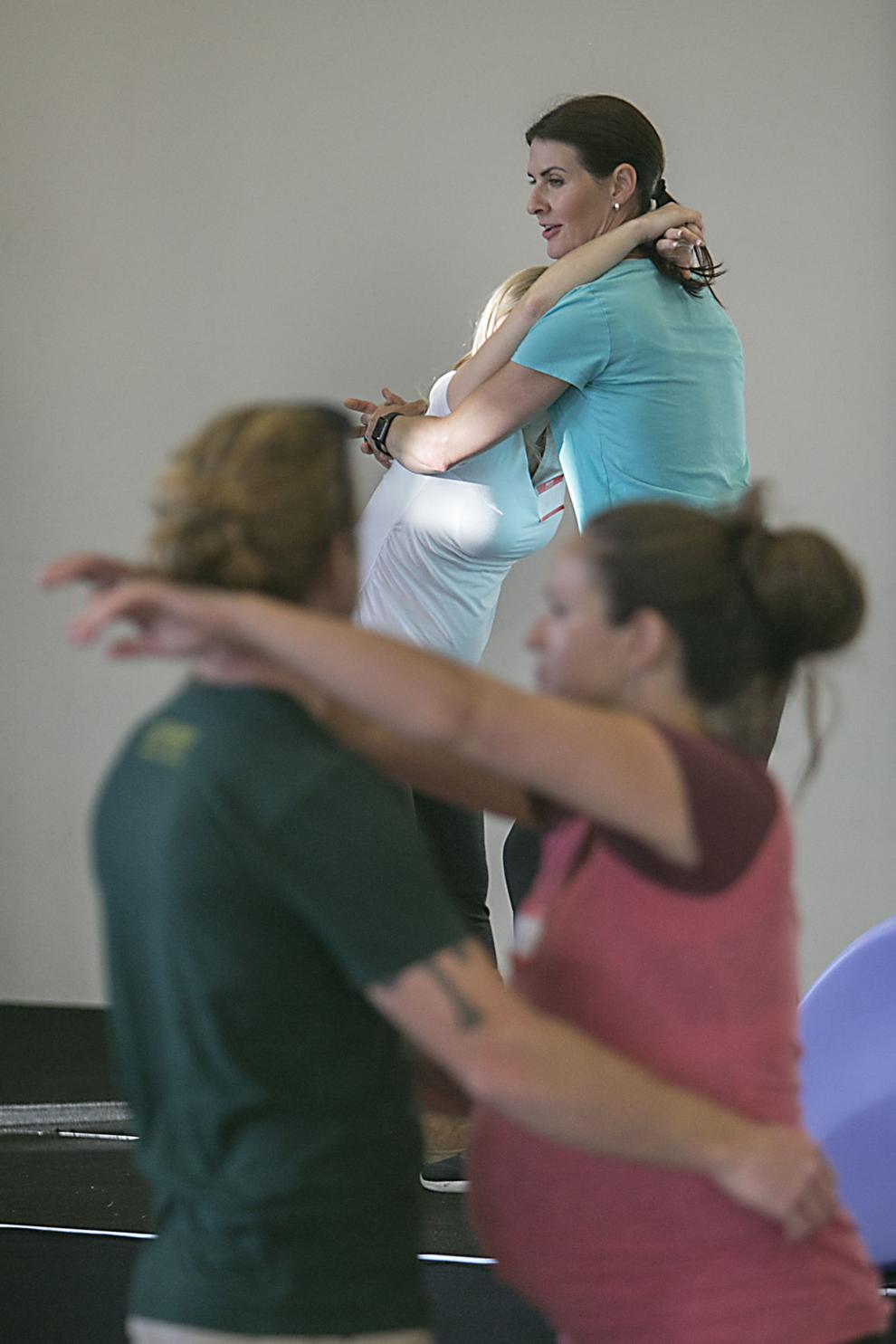 Women who gave birth in Redmond may be sad about the birthing center closing, but they seem willing to give Bend a chance, especially with changes more tailored to their wishes. St. Charles Bend projects about 1,700 to 1,900 births in the next year and has no plans now to increase the maternity space, Goodman said.
When Piza, the mother who bypassed her closest birthing center in Madras, discovered she was carrying twins, she did not object to her referral to St. Charles Bend. She had complications of early labor and spent a week in the hospital. She was adamant about not having a caesarean section. Her daughter and son were born the way she intended, albeit five weeks early, and spent a week in the NICU in Bend.
The only reason Wiewel risked a longer drive to Redmond was the midwifery service. "If the hospital in Bend provided midwives (at the time they had the baby), I would have birthed in Bend."