Entering the new Hablo Tacos, or more accurately, standing in the ever-present line to get in, it feels like you are walking into a Mexican taco shop. The line is well-deserved, and the food so authentic that you might assume a Mexican family runs it. This is the newest restaurant from Executive Chef/Owner George Morris. He has taken the same care and passion in setting up Hablo Tacos (1462 NE Cushing Drive, Suite 130, Bend) as he did with Bos Taurus and Miyagi Ramen. In the years Morris lived in San Diego, he frequently visited the street vendors and restaurants of Tijuana, Ensenada and Mexico City.
He described his experience with passion: "Some of the best bites I ever had was standing on the streets of Tijuana or Mexico City in flip flops and shorts and having flavors hit that blow your hair back in the same way that taking a bite at a three-star Michelin restaurant would."
"When we think about opening a new restaurant, we ask what are we passionate about and what does Bend need," he said. "There are other good taco shops in town, but I wanted to re-create the recipes and flavors I had in Mexico."
The food isn't specific to any one region of Mexico. "A lot of chefs like to say that they specialize in a certain kind of cuisine. I like to think I specialize in flavor," he said.
Local artist Richard Yozamp designed the brightly colored walls and graphics of Hablo Tacos. He also painted the murals at Miyagi Ramen. Morris describes the decor as Taco Shop in Mexico meets Andy Warhol. Metal tables from Mexico and a wall of Mexican sodas add to the ambiance. Covered outdoor dining in joint space for the building is also available.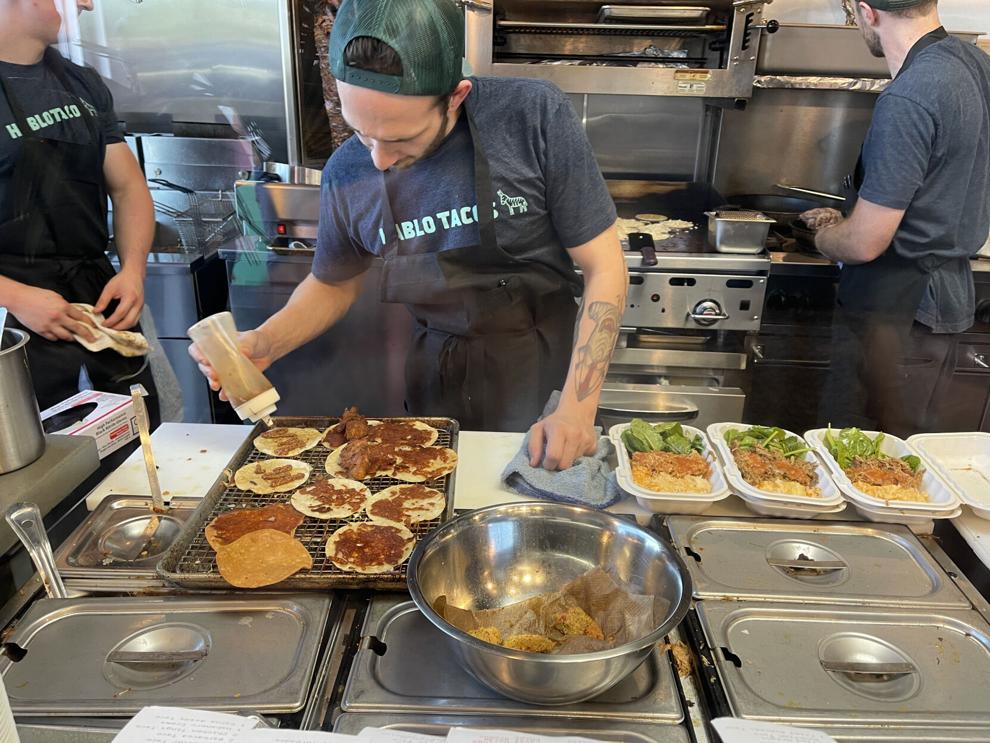 While the line is "out the door," there is a short entrance area that fits only three or four parties of people. I didn't have to wait long even though three groups were in front of the door ahead of me. I ordered in under 10 minutes. If you eat at the restaurant, food will be delivered as it is made. There must have been six or more cooks preparing various items during the busiest hours.
Specials are handwritten on colorful paper and tacked above the order area. It would be a mistake to ignore them, as I thoroughly enjoyed both specials I tried. On my first visit, I tried the Que Paso Dog, whose name is a play on "What's up Dawg." Although I was skeptical, the Mexican flavors on this crunchy bacon-wrapped hot dog were delicious. Topped with Habanero cream, jalapeños, and Jamaica (pronounced ha-my-kah) aioli made with hibiscus flower, it's both flavorful and a bright purple color, making the food as colorful as the walls.
On my second visit, I tried the Aguachile de Camarones Rojo. Shrimp is poached in a tomato broth with lime juice and Maggi (a Mexican Worcestershire sauce). Cucumbers, onions, and a cilantro mint mixture are added. The result tastes like a Mexican shrimp gazpacho. Fresh, light and mellow, it's served with crunchy tortillas. It was perfect for a hot day.
Street tacos are traditionally small — about four bites. When ordering, the staff suggested I get between three and five tacos. Morris mentioned that Hablo Tacos is currently serving 2,000 to 3,000 tacos per day. You can choose from eight different types of tacos. They begin with Oaxacan cheese on the grill then a tortilla. This causes the cheese to become crunchy and stick to the taco shell. A choice of pork, beef, fish or chicken fillings is put into the slightly crunchy taco. Like a typical street taco, all have shredded cabbage, chopped onion, and cilantro.
Each visit, I tried the seafood tacos. On the first visit, I tried the Wild Mexican Shrimp and Chorizo. The big juicy shrimp gets its Mexican flavor and spice from the chorizo. Salsa avocado and habanero crema coat the sweet shrimp. The chorizo is salty and meaty, and there was a hint of heat in the sauce. I thoroughly enjoyed it.
On the second visit, I tried the Fried Oregon Rockfish. Though I like fish tacos, I was pleasantly surprised by the light breading covering the flaky fresh flavor of the rockfish. Salsa Rosa, habanero crema, and pico de Gallo added more flavor and a bit of heat. It tasted like the ones I've eaten on the streets near Mexican beaches.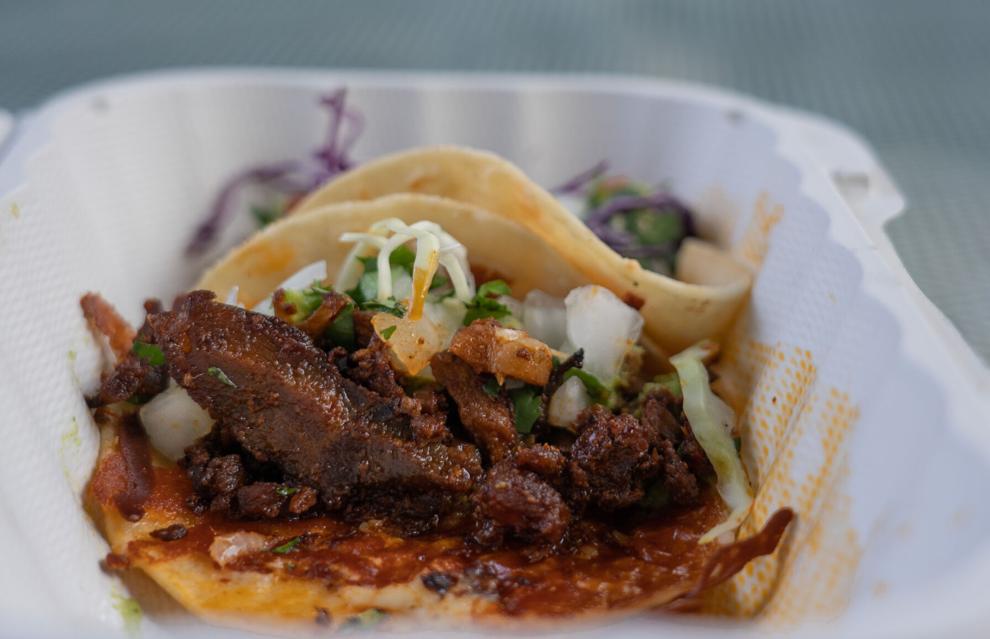 But it was the Al Pastor taco that floored me. Finally, I had found the Al Pastor flavor that I loved and often ate when I was in L.A. Al pastor is pork, typically marinated in dried chilies, spices and pineapple then spit-grilled on a troppo (vertical rotisserie). You can see it behind the counter where they carve chunks out for the tacos and taco bowls. The meat has crunchy edges, is moist and tender with a sweet flavor. This will become a regular meal for me as it had been in L.A.
Along with tacos, Hablo offers taco bowls. Instead of ordering several tacos, you can have a choice of meat and salsa served on rice and beans or greens to go with shredded cabbage, cotija cheese, pico de Gallo, and slices of fresh avocado. You can also choose to add habanero crema and tortilla chips. Everything is separated in the bowl. My friend and I tried the Carne Asada with salsa avocado on Rice and Beans. I didn't love the flavor of the beef carne asada as much as I like the Al Pastor pork. We felt the marinade was a little heavy-handed where carne asada does well lightly spiced and marinated. It was tender. As I took it to go, I found that I enjoyed the bowl more when I put it in the to-go container where the ingredients mixed.
This is the first I've seen Vampiros. Found in Tijuana, they can be described as a tostada with a top, or a taco with a hat, as it has a hard-shelled quesadilla on top and bottom. It starts with Oaxacan cheese and a tortilla, then refried beans are spread on it, and comes with a choice of meat, shredded cabbage, and pico de Gallo. A second hard shell is placed on top. It was a bit heavier than a taco, and while flavorful, I probably would simply order my favorite tacos. Still, it went well with a cold Negro Modelo. Although small, it was filling.
We also tried a couple of sides. The Guacamole on the Half Shell was served in emptied avocado skins. Jalapeños added more spice than the average guacamole. There were also onions and tomatoes mixed into the chunky avocado mixture. Although it was tasty and served with a generous portion of chips, it seemed like it wasn't a lot of guacamole for $7.
Another side we ordered was a half-cob of Street Corn. Grilling makes the corn sweeter; then it's topped with a crunchy layer of Mexican spices, habanero crema and Jamaica aioli. Easy to eat and loaded with flavor, I'll be sure to take advantage of the corn while it is in season.
While I enjoy many taco restaurants and carts in Central Oregon, I am delighted that I can again enjoy the Mexican flavors I liked during my days in Southern California. If you go, be sure to say "hi." I expect to go back often.