This has been the year that everybody and their contractor is doing home improvement projects because, if you're going to be stuck in there most of the time, you might as well make it look less like a dump.
My household has not been immune to the home improvement contagion, and so three weeks ago, I decided to paint the living room and hallway of my home, fool that I am.
As one of the roughly 673 people I bragged/complained to during the painting process said in sympathy, "So much of what makes painting such an insufferably punishing process is the tedious prep work and endless miles of cleanup."
OK, that may not be a direct quote — it can be hard to think over the paint fumes.
I'd have loved to pay somebody else to do the job, but seeing as how we'd just paid a pro to do our exterior, it seemed only right for me to tackle the interior: This way, we could see in almost real-time the different results you get from a professional painter — i.e., excellent — versus a reluctant amateur who last painted the walls in question decade prior, when he was a younger man with more energy and less wisdom at his disposal — i.e., me.
The first step I took was using an online paint calculator to determine how much I was going to need. That required measuring the rooms and walls in question. I concluded at least three gallons were needed because we had some colors that were going to be a challenge to cover.
I next went to the nearest paint purveyor and bought a couple of sample cans of off-white, my first of several trips to the store.
They should give those sample-size cans away, because once you use them, you're pretty much forced to paint the wall in question. (Never mind the 4-year-old 4x6 patch of yellow paint behind our entertainment center on one of the walls I did NOT paint. There's nothing to see — it's hidden behind a colossal piece of furniture.)
Our home, the first we've ever bought, was completed in January 2006. The walls were off-white then, like virtually every rental we'd ever lived in, so we quickly painted the living room burnt orange.
At some point about 12 years ago, we tired of the orange, and decided to paint the living room and kitchen a sort of light brown color, which we naturally didn't love, and so a year or two later, I painted two of the living room walls a hastily selected mint green.
We didn't love the green either, but by this point, I'd caught on to the trap that is painting. So for the next 10 years, we just lived with brown-and-green walls. Sometimes, you just have to live with the point you're trying to make, even if you're the only one who suffers for it. Ha! Take that Big Paint!
Then the pandemic happened, and when my family decided to take a late-summer trip to see my shut-in-laws, I decided to once again enter the painting breach. It was the green we really wanted to get rid of, and lo and behold, it had been so long since we rented that we were ready for off-white again. We'd had enough of experimenting with colors.
The next thing I did was paint a test patch on one of the walls I'd intended to leave alone as an "accent" wall. For the uninitiated, an accent wall is a wall that is a different color from nearby walls. I like to think a person who didn't feel like painting came up with that concept.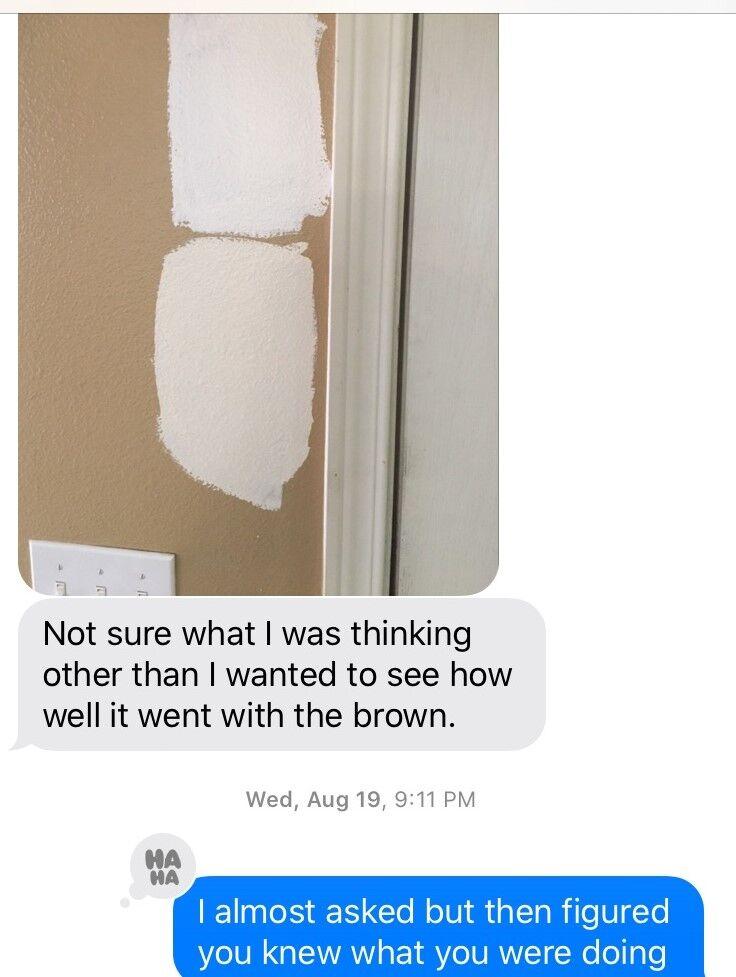 Instead of painting one of the green walls with the test paint, I proceeded to slap paint directly on my brown accent wall. The better, I guess, to see how it looked adjacent to the brown? Make that four gallons of Casa Blanca, please.
With two pets and three kids having grown up in this house, the walls had more than a few dings that needed repair. I smoothed on plaster patches, sanded and then sprayed the repairs with orange peel, which is a spray paint can full of goo that resembles the surface of an orange when sprayed on the wall (I do NOT recommend tasting it. That's where the resemblance to oranges end).
I next wiped down walls to remove grime and stains, took down the blinds and began to apply painter's tape, an all new-level of tedium. That stuff is sticky. I am convinced that if one of the marooned on "Gilligan's Island" had had a roll of painter's tape, the Professor would have gotten Gilligan et al. home by the end of season three, because it does the trick but it would've taken them that many seasons to finish applying it. And as I went, I seriously found corners where decade-old tape was still hiding out.
I also took down the TV from its perch above the fireplace, and slid all the furniture to the center of the living room. I put down old newspapers and plastic and went to town painting for the next week. I painted on the bookending weekends and also after work throughout the week, occasionally getting mad at myself for ever having painted the walls that hideous, and tenacious, shade of green.
On the other hand, the brown wasn't too difficult to cover, and the few off-white walls we'd left alone in the hallway for the past 15 years looked great after one coat, though I still applied a second because thoroughness seems important when painting. Eventually, after two coats and countless touching up of spots, I had managed to cover all the green.
While cleaning up, I noticed I'd managed to track a little paint here and there on our laminate floors, which can be easily scraped off for the next three years.
The painter's tape didn't want to cooperate with removal, winding up in wads that stuck to my shoes. Patience, a scraper and gentle swearing did the trick, mostly. I continued finding tape in nooks and crannies for the next week.
The results of my weeklong effort yielded some positive remarks when my family returned from their trip, although frankly no one's going to gush over off-white walls. So if you're gearing up to paint yourself — even if your love language is words of affirmation, and your family knows this about you! — do it for the satisfaction of a job well done, or at least a job not entirely screwed up.
In the end, I came away with a little wisdom that I'd like to share with readers, a secret that most do-it-yourselfers are too proud to share: If you can afford to, just pay somebody else to do it. Preferably a professional, but really, anyone who is willing to do it will do.