No need to wait to satisfy those salty, fried and sweet treat fair food cravings. Chances are most of the ingredients required to whip up one of the classic treats can be found in your kitchen cupboard.
This GO! reporter did the leg work on the recipes and tested them in the kitchen to make it easier for you to just read, make and enjoy.
Pro tip: Make sure to have your antacids ready.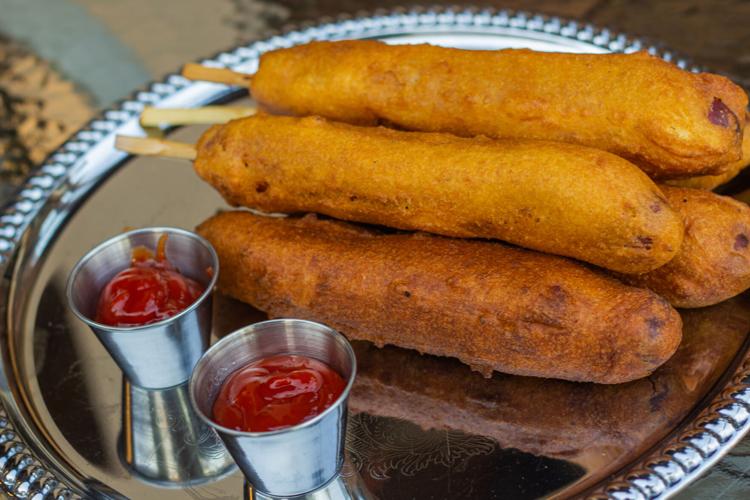 Corn Dogs (based on recipe from Delish)
Nothing screams "fair" more than food on a stick, with the corn dog reigning champion supreme. Sure you can buy a bulk box of them from Costco, but there is something special about a homemade hand-dipped dog.
6-12 hot dogs (depending on size)
1 cup all-purpose flour
¾ cup cornmeal
3 tbs. granulated sugar
1 tsp. baking powder
1 tsp. kosher salt
½ tsp. baking soda
¼ tsp. ground black pepper
¼ tsp. cayenne pepper
1 cup buttermilk (or 1 scant cup of regular milk with 1 tbs. vinegar or lemon juice)
2 large eggs
Oil for frying (recommend high heat oil like avocado or canola oil)
Choice of condiments for serving
Pat the hot dogs dry with a paper towel, making sure they are completely dry. This allows the batter to stick better to the dogs. Using long wooden skewers or wooden chopsticks for large dogs, skewer them in the middle. It's easier to do this when the hot dogs are laying flat on the counter as opposed to holding them, there is less of a chance of the skewers poking out the other side.
In a large bowl, whisk together the dry ingredients (flour, cornmeal, sugar, baking powder, kosher salt, baking soda, black and cayenne peppers) until thoroughly mixed.
Combine buttermilk and eggs in a small bowl and pour into the dry ingredients, mixing as you go until combined.
Pour the batter into a tall glass and let it sit.
Heat your oil to 375 degrees in a pot or deep skillet (you'll have to lay the corn dogs down and flip them over halfway through cooking, but it works)
If you don't have a stand-alone fryer and are using your stovetop, make sure to use a thermometer to monitor the temperature of the oil. As you fry, the temperature will decrease slightly so keep an eye on it. If the oil is too cool, you will get greasier corn dogs, too hot and the outside will fry too fast and not allow the inside to cook.
Dip the hot dogs in the batter to coat or use a pastry brush or spatula to coat them evenly.
Place the corn dogs gently in the oil, avoiding splashing, and fry until golden brown.
Set corn dogs on a cooling rack with paper towels to cool and dry off excess grease.
Serve immediately.
Freeze leftovers, they can be easily reheated in an air fryer or in the oven.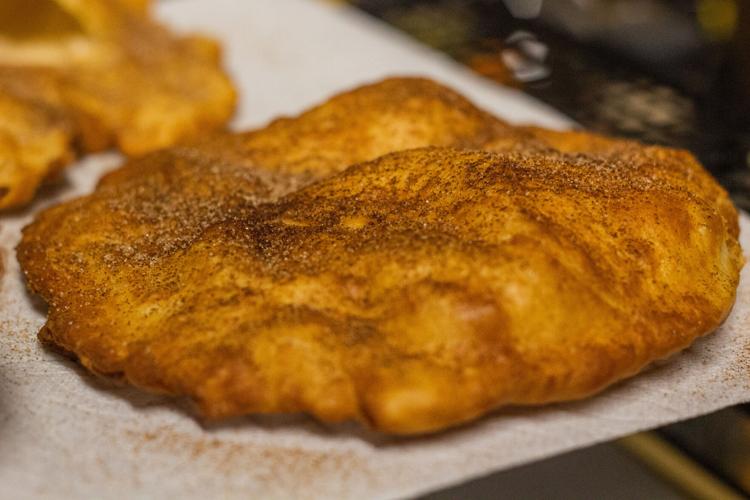 Elephant ear (based on AllRecipes recipe by Leema)
Most people have a preference for either a funnel cake or one of the fried dough delights that are elephant ears. While there is a bit more waiting time involved for an elephant ear, it's not a difficult recipe to follow to get the goodness. If you find you have more mixture than you'd like to eat, make up the rest of the cough and then freeze the elephant ears (sans cinnamon-sugar topping). Them when you want one just put it in an air fryer, toaster oven or small frying pan to heat and crisp it up
1 ½ cups milk
1 tsp. salt
2 tbs. granulated sugar
⅜ cup shortening
2 tbs. active dry yeast
4 cups flour
Oil for frying (recommend high heat oil like avocado or canola oil)
3 tbs. cinnamon (for topping)
6 tbs. granulated sugar (for topping)
In a small saucepan over medium heat, combine milk, salt, shortening and 2 tablespoons of shortening until melted and sugar is dissolved. Remove from heat and let it cool down to about 110 degrees (use a fry thermometer).
Sprinkle yeast on top and let it sit until foamy.
Transfer to a larger bowl and add flour to make the dough. Hand-knead until smooth. Cover and let it sit to rise for about 30 minutes.
Heat your oil to 375 degrees.
Once the dough has risen, taking 1-2 inch round balls, roll out into a thin sheet.
Fry on both sides until puffed and golden brown.
Transfer to a cooling rack with paper towels to absorb excess oil.
Sprinkle with a mixture of 6 tablespoons of sugar and 2 tablespoons of cinnamon.
Serve warm.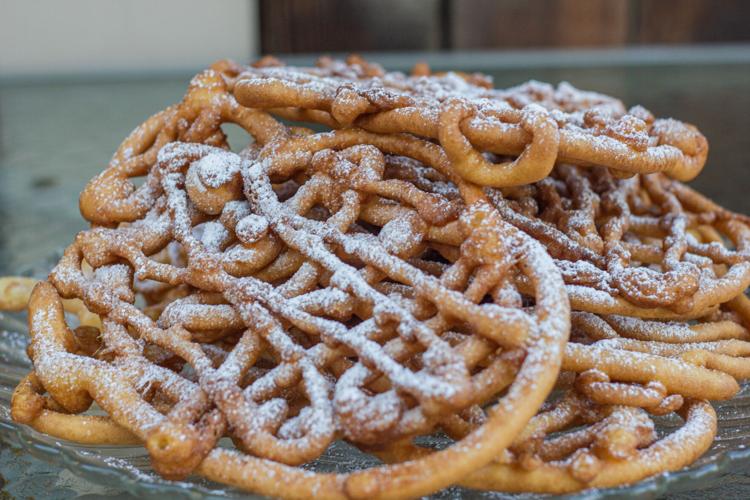 Funnel Cake (based on a recipe from Taste of Home)
Depending on if you want to eat these by themselves (as you do while perusing the fair) or if you want to use them as an addition to ice cream or another dessert, make your cakes whatever size suits best. They still taste great.
2 large eggs, room temperature
1 cup milk
1 cup water
½ tsp. vanilla extract
3 cups all-purpose flour
¼ cup sugar
3 tsp. baking powder
¼ tsp. salt
Oil for frying (recommend high heat oil like avocado or canola oil)
Powdered sugar
In a large bowl beat eggs then add milk, water and vanilla until well blended.
In a separate bowl whisk flour, sugar, baking powder and salt together then slowly beat into the egg mixture until smooth. The mixture should be a bit runnier than pancake batter.
Heat your oil in a deep skillet to 375 degrees.
Using a funnel or a squeeze bottle (make sure the opening is somewhat wider than usual) release about ½ cups of batter into the oil holding the funnel a few inches above the pan in a spiral motion.
Fry until each side is golden brown, you will need to flip them using either a metal slotted spoon, tongs or skimmer.
Place on a cooling rack with paper towels to absorb excess grease and sprinkle powdered sugar.
Serve warm.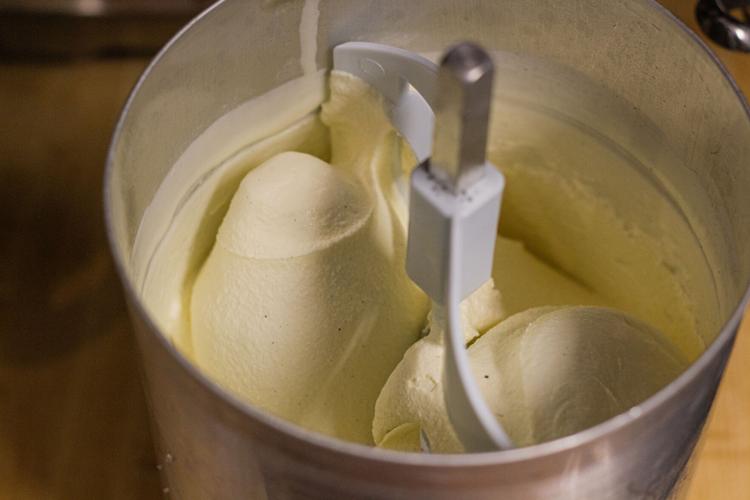 Ice Cream (based on a recipe from The New York Times)
The frozen dairy treat should be enjoyed all year round and not just at fair time. While it is infinitely easier to buy a carton of your favorite flavor at your local grocery store, it is great fun to be able to make some classic vanilla from scratch at home. Double or half the following recipe as you need, it makes about eight bowls depending on how hefty your scoops are. It's a very rich, velvety ice cream and comes out smooth like frozen custard or soft serve rather than a typical pint of store-bought varieties.
4 cups heavy whipping cream
2 cups whole milk (can substitute 2% or lower fat milk)
1 ⅓ cup sugar
¼ tsp. fine sea salt
12 egg yolks
About 3 tbs. vanilla extract
In a medium pot, heat heavy cream, milk, sugar and salt until the sugar is dissolved and the
mixture simmers. Remove from heat.
In a separate bowl separate egg yolks and whisk them together.
Slowly whisk around a third of your yolks back into the hot cream mixture. DON'T MIX ALL AT ONCE, this will make your custard cook into scrambled eggs.
Add all the yolks in once the first third had been well integrated into the cream.
Return the pot to medium-low heat and cook until the mix coats the back of a spoon with a thin film.
Cool mixture to room temperature, if there are chunks in your custard use an immersion blender to blend them in or separate them with a fine-mesh sieve.
Cover and chill overnight or for at least 4-hours.
Churn in an ice cream machine as per the manufacturer's instructions.
Serve directly or store ice cream in freezer until ready to eat.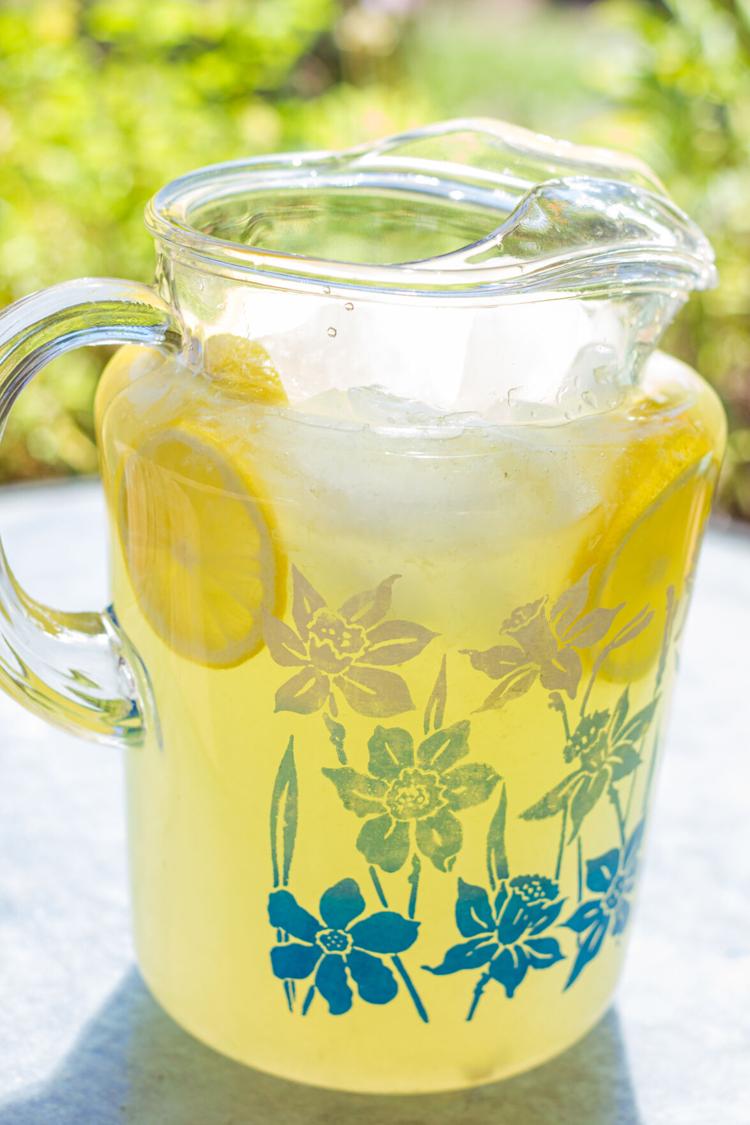 Lemonade (based on a recipe from Simply Recipes)
Whether you like it sweet or tart, you can adjust the ratios of this recipe easily to make it just right for you. Using simple syrup instead of a more traditional sugar allows the sweetness to blend in better rather than waiting for the sugar to eventually dissolve (which in cold liquids can take a while).
1 cup granulated sugar (can reduce to ¾ cup if you prefer a more tart drink)
1 cup water for simple syrup
1 cup lemon juice (between 4-6 lemons depending on size)
2-3 cups cold water to dilute
In a small saucepan, place sugar and water and bring it to a simmer, allowing the sugar to dissolve completely.
Remove from heat and set aside to cool.
Juice the lemons.
Combine the lemon juice and simple syrup in a pitcher. Add 2-3 cups of cold water to taste.
Chill for about 30-40 minutes, add ice and sliced lemons and serve.