As another motorcycle pulls up in front of Spoken Moto, it's clear that while it draws in hip motorcycle enthusiasts, this is no biker bar. In the space of the Pine Shed mechanic's shop, Spoken Moto offers custom motorcycle repair, retail apparel and eating/drinking areas serving coffee, cocktails and beer.
Five carts surround a relaxing outdoor eating area, with a sixth cart on the other side of the building. Low chairs sit on an artificial turf area, a great place to set down your beer. Lots of picnic tables shaded by umbrellas, a couple of tall counter areas with stools and a stage are available seating. It's frequented by families and their furry friends, making it my pup's new favorite hangout.
Four carts — Wings, Da Nang, Stone Pizza and the Wagyu Wagon — serve food that pairs perfectly with beer available in Spoken Moto. Diners pop in for a morning cup of coffee, espresso and the like, to go with food from Scoutpost or Broken Angel, which are open for breakfast and lunch.
As I ordered breakfast at Scoutpost, staff told me it has the best breakfast burrito in town (a claim I've heard from every other breakfast food cart). Indeed, Scoutpost makes a good burrito. Salty, savory pork belly plays against fluffy herbed eggs and potato chunks wrapped in a crispy-edged flour tortilla. The mix of fresh ingredients shined through.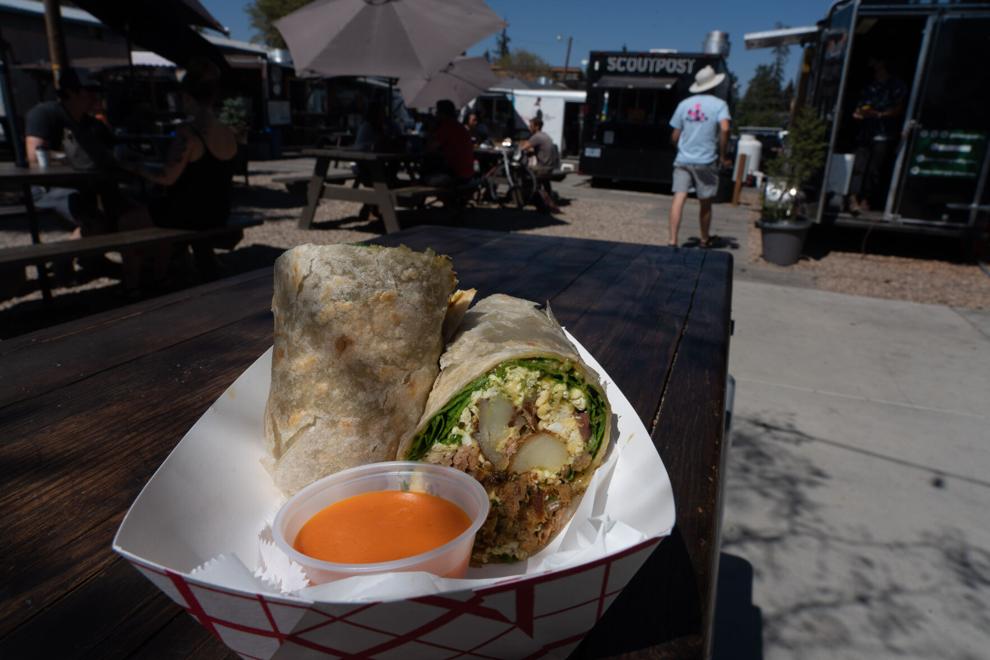 Still, I had to try the chicken and waffles and their unique breakfast sandwich. Both were bold and unapologetic. The tender white meat of the thickly breaded, double-fried chicken was extra crunchy. Eating this dish at the lot is recommended to ensure the crispy yet light and fluffy Belgian waffles don't go limp. Dabbed with maple butter, the combination of savory, salty, peppery chicken and sweet waffles was a home run. Note that the waffles were good an hour later when reheated but became soft overnight.
The breakfast sandwich was also a bold combination of flavors that worked in harmony while individually tickling the tastebuds. Thick-cut bacon cooked just shy of crispy was layered atop a runny fried egg and fresh arugula. A light slathering of Mama Lil's pickled pepper aioli added more zest, cutting through the rich breakfast flavors and sweet potato bun.
Broken Angel is vegan, sustainable, "New American" food. The owners are lovely people and have a loyal vegan following. However, this is not the vegan flavor profile to which I'm drawn.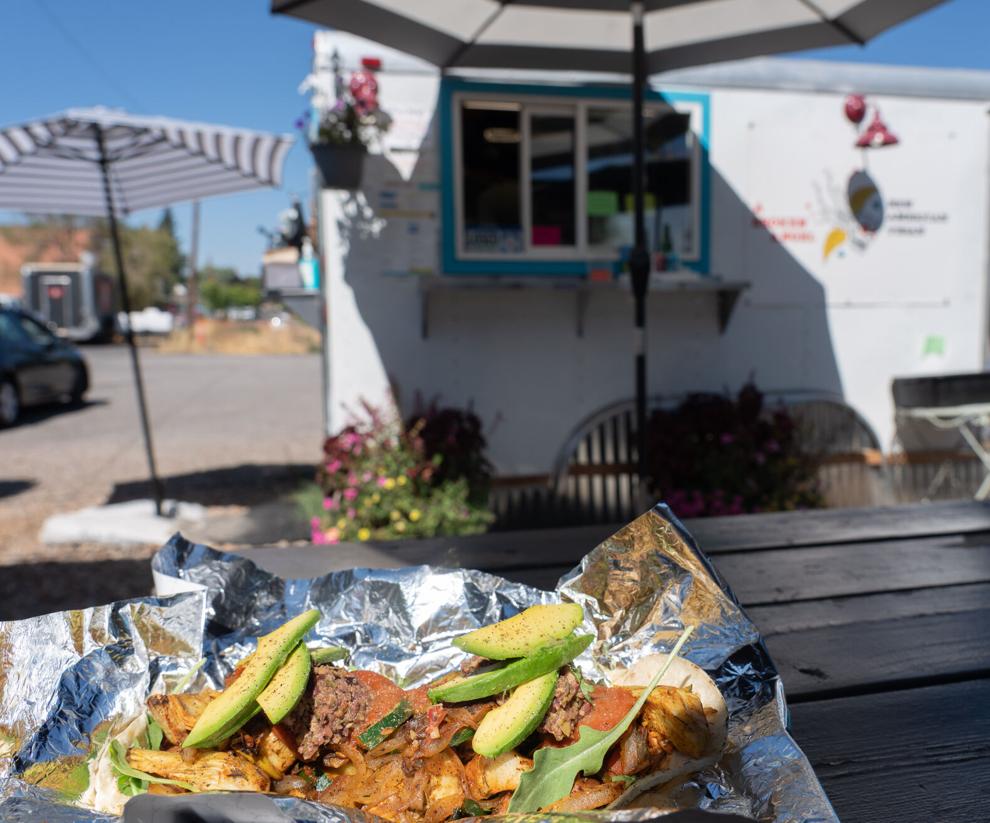 The artichoke tostada was sour and acidic from a combination of artichokes, five-olive tapenade and tomato salsa with peppers (not listed on the menu). The vegetables were cooked until their individual flavors became one.
On a second visit, I ordered tacos. The double corn tortilla wrapped tacos were stuffed fat with vegetables. The Griff taco was much like the tostada, with the addition of black turtle beans — richer and firmer than regular black beans — that tempered the acidity, adding some earthiness. The other taco was filled with lots of potatoes sprinkled with the perfect amount of truffle flavoring— enough to be rich and woodsy but not overwhelming. Topped with cooked spinach, this was more to my liking.
Da Nang Vietnamese Eatery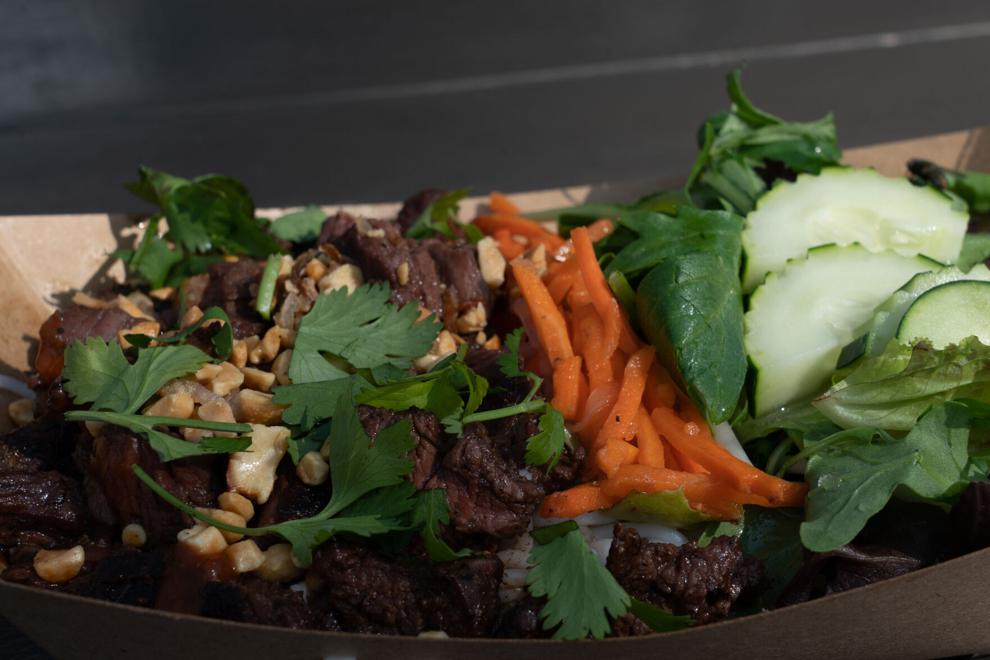 With the original Da Nang truck in Eugene, the eatery opened a second location at Spoken Moto, where it offers its unique approach to Vietnamese food for lunch and dinner. The cart offers a build-your-own dish menu. Begin by picking chicken, steak or tofu as the protein, then pair it to make a rice bowl, a noodle bowl, a baguette (Báhn Mì) sandwich or a salad.
The protein is marinated in lemongrass, garlic, green onions and "secret" spices. I chose the steak (warm) on cold vermicelli rice noodles with a side salad. Bite-sized tender meat is cooked medium rare, its savory flavor brought forward by the lemongrass marinade. It's topped with crushed peanuts, fried shallots, a housemade sauce, and house hot sauce similar to mild Sriracha. Cool noodles balanced the rich sauce and toppings. Fresh greens, carrots, and cucumbers were dressed with a light, lemony-mint dressing that enhanced the lemongrass marinade of the meat. The fresh ingredients shine in separate, distinct flavors that harmonize delightfully. I look forward to trying the rice and Báhn Mì.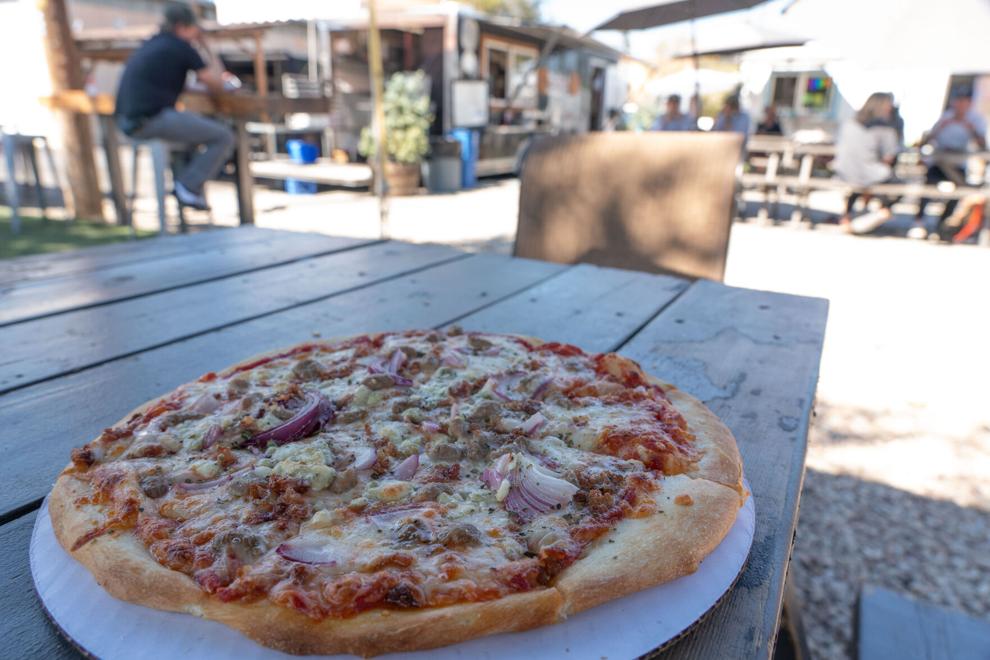 When pizza is done right, it just works, and it's one of those foods that beg for a beer accompaniment. The pizzas come in 12-inch (individual) or 18-inch special combos or create-your-own. The Bacon Bleu was slathered in Italian-spiced red sauce. Its fresh ingredients shone individually and came together in the combo. Ground beef and bacon were spread throughout a thick mozzarella cheese blend, sparingly sprinkled with bleu cheese crumbles that didn't overpower the pizza. The 48-hour proofed crust was thin and easy to fold.
I later found myself in the area on a Friday night and tried a second pizza. This was a white Alfredo sauce pizza with tender chicken chunks and fresh onions. Rather than strips of bacon, piles of bacon bits were scattered on top. Nonetheless, it was a solid pizza. The cheese and meats were plentiful, and the pizza dough was cooked perfectly. If I was looking for a simple, good pizza rather than something deep dish or otherwise punchy, Stone Pine Pizza is a fine choice.
Despite its name, this wing cart gets its recipes from the South. The menu is predominantly a choice of wings and sauces with a few other Southern dishes like a fried chicken sandwich, shrimp and fried okra.
The all-natural chicken drummettes can be ordered with a variety of sauces, including varied spice level barbecue sauce, buffalo teriyaki, garlic parmesan ranch, mango habanero and more. If you want more than one sauce, you'll need to order five wings per sauce flavor. Wings also come with celery and ranch or bleu cheese dressing. It's another perfect food to pair with beer from Spoken Moto. I was happy to find that these were not vinegary buffalo sauces. The housemade barbecue flavors hinted at sour and spice but were well balanced. The garlic parmesan wings were an excellent complement to the red sauced wings and tasty on their own. Dipped and fried cauliflower is a great vegetarian alternative to chicken wings. It was addictive. I chose the barbecue lemon pepper sauce. It had an imperceptibly mild cauliflower flavor, and I couldn't stop popping the bite-size veggies. It makes an excellent appetizer for a group.