With few frills and new COVID-19 precautions in place, Central Oregon farmers markets are open for business.
The live music that kept shoppers entertained as they perused fresh produce might be absent, but present is the main reason for the seasonal markets: fresh produce, including root vegetables such as beets, turnips and radishes, as well as nutritious greens such as arugula and kale. And, as summer takes hold, raspberries, blackberries and other fruits have begun to arrive fresh, ripe and plump.
Michelle Jiunta is the manager of Redmond Farmers Market, which operates from 3 to 6 p.m. Tuesdays in Centennial Park, as well as Madras Farmers Market, open from 10 a.m. to 1 p.m. Saturdays in Sahalee Park.
Jiunta said she was nervous as the two markets' June opening approached, but cooperative patrons have been great.
"The berry booths at both markets have a huge following, and people come for berries, and people have been so good about creating a line and staying 6 feet apart. That is really encouraging to see," she said.
Likewise, the markets are also taking precautions.
"We're following all the (Oregon Health Authority) guidelines. All of our vendors are wearing masks. Each booth has hand sanitizer," Jiunta said. Like other farmers market managers, Jiunta was able to rattle off facts about the new normal as though it were the old normal.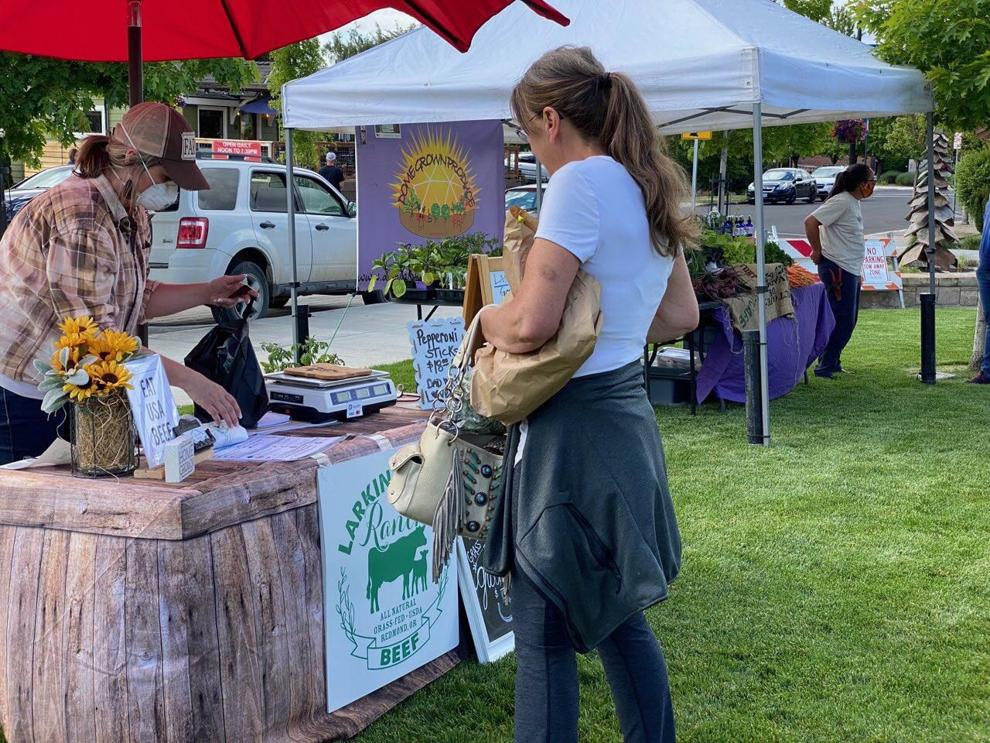 At both the Redmond and Madras markets, masks are available for the public, and booths are spaced 6 to 10 feet apart.
"We're practicing social distancing. The vendors are keeping themselves kind of behind their booth display, so they have a good, safe distance from everybody," Jiunta said. "In each booth, I've got signs from Deschutes County and Jefferson County health departments, just with the different guidelines with masks and washing hands and social distancing and covering your mouth when you cough and sneeze and all those things. So we're doing the best we can to navigate this really weird summer."
Bend Farmers Market, which takes place 2 to 6 p.m. Wednesdays in Brooks Alley in downtown Bend, makes clear on its website that it is "NOT a place for socialization" during the pandemic. "The Farmers Market provides an essential service to the community and shoppers are advised to expedite their attendance at the Market in order to make social distancing easier for other attendees. We strongly encourage you to send only ONE shopper per household."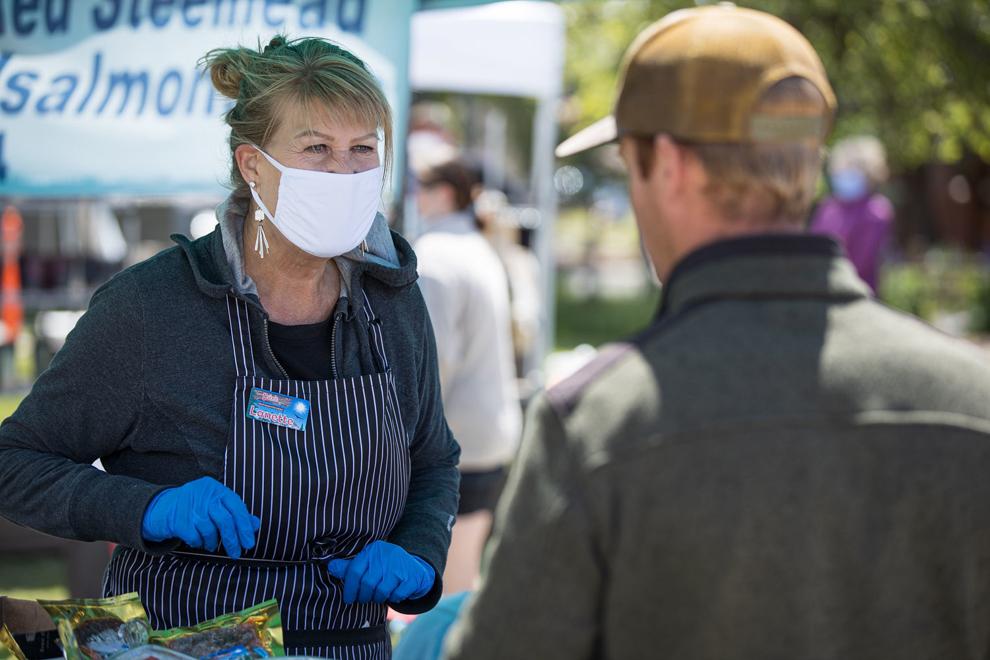 At Sisters Farmers Market, which takes place from 11 a.m. to 2 p.m. Sundays in Fir Street Park, a number of measures have been put into place, including one-way traffic, said manager Caroline Hager. There's a whole section on sistersfarmersmarket.com dedicated to COVID-19 and the ways the market has approached changes this year.
Also new this year is Sisters Farmers Market's new online preordering system with curbside pickup.
"I think we might be the only market in Central Oregon doing that right now, but it's pretty common across the country. (Customers) order during the week leading up to the farmers market … and then I let the farmers know what their orders are so that they can prepare them," Hager said.
Some of the 15 vendors on hand each Sunday also participate in this new option, which of course reduces interactions with customers, beneficial for other vendors "who haven't felt comfortable being able to sell at the market, but then they can still sell through the online preorder system," Hager said.
Hager splits her time between managing the Sisters Farmers Market and working at Seed to Table, a 1.5-acre nonprofit farm producing 30,000 pounds of produce annually. Seed to Table took over the management of the farmers market this year, a change that was in the works prior to the pandemic, Hager said.
"A lot of things have changed because of COVID on the farm because they rely pretty heavily on volunteers, and they have a whole school program," she said, referring to Seed to Table's farm-based nutrition and science education programs that, in a typical year, involve up to 1,300 students of all ages. Just as farmers markets have had to adjust their practices, the pandemic has necessitated changes on the farm.
With educational programs canceled, "there haven't really been many outsiders coming into the farm, which means increased workloads for the farmers themselves," she said. "Just sanitizing tools, harvesting the food with masks and gloves on, which out in the heat can be a little uncomfortable."
Seed to Table is also a CSA (community-supported agriculture) feeding about 200 families annually. Things have changed there, too.
"They're just encouraging people to hand sanitize when they get there, and the CSA members pick up with their masks on," she said. "And at the market itself, they're having to change the way their booth is oriented so that they can help encourage the 6-foot social distancing."
To minimize people coming into contact with the produce, Seed to Table has customers point out what they want, and glove-wearing staff serve it to them.
Sisters Farmers Market's intentions are a little different this year, Hager said.
"Instead of being this community gathering space with music and kids' activities, and just trying to bring people in to spend time there, it's shifted to just, we're providing an essential service so that you can access your needs during this time and get healthy food, and not have to go indoors to a grocery store where the food has probably traveled and passed through lots of people's hands. Seed to Table's farm is half a mile from the farmers market. It's a very direct route."
Bend author Sara Rishforth, who wrote about Central Oregon's farm-to-table movement in her 2018 book "Bend Food," said it's important to support small farms and the local restaurants that make use of the food they produce.
"Be appreciative of the farmers and the chefs and that relationship, and eating food that hasn't traveled very far, and how fresh it is. You can buy it at Locavore (and) the farmers market," she said. "There are just so many places you can get it now, it just makes it easy to eat food that's grown right here in the High Desert."