When Daniel Seddiqui graduated in the late 2000s with a degree in business from the University of Southern California, the flagging economy led to plenty of job interviews, but no job.
"I was a recent college grad struggling to find work, being rejected by numerous — almost an unconventional amount of rejections," he said last week. "It was 120 rounds of job interviews … with no offers. It was in the middle of the recession, too."
The situation, Seddiqui said, gave him the idea "to open my world and just be curious about different career fields to pursue and different places to live and so forth."
He set off across the country, eventually working 50 jobs in 50 states, which became the title of his 2011 book about adventures.
"I did the whole thing in 50 weeks, consecutively. Nonstop. It was grueling," he said. "It was very challenging to go through nearly 5,000 rejections, phone calls all across the country, in every area I could. I tried to find jobs that fit the industry of the local culture and economy of the state."
Among other jobs, Seddiqui worked at a cheese factory in Wisconsin and learned to walk on stilts at an amusement park in Florida.
"Here in Oregon, I worked as a logger, a big industry in Southern Oregon, especially. I thought it was a good way … to understand the country and what shapes people and the economy," he said.
Working on "50 Jobs in 50 States" inspired more curiosity about the country in Seddiqui.
"I'm just somebody who doesn't leave anything unseen or undone," he said. "I was … criss-crossing the country. Even though I was tackling a lot, I was still curious about places I was missing out on, and different types of cultures. … I wanted to learn more and get deeper into what people go through."
That curiosity led to another, more immersive project. This time, he decided to help in some of the towns and reservations hit hardest hit by poverty, obesity and other social ills.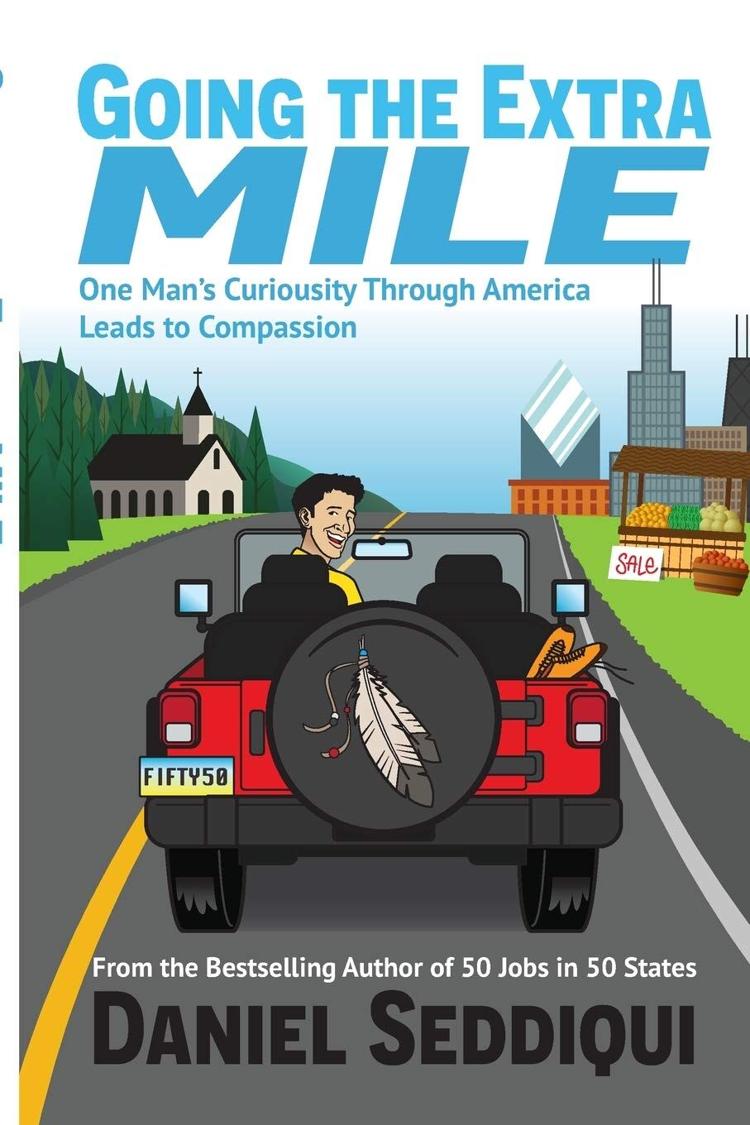 Almost a decade after his first book, Seddiqui recently self-published something of a sequel titled "Going the Extra Mile," for which he spent more time in five regions of the country, visiting and attempting to help in the most poverty-stricken part of Appalachia and a South Dakota Indian reservation with high unemployment rates.
"This is a part of our country, and I wanted to learn about ALL types of people," he said, "and basically trade my life for a short term to understand their enduring challenges and see if I could help. And I think I did try to make an impression on them."
Seddiqui moved to Bend in May with his wife — the two are expecting their first child in March — but this isn't his first stint in the state. He spent his first three years of college at University of Oregon, where he ran track before being recruited by USC, which had been "really hurting for long-distance runners," he said.
That running experience came in handy for at least one area he visited. His running background helped with one of the five projects, training people in the Mississippi town of Pickens, whose population of just over 1,000 people are among the most obese in the country.
In 2013, he organized a 5K race there, then set out to train people to race in it.
"I trained them for a month and then I put on a race. They've been pretty much doing it ever since 2013, every Thanksgiving," he said. "I would have to say out of anything I've ever done, that is the most rewarding. It's a small town, … and roughly 10 % of the people were competing in the race.
"They had all the obstacles: no facility, no sidewalks, bad food. It was just a bad environment to try to be healthy and active (in), but it was really cool to see them challenging each other, working toward a goal."
Making headway with townspeople wasn't necessarily easy, but once a few runners began participating, more followed.
This project, he believes, is of even more value than his first.
"I think it's great timing because what's going on in our country is absolutely wild, just so much division, so much angst. People not trusting each other, judging, labeling each other," Seddiqui said. "I was somebody who was willing to embrace all walks of life (and) go out of my way to learn about them. Being curious is the first step. As I have said at the beginning of this book, curiosity propels action. It's a window of opportunity to learn and an opportunity to make a difference."