I've had a kind of tradition since the 2004 Olympics in Athens that for the opening ceremonies, I fix (or grab takeout, in some cases) dinner based on the host country of those particular games. In 2004, my family picked up a Greek feast from a place in town and the tradition continued from there. We made pasta for the Turin games in 2006, fish and chips for London 2012, got Chinese takeout for Beijing 2008 and a Canadian bacon pizza for Vancouver 2010 — which of course had the Canadian bacon in the same shape as the Olympic rings.
I didn't say everything was authentic.
The semi-tradition continues today, and this year, in preparation for the 2020 Tokyo games, I found and adapted a super easy ramen recipe that is much better than the average Top Ramen packages that you may have survived on in college.
Traditionally, ramen can take a long time and usually requires a broth made from scratch that's prepared days ahead of time. If you have the extra time and energy to put into it, it is worth finding a shoyu ramen recipe and trying it out.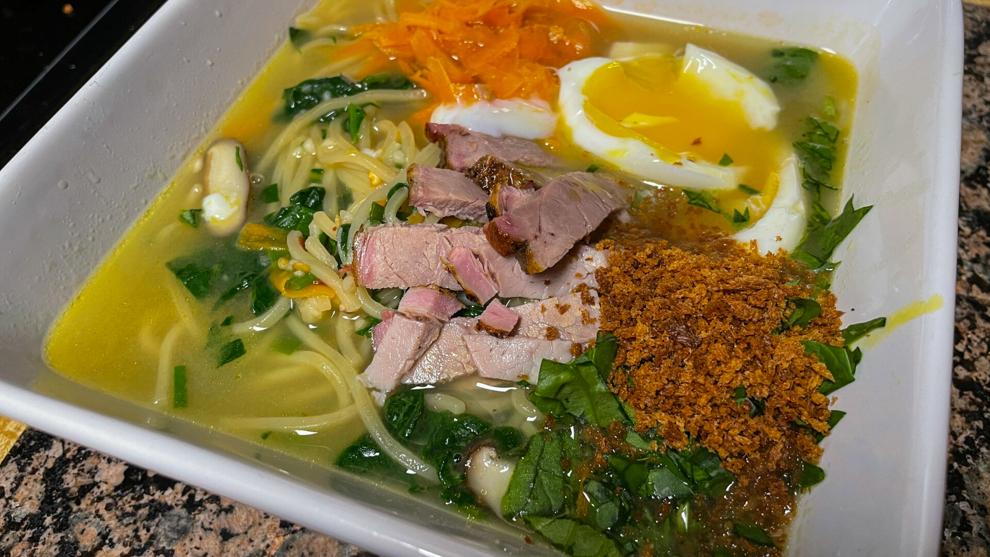 But if you're in a hurry, or you just can't wait to dig into your bowl of hot, delicious noodles and broth, try this recipe. Feel free to add other vegetables, bamboo shoots or nori if you've got them on hand. Otherwise, most of the things you may already have in your fridge.
Makes about 4 heaping servings.
Ingredients
4 eggs
1 tbsp. sesame oil
3 tsp. grated ginger
4 tsp. minced garlic
4 cups chicken or vegetable broth
3 cups water
¼ tsp. red pepper flakes
¼ tsp. salt
¼ tsp. ground black pepper
1 ounce of fresh shiitake mushrooms (can also use dried)
3 packages of ramen noodles (instant or fresh, noodles only)
1 cup of scallions or chives
2 cups of chopped spinach or kale
1 cup shredded carrots
Leftover pork, chicken, steak etc.
Toasted panko bread crumbs
Sriracha and/or soy sauce to taste
Directions
In a small pot of boiling water, boil the eggs for 6 minutes. Immediately remove and place in an ice bath to cool.
In a large pot or roasting dish, heat the sesame oil then add ginger and garlic. Stir fry for 2 minutes or until fragrant.
Add broth, water, red pepper flakes, salt and pepper and bring to a simmer.
Add mushrooms and let simmer for 5-10 minutes or until the mushrooms are soft and the broth is flavorful.
Then add the noodles. If you're using dried, instant noodles, let them simmer for about 5 minutes or until they're soft; if you're using the fresh noodles, it should only take a few minutes to soak in the broth flavor.
Add scallions and stir to combine.
Remove the pot from the heat and add spinach and carrots and stir to combine.
Plate up the ramen in bowls, then in each one place a peeled soft boiled egg and sprinkle with the toasted panko. Cut the egg in half lengthwise and add slices of leftover meat, like pork roast or steak for some added protein. Add sriracha or soy sauce to taste.