From its 1984 opening, The Open Book in Bend had been a mainstay for book lovers needing a fix of Kurt Vonnegut, Barbara Kingsolver, John D. MacDonald or any of thousands of other authors.
When fans of the 2,400-square-foot used bookstore learned via Facebook last year that the longstanding shop was up for sale, one commented that the thought of it closing filled him with anxiety: "For crying out loud, somebody save this place and keep it looking the same, for my sanity," he wrote.
Father Damian Kuolt of St. Jacob Orthodox Christian Church in Bend has saved it, but it no longer looks the same: In its place stands Agia Sophia Coffeehouse and Bookstore. The shop remained open through the last several months of considerable remodeling and will have its soft opening Dec. 6 if everything goes according to plan.
The front half of the store will now house a cafe serving coffee from Farewell Coffee Roasters along with food and other drinks.
Bookshelves line the east wall, with alternating shelves and tables in the center of the room. Large framed nature photography by Oregon photographer Christopher Burkett hangs on the walls of the cafe. The store's back room will likely serve as space for book clubs and other groups, along with storage for overstock, said Kuolt (pronounced "Colt").
The Open Book will live on through the store's many used books, but Kuolt stressed the fact that it would be a well-curated version.
"Our goal was to keep the best of Open Book going, because (it) was going to shut down altogether," Kuolt said. "We're curating all of the vintage, all the best literature. Our philosophy, history, culture, world religions and ancient Christianity is our focus for our collection. And we're going to keep the most popular mass-market mysteries and Westerns for that clientele."
Agia Sophia's specialty is affordable used books, and Kuolt encourages people to go with good books to trade them in for credit toward new purchases.
"We want to keep that cycle going. We want to keep recycling the good books. Make them inexpensive so a lot of people will read," he said. "We get a lot of young people, the under-30 crowd, the in-college crowd, who love to come in and find good philosophy and literature."
Maintaining so many pocket-sized paperbacks wasn't part of the original plan, "but once I got used to the idea of having pulp fiction, I realized that just like we eat healthy at home and we go to the coffeeshop for pastries and a latte, it's sort of like those are the dessert of the mind," Kuolt said.
"It's surprising, the number of people who come in and they read voraciously. And it's a thrill, because every day somebody comes in and they can't find a book (elsewhere). Yesterday we had two great finds in our classic literature."
The Bend Agia Sophia is actually the third loosely affiliated Agia Sophia location, with others in Philadelphia and Colorado Springs, Colorado.
"In each case, Orthodox priests opened them," Kuolt said. "We kind of kept the brand because it worked out so nicely."
Much of the refrigeration equipment, menu boards and furniture in the Bend location comes from the Colorado store, which was extremely popular during its 12 years in existence, although, according to Kuolt it was "a lot more coffeehouse and less books."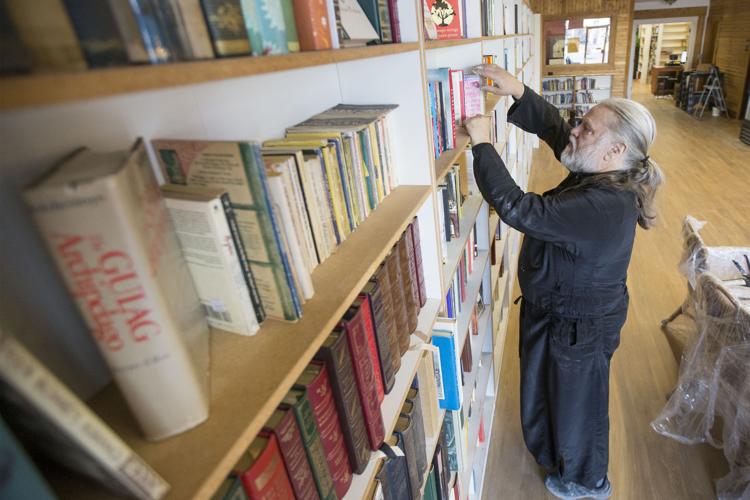 "They were voted 'Best of the Springs' seven years," he said. "They ended up closing down because they lost their lease. … We got a big start with their help."
Kuolt has handled much of the remodeling himself, with help from contractors who donated services and materials at their cost. The wood paneling in the cafe area "was all donated. I got it off of job sites; this is leftovers from a luxury home," Kuolt said.
Along with selling books and coffee, Agia Sophia will hold events such as readings and lectures by Burkett, Kuolt and others.
Kuolt and his wife, Joanna, have four adult children and moved to Bend to help develop the St. Jacob Orthodox Christian Church.
"We decided to drop anchor here, my wife and I, after living almost three years in an Airstream, traveling around the Diocese," Kuolt said. After assignments of three months to one year in Washington, California and Montana, "We decided to stay here and try to build a permanent parish that would survive us," he said.
Located at 1900 NE Division St. in Bend, St. Jacob has about 35 members.
"It's a Byzantine chapel … it's a little miniature version in a strip mall," he said. "We're outgrowing it."
Agia Sophia, whose name means "Holy Wisdom" in Greek, is a nonprofit. "To get launched it's part of an extension of our parish, but we're going to run this as an unrelated business," Kuolt said. "It will be a business to serve the community."
Kuolt said the bookstore and cafe dovetail with his theological work.
"Our purpose is, to quote Christ, love your neighbor as yourself," he said. "And my neighbor is every person that I meet. And if I have a little hidden chapel behind the building over at the Whistle Stop (Business Center), I'm not going to meet anybody. We're here to serve. The life of a Christian is meant to serve the people around them. And we just thought it was a great way to serve the community — keep the bookstore open."