If you ever felt a little sorry for Mary Bennet, the middle-most sister and something of a punchline (if not a punching bag) among the five Bennet siblings in Jane Austen's "Pride and Prejudice," "Miss Bennet: Christmas at Pemberley" may be just the show for you.
Each season, Cascades Theatrical Company can be counted on for a Christmas show as winter descends, and in 2019 that play is Lauren Gunderson and Margot Melcon's imaginative next chapter in the "Pride and Prejudice" story. Even if you've somehow avoided "Pride and Prejudice" your entire life, you will likely find this comedy of manners an enjoyable ride.
"Miss Bennet" picks up about two years after events in "Pride and Prejudice," explained Michaela Conley, who plays the bookish, musically talented Mary Bennet in the show, which opens Friday at Cascades Theatre.
Catherine Christie plays Elizabeth Bennet — now Elizabeth Darcy — the second-oldest sister. She's married to Mr. Fitzwilliam Darcy (Tom Thurman), and they live at Darcy's estate, Pemberley. There, four of the siblings have convened for Christmas, including eldest sister Jane, who's very pregnant and married to Charles Bingley (Jeremy Sherman), and the youngest sister, Lydia (Gracie Conant). Though Lydia is also married, she spends a lot of time alone, we learn. Kitty, meanwhile is off in London, but she should be arriving in time for Christmas Day.
"This is supposed to be their first real family reunion since everyone got married at the end of "Pride and Prejudice," Conley said. Well, not everyone. "(Mary) is kind of overlooked in 'Pride and Prejudice.' They really only mention her when someone wants a song and a dance: 'Mary, come out and play the piano.' And then they make fun of her because she's not very good at playing the piano in 'Pride and Prejudice.'"
Two more years of practice have turned her into a virtuoso. Though there's plenty going on here, as the title of the play suggests, it's primarily the story of Mary, whose family seems to have assumed will live responsibly at home, caring for their aging parents. But she has dreams beyond reading and playing her days away on the Longbourn estate.
"The characters kind of talk about how difficult it is to get together with close family during the holidays, and everyone kind of falls back into (feeling) like they have a role to fill. Even if they're not that person anymore in the real world," Conley said.
Enter Lord Arthur de Bourgh (Craig Brauner), a distant relative of Mr. Darcy, and obviously a potentially good mate for Mary. He's of a similarly cerebral bent and also saddled by expectations he didn't ask for, including the responsibilities of the landed class. He'd rather just keep reading his books and continuing his studies, thank you.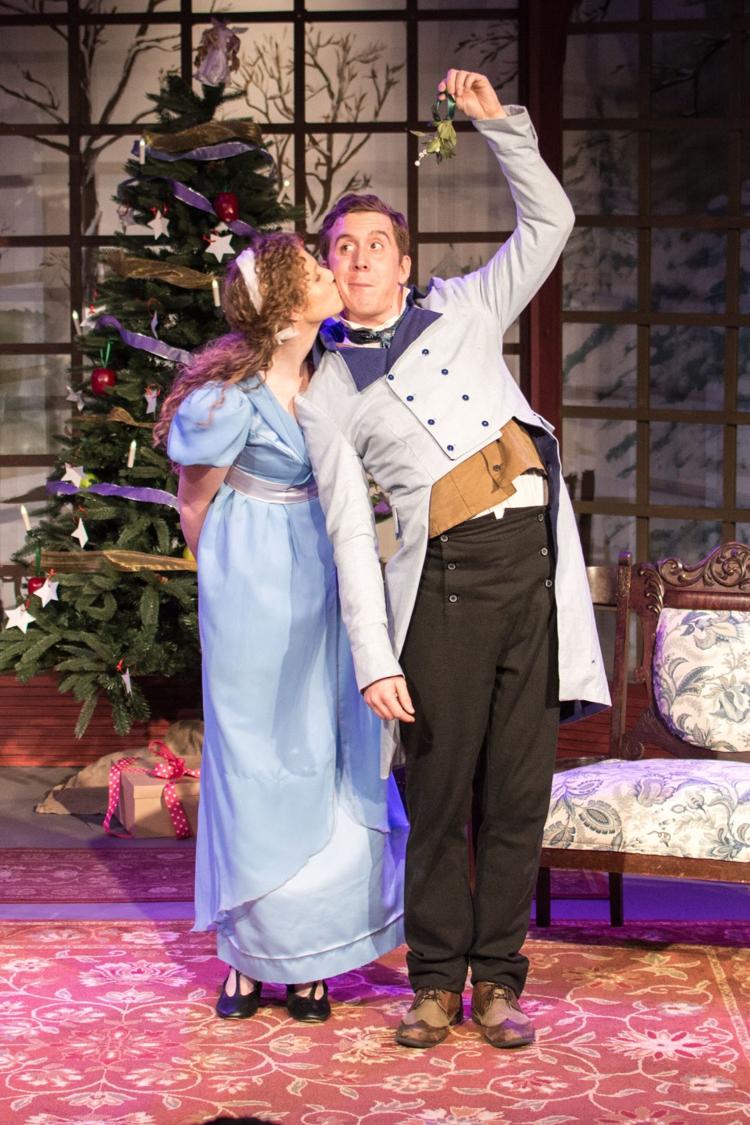 "The relationship with Arthur really brings her out of her shell," Conley said.
Though Mary and Arthur's common interests and shared attraction would suggest they fall immediately and deeply in love, the flirtatious Lydia and some misunderstood love letters delay the inevitable.
"There's a lot of letters," Conley said, laughing.
Director Wilma Keller cast the show well; the actors nail their respective parts including the upper-crust accents. The costumes by Kathy Henderson, set by Bill Keller and Mark McConnell, and props and decor by Mark and Cindy McConnell also do their part in fostering an atmosphere of, well, Christmas at Pemberley. CTC now owns itself a pre-Civil War piano, which it purchased for the play, Conley said.
Conley is the production manager at CTC, where she's worked for two years. "Miss Bennet" marks her second time appearing in a production at the community theater, her first being an ensemble part in the musical "She Loves Me" last season. Conley, who holds degrees in theater and vocal performance from George Fox University, has also appeared in a couple of Thoroughly Modern Productions shows.
In addition to time spent rehearsing and memorizing lines over the last couple of months, Conley has been practicing piano two to three hours a day, critical to some crucial scenes in "Miss Bennet."
"I could sort of play piano, but definitely not at the level that was required for this," Conley said laughing. "It's been a lot."