As restaurants continue to resume normalcy, some are offering dine-in Thanksgiving options this season. Others are doing both dine-in and take-out. A few restaurants are offering side dishes or special turkey offerings. Below is a selection of area restaurants and caterers offering meals this holiday:
Roam, located at 10 NW Minnesota Ave., Bend, is open Thanksgiving Day from noon to 8 p.m. for four-course prix fixe dinner.
Cost is $52 per person, $19 children 6-12, free for children under 5. Contact: 541-382-7626 or roambend.com
Course One
Charcuterie Plate — artisan-cured meats, cheese, olives, nuts, relishes, assortment of dips
Course Two (choose one)
Butternut Squash Bisque — goat cheese crostini and fried sage
Poached Pear Salad — mixed greens, bleu cheese, candied hazelnuts, champagne vinaigrette
Course Three (choose one)
Herb roasted turkey with whipped potatoes, rosemary sage stuffing, turkey gravy, bacon and heirloom tomato green beans, cranberry sauce
Slow roasted prime rib of beef with roasted Frangelico yams, whipped potatoes, bacon and heirloom tomato green beans, au jus, creamy horseradish
King Salmon en Croute wrapped in puff pastry, dijon mustard, sauce beurre blanc, with bacon and heirloom tomato green beans, rosemary sage stuffing
Pit Smoked Carlton Farm Ham with roasted Frangelico yams, bacon and heirloom tomato green beans, rosemary sage stuffing, or
Vegetarian Platter with roasted frangelico yams, heirloom tomato green beans, vegan stuffing, whipped potatoes
Course Four (choose one)
Classic pumpkin pie with whipped cream
Dutch apple pie with whipped cream (or vanilla ice cream)
Menu
Sixteen- to 18-pound fresh, brined, roasted turkey and two quarts gravy, $120
Herbed Stuffing serves 10-12, $40 (add chorizo, $50)
Red Bliss Mashed Potatoes. One quart, $20
Butter Parslied Carrots. One quart, $15
Fresh Cranberry Sauce. One quart, $20
Panamanian Potato Salad with fresh beets one quart, $20 (add chicken, $25)
Old-fashioned corn pudding (serves 10-12), $30
Coronation salad, one quart, $25 (platter with fruits and greens, $40)
Shakshuka, one quart, $20
Crab cakes with dipping sauces, $65 per dozen
Colossal shrimp cocktail with dipping sauce, $2.50 per shrimp
Whole Quiche (serves 10-12) $65
Hosemade pesto, 1 pint, $15
Green Coyote Savory sauce, $16
Squirrel on Fire hot sauce, $18
Whole Lemoncurd Cheeesecake, $65
Lemon Toasted Coconut Cake, $65
Chocolate Raspberry Chamboard Torte, $80
Chocolate Nutella Torte, $75
Flourless Chocolate Espresso Tart, $10
Lemon Blueberry Scone, $9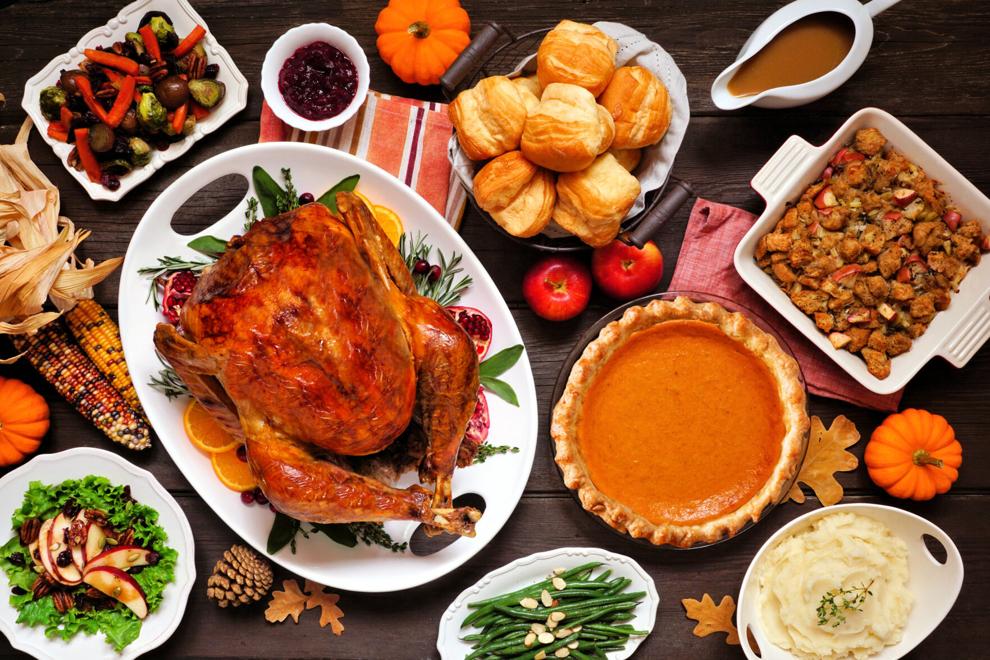 The Phoenix, 594 NE Bellevue Drive, Bend, is open Thanksgiving Day from 1 to 6 p.m. (reservations recommended), and the holiday menu is available for pick up. Order by Tuesday for pick up on Thanksgiving by 1:15 p.m. Contact: bendphoenix.com or 541-317-0727
Starter (choose One)
Roasted Butternut Squash Bisque or second soup (to be determined)
Raspberry salad — Sweet baby greens, sundried cranberries, toasted walnuts, raspberries and French goat cheese, served with raspberry walnut vinaigrette
Garden Salad — Mixed greens, tomatoes, cucumbers, carrots, and a cheddar jack cheese blend, served with your choice of ranch, bleu cheese, 1000 island, Caesar, balsamic vinaigrette, raspberry, sesame-soy vinaigrette, house herb vinaigrette or honey mustard dressing
Caesar salad—Fresh cut hearts of romaine, sourdough croutons, and parmesan, tossed with classic Caesar dressing
Entrees (choose one)
Roasted Turkey, $40 — Slow-roasted turkey topped with gravy, choice of white or dark meat
Prime Rib, $50 — 10-ounce Double R Ranch Prime Rib, served with au jus and creamy horseradish
Herb Crusted Pork loin, $40 — Apple cider brined roasted pork loin, topped with an apple-sage cream sauce
Whipped potatoes with turkey gravy
Traditional apple sage stuffing
Baked sweet potato gratin
Braised green beans with caramelized onions
Long grain rice pilaf with peppers, onions, and herbs
Carson's American Kitchen at Sunriver Resort
Carson's American Kitchen, 17600 Center Drive, Sunriver, is open for Thanksgiving dinner from 1 to 8 p.m. Reservations and credit card holds required.
Main course
Prime rib (gluten free) — smoked and roasted 16 ounce king cut, whipped potatoes, honey glazed carrots and au jus, $55
Turkey (gluten- and dairy-free) brined and roasted turkey breast, confit dark meat, whipped potatoes, green beans, gravy and orange cranberry sauce, $48
Root vegetable tarte tartin (vegan) — Savory brown butter tart with gold potato, sweet potato, heirloom carrot, parsnip, red onion, winter herbs and Cypress Grove fromage blanc, $37
Available sides include sweet potato casserole, fried Brussels sprouts with bacon jam, green bean casserole, sausage and chestnut stuffing , vegetarian stuffing and more.
Jackalope Grill, 750 NW Lava Road, Bend, will be open with regular menu and traditional Thanksgiving dinner. $32 per plate. Contact: 541-318-8435
Menu
Roasted, locally raised organic turkey
Granny Smith apple stuffing
Mama Rosemary's pineapple-pecan sweet potato casserole
Chef's cranberry preserves
Cody's, 900 SE Wilson Ave., Bend, is offering Thanksgiving takeout. Cost of meal for 10 people, $249.95, or up to 15 people, $325.95. Fewer than 10 people, $30 per person. Contact: bendcatering.com or 541-383-5014
Menu
Sliced, roasted turkey and old fashioned honey-mustard glazed ham
Mashed potatoes and gravy
Fresh baked rolls with butter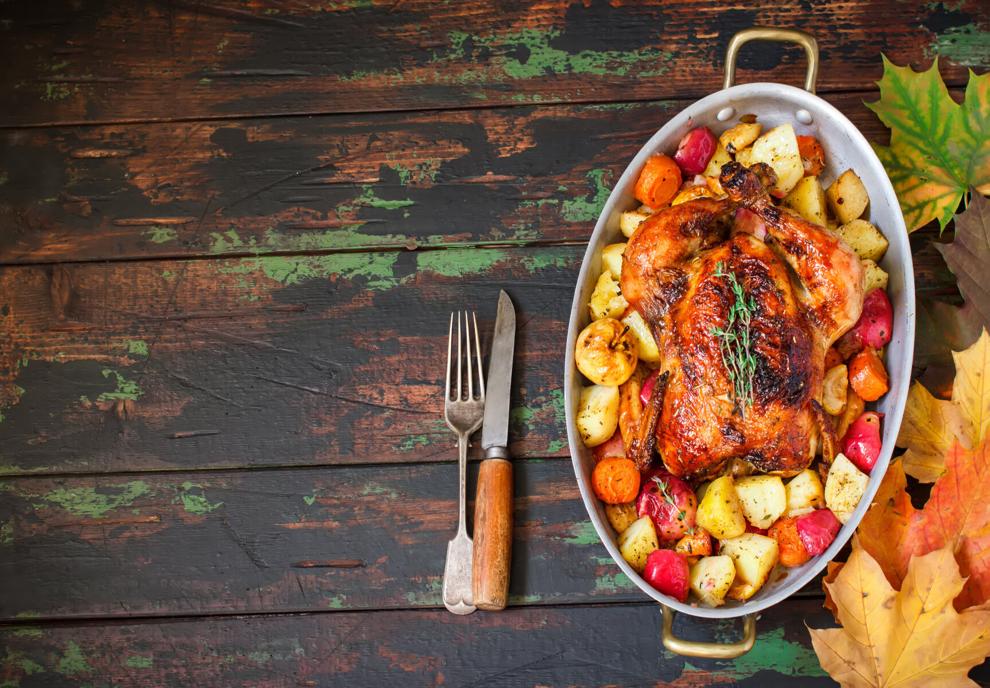 McMenamins Old St. Francis School
McMenamins, 700 NW Bond St., Bend, will be open with regular menu and Thanksgiving specials. Traditional Thanksgiving Dinner Menu Orders must be place by 10 a.m. Monday at shopmcmenamins.com/thanksgiving-osf-traditional. (Be sure to order from Old St Francis School in Bend.) Contact: 541-382-5174.
Menu
$150, serves 6 to 8 people
Herb-roasted turkey with old fashioned turkey gravy and Fireside cranberry relish
Yukon gold mashed potatoes
Hazelnut-brown butter green beans
Pumpkin pie with whipped cream
Niblick and Greene, 7535 Southwest Falcon Crest Drive, Redmond, is offering a take and heat Thanksgiving dinner. Orders must be placed by 2 p.m. Sunday. Pickup is between noon and 4 p.m. on Wednesday. Contact: niblickandgreenes.com or 541-548-4220.
Menu
Thanksgiving Dinner Plate (minimum of two per order) $29 each
Sliced roasted turkey breast with garlic herb butter
Truffle parmesan mashed potatoes
Caramelized Brussels sprouts
Roasted and carved natural turkey breast, serves six to nine people, $65
Roasted & carved Natural whole turkey with garlic herb butter, serves eight to 10 people, $125
Honey baked spiral cut half ham, serves 10 to 12 people, $69
Side dishes (quart serves two to three) 1 pound serves three to four people
Cranberry Orange chutney sauce, one pint, $10
Spiced butternut squash soup, one quart, $16
Sage-pan jus gravey, one quart, $14
Candied yams, $12 per pound
Caramelized Brussels sprouts with shallot-parsley butter and applewood bacon, $14 per pound
Truffle and Parmesan Yukon gold mashed potatoes, $12 per pound
Focaccia-Herb stuffing $12 per pound
Season Chopped Salad — pomegranate jewels, walnuts, feta, celery heats, butternut squash, sherry shallot dressing, $40 per bowl
Focaccia, $18 (serves 12)
Whole Chocolate Pudding Pie $25
Mixed fresh baked cookie platter $24/dozen
Cub-B-Q's heat and serve Thanksgiving Dinner is $18 per person. Text your name and number of orders to 541 647-4772 by Monday. Pick up at On Tap truck, 1424 NE Cushing Drive, Bend. Contact: bendsbestbbq.com
Menu
Mashed potatoes and gravy
Cascade Lakes Brewing Company
Cascade Lakes is offering an array of Thanksgiving sides at its Redmond (855 SW Seventh St.) and Bend (1441 SW Chandler Ave.) locations. Contact: (Redmond) 541-923-1795 or (Bend) 541-388-4998.
Menu
Order online at bit.ly/3kGiQMH to pick up Wednesday. Each side feeds four to six people.
Three sides, $40; five sides, $65; seven sides, $85; a la carte sides, $14
Baked smoked cheddar mac and cheese
Bread pudding stuffing, herbs, caramelized onions, roasted mushrooms
Green Been casserole with crispy onions
Sweet potato casserole with maple glazed pecans
Roasted beats with granola, pickled red onion, spinach, ricotta and whole grain mustard vinaigrette
Big Ski's Pierogi, 536 NW Arizona Ave., Bend, is offering Thanksgiving pierogis. Contact: facebook.com/bigskiperogi or 541-706-0050
Menu
12 pierogis turkey and stuffing, six corn and six OG (original) pierogis, $21
24 turkey/stuffing, six corn and six OG pierogis, $39
48 turkey/stuffing, six corn and six OG pierogis, $75