To say this has been an unusual year would be the understatement of the century. While you get ready to plan out your Thanksgiving meal, who's gathered around the table might also be a little unusual. Keeping gatherings small and including others via a Zoom or FaceTime call is the best and safest way to gather this season. So before setting the table or sending your invite link to your extended family members, give some of these alternative Thanksgiving dishes a try for this alternative way to get together over the holidays.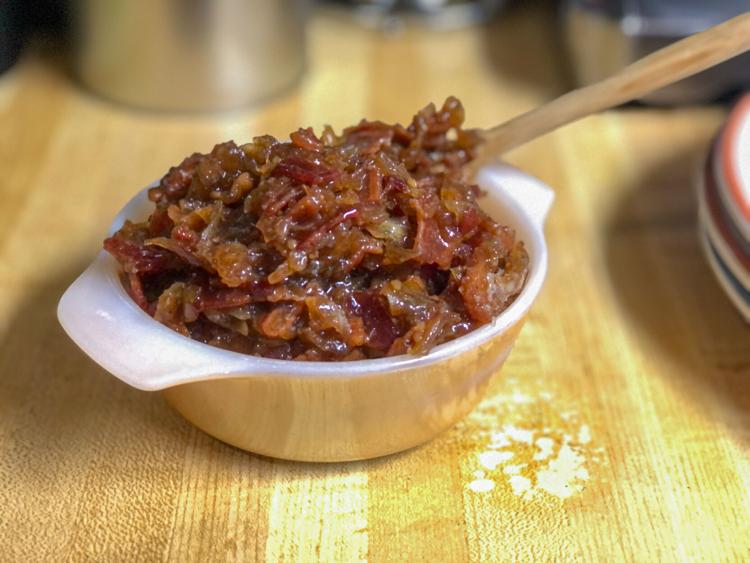 Swap cranberry sauce for bacon jam
I've never been a huge fan of cranberries (outside of its juice form) so this was a welcome switch. Instead of cracking open a can of Ocean Spray or going Martha Stewart over the fresher kind of luscious red dish, try the savory-sweet compilation of a bacon jam which can be eaten solo or along with potatoes. Plus if you have some leftover, you can put it on burgers, sandwiches or just eat it out of the jar with a spoon.
Ingredients
1 lb. of bacon, cut into half-inch pieces
1 medium yellow onion, finely minced
1 tsp. minced garlic (about 2 cloves)
½ c. brown sugar
½ c. maple syrup
6 tbsp. apple cider vinegar
½ c. water
¼ tsp cayenne pepper, optional
Directions
In a large skillet over medium heat, cook bacon until just under crispy but browned. When finished cooking, place bacon on a paper towel-lined plate to soak in excess fat. Reserve about a tablespoon of the fat in the pan.
Return your skillet to medium heat and lightly caramelize the onion.
Stir in the remaining ingredients and the cooked bacon bringing it to a simmer. Then cook uncovered until the liquid has reduced and thickened, about 20-25 minutes.
Serve warm if desired, otherwise, refrigerate in an airtight container to be served later (bacon is good at any temperature).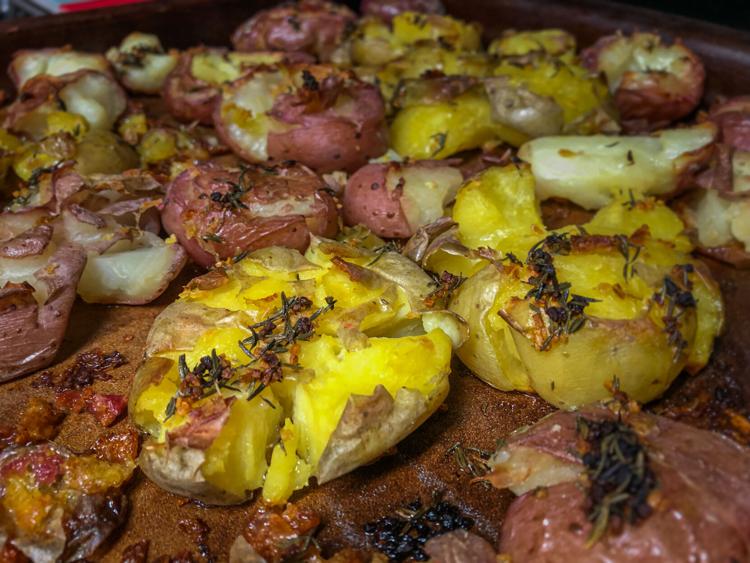 Swap mashed potatoes for smashed potatoes
Yes, there is a difference between mashed and smashed potatoes. Take your roasted potatoes to the next level and get them to a healthy-ish version of a tater tot. Since potatoes are incredibly versatile, add different spices, herbs or sprinkle some Parmesan for extra zip.
Ingredients
New potatoes or another small potato variety (amount depends on how many you intend on serving)
2 tbsp. Garlic infused olive oil (can substitute for regular olive oil)
3 cloves of garlic, minced
1 tbsp. fresh thyme or rosemary
Salt and pepper to taste
Directions
Preheat oven to 450 degrees and while it's warming up, in a large pot, boil the potatoes until tender.
Removed from heat and drain . Place potatoes on a baking sheet and let them cool completely. Using a potato masher or fork, carefully flatten the potatoes making sure they stay intact.
In a small dish mix the oil, garlic and herbs together and drizzle over the potatoes. Feel free to drizzle more oil and sprinkle more garlic or herbs if needed/desired.
Bake until golden brown, about 18-20 minutes.
Serve hot.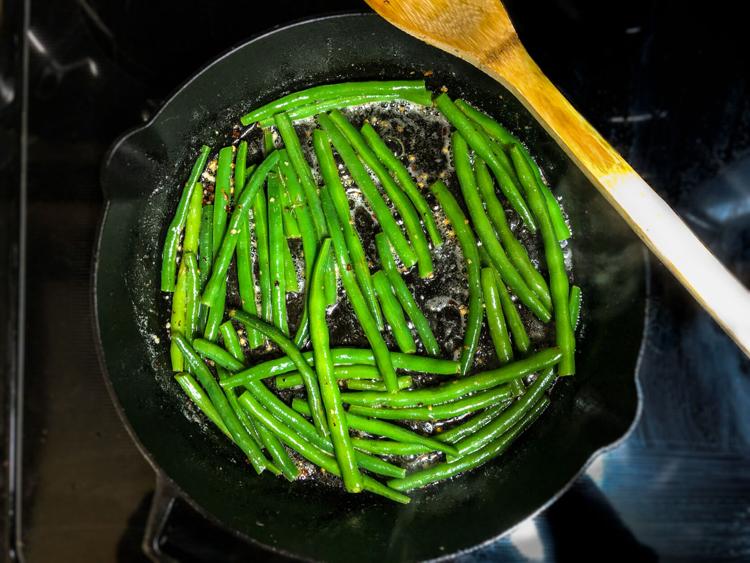 Swap green bean casserole with sauteed lemon and garlic green beans
The best thing about green bean casserole is the crispy fried onions on top, leaving the main point of the dish usually left in a hot pile on the plate. So give the snappy green veggie an upgrade and taste it deserves. Don't worry, you can still serve your crispy onions on the side.
Ingredients
1 lb. of green beans (serves 3, double as needed), trimmed ends
1 tbsp. olive oil
3 tbsp. unsalted butter
1 tsp. minced garlic, about 2 cloves
½ tsp. red pepper flakes
1 tbsp. lemon zest
Salt and pepper to taste
Directions
Bring a large pot of water to a boil then blanch the green beans for about 2 minutes until bright green in color. Drain and immediately place in an ice bath to stop the cooking. Set aside.
In a large skillet over medium heat, add oil and butter. When melted add garlic and red pepper flakes until fragrant.
Remove the green beans from the ice bath and add them to the skillet, cooking for about 5 minutes until coated in butter and heated thoroughly. Remove from heat and add lemon zest, salt and pepper and combine.
Serve hot.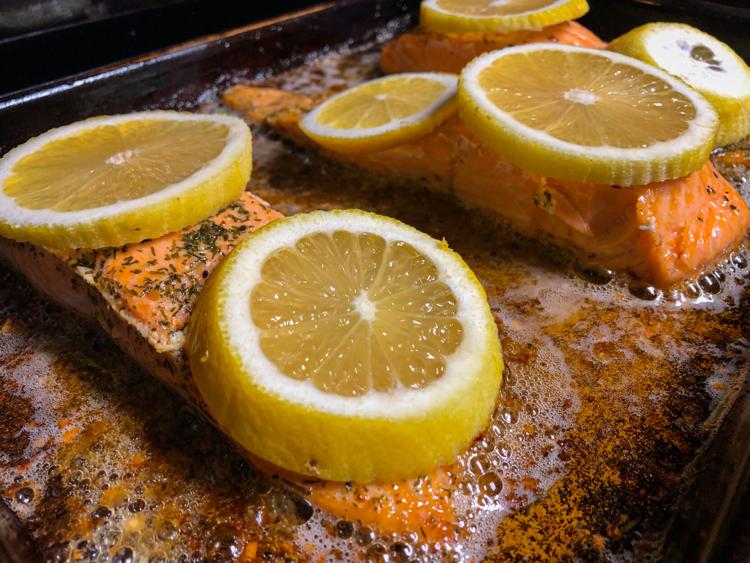 Swap turkey for butter roasted salmon
Not many people are really into turkey, but we grin and bear it come Thanksgiving dinner because it's "traditional."
Nothing says you have to serve a glistening bird for your meal. Branch out and dive into a tasty salmon dish instead.
Ingredients
3 fresh skin-on salmon or steelhead pieces
½ c. unsalted butter
3 tbsp. dill (can substitute parsley if preferred)
1 tsp. minced garlic, about 2 cloves
Salt and pepper to taste
Lemon slices
Directions
Preheat oven to 475 degrees.
In a medium roasting pan or dish, place the butter and sprinkle the dill evenly over the dish. Place in the oven until butter is melted then remove.
Make sure melted butter and dill is evenly spread over the dish then place the salmon skin side up on the dish. Return to oven and bake for about 4 minutes.
Remove the skins from the fish and season with salt and pepper then carefully flip each piece and season the now top side.
Evenly spread garlic in the melted butter around the fish and place lemon wedges on top of each piece then return to the oven for another 3 to 4 minutes or until the desired doneness.
Plate up the fish and spoon some of the butter on top and serve hot.