The Sunday dinner is a time to go all out. Spending the majority of the day in the kitchen prepping, boiling, frying, what have you. The South seems to have carved a niche into this idea of gathering as a family on the last day of the weekend to sample the foods made with love throughout the day.
As a lifelong Northwesterner, this reporter had never ventured into much of this Southern-style comfort food but was willing to dive in and face the potential (and as it turns out literal) oil burns of a day spent in the kitchen tasting some of the flavors of the South.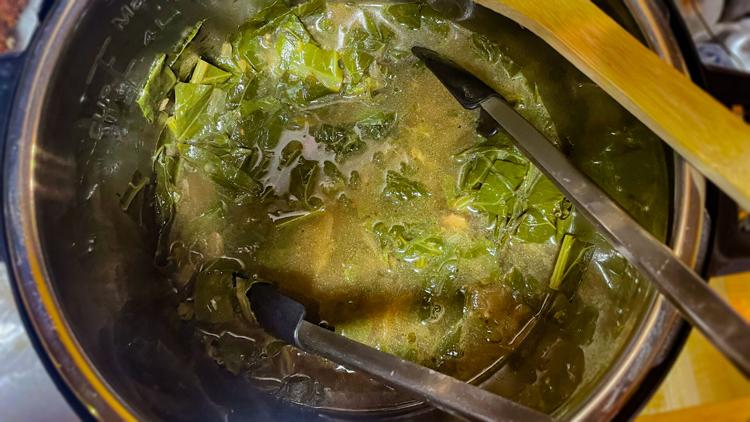 Ingredients
1 tbsp. oil (olive or avocado recommended)
1 onion, chopped
1 tsp. seasoned salt
½ tsp kosher or sea salt
¼ tsp crushed red pepper flakes (or more if you want it spicier)
4 cloves garlic, minced
32 ounces chicken broth
1 ham hock
1 lb. collards (can substitute, turnip greens or kale), cleaned and chopped
Directions
Set the Instant Pot to saute (normal/medium heat). Add oil and onion when hot and cook until the onion is tender.
Add seasoned salt, salt, red pepper flakes and garlic until fragrant (about 30 seconds). Stir in the broth and put in the ham hock.
Close and lock the lid with the pressure knob set to the sealing position and reset the Instant Pot to the Meat/Stew setting for 35 minutes.
When the 35 minutes have elapsed, let it sit for about 10 minutes then release the pressure from the knob.
Open it up and put in the collards, submerging them in the broth as much as possible.
Put the lid back on, lock it and reset the knob to the sealing position and set the Instant Pot to the manual setting for 25 minutes.
When the time is up, let it set for another 10 minutes then release the steam from the knob.
Open it up and take out the ham hock and shred the meat from the bone with a couple of forks and return just the meat to the pot and stir it in.
Serve it hot and with some cornbread or bread to soak up the juices or "pot liquor/likker" (the best part in my opinion).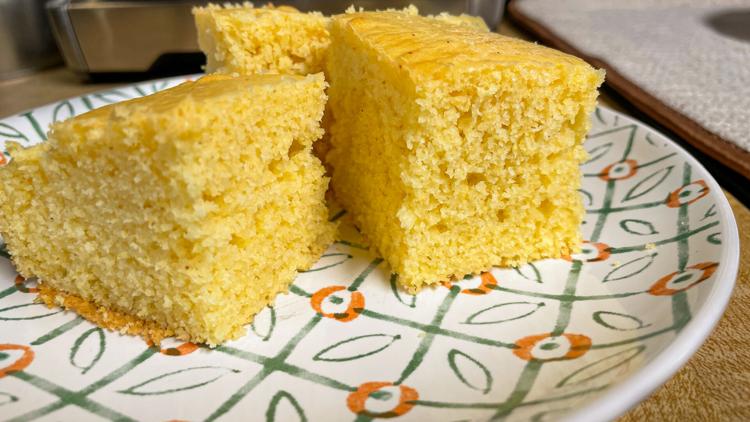 1 cup of cornmeal (white or yellow)
1 cup flour
¼ cup granulated sugar
1 tbsp. baking powder
1 tsp. salt
1 cup milk
⅓ cup vegetable oil
1 large egg, lightly beaten
Directions
Preheat oven to 400 degrees and grease an 8-inch baking pan.
In a medium bowl, combine all ingredients until just blended. Pour into the prepared pan.
Bake for 25 minutes or until cooked through.
Serve warm.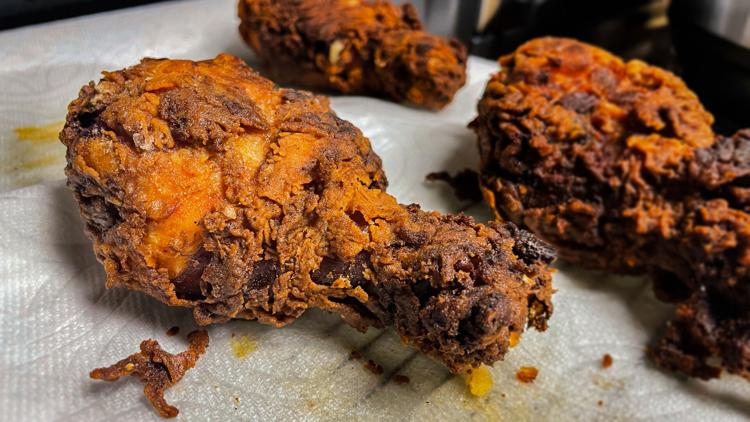 Ingredients
Up to 8 pieces of skin-on, raw chicken
2 cups of buttermilk
2 tsp. salt
2 tsp. freshly ground black pepper
High smoke point oil for frying (such as peanut or grapeseed)
1 cup flour
½ tsp. paprika
¼ tsp. garlic powder
¼ tsp. onion powder
¼ tsp. cayenne pepper
¼ tsp. poultry seasoning
Directions
In a medium bowl, combine buttermilk, one teaspoon of salt and one teaspoon of black pepper. Add chicken, dredging and coating each piece. Cover and refrigerate for at least an hour.
Remove chicken from the fridge and let the mixture warm up slightly.
Heat oil to 360 degrees (use a thermometer and monitor temperature as it will fluctuate).
In a separate bowl combine remaining dry ingredients and roll the chicken into the dry mix, coating entirely.
Carefully place the chicken in about 1 inch of hot oil, turning occasionally for about 15 minutes per piece until they reach an internal temperature of 165 degrees then remove to a cooling rack covered with paper towels to drain excess oil. If the chicken hasn't reached the temperature, cover them in aluminum foil and finish cooking in the oven.
Serve hot or at room temperature.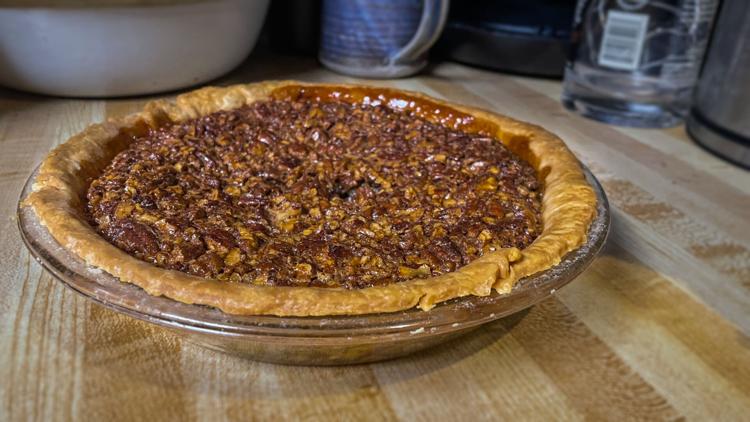 Ingredients
1 cup of light or dark corn syrup
3 eggs
1 cup of granulated sugar
1 tsp. salt
2 tbsp. unsalted butter, melted and cooled
1 tsp. vanilla extract
6 ounces pecans, coarsely chopped
1 unbaked or frozen pie crust (9-inch)
Directions
Preheat oven to 350 degrees.
In a medium bowl combine corn syrup, eggs, sugar, salt, butter and vanilla.
Stir in pecans then pour the mix into the pie crust.
Place on the middle rack of the preheated oven and bake for 60 to 70 minutes. Let it cool for at least 2 hours before serving.