This summer is shaping up to be a hot one across Central Oregon and the West. There are ample places to cool off, whether it involves wading in a crystal clear creek or river to fish, or taking a hike through a shady section of forest, but nothing beats heading to your favorite swimming hole for a dip.
Everyone has their own preferences as to where the best water is to jump in, and there are more than this list can contain, but here are just a few of those favorites from my own youth and adulthood living in this gorgeous place.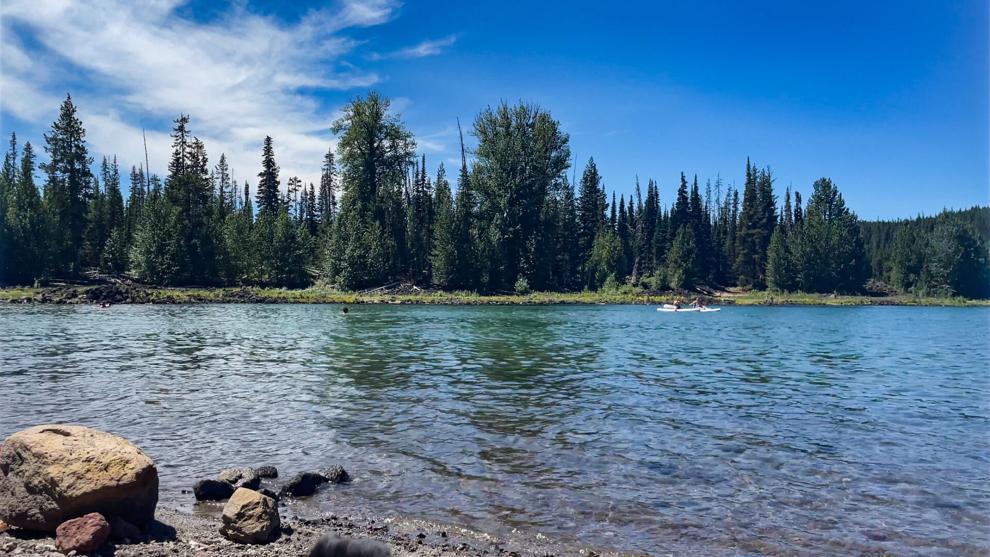 Elk Lake
Not only is the lake great for kayaking and even sailing on, swimming in the cool water is great for a hot day — especially as the beach access is also very inviting.
Elk Lake has become increasingly popular over the years, so finding your own bit of sandy-rocky shoreline is at a premium nowadays unless you're willing to get up there early. Often times you'll find cars parked alongside the access roads and across the highway at the trailhead trying to snag a spot. If you find yourself in this predicament, maybe try another lake.
There are several access points for day use, including South Beach, Little Fawn, Sunset View and at the Elk Lake Resort and Marina.
Getting there: Take SW Century Drive/Cascade Lakes National Scenic Byway west for 38 miles then turn left to arrive at the resort and marina, continue driving to reach South Beach, Little Fawn and Sunset View day use areas (take the Hosmer Lake turnoff). $5 day-use permit or recreation pass required
Tumalo State Park
Any time other than this summer, the waters of the Deschutes River at Tumalo State Park feel downright frigid, but right now it may be more on the refreshing side.
With lots of large boulders to sit on and sun yourself on between dips as well as large grassy areas for a picnic, there is loads of space to spread out. Plus you can float down the river for a short while after hiking upstream from the park.
The cold water is slow enough in many places for little ones, but remember there is no lifeguard and water conditions can change drastically depending on where you are in the river.
Getting there: From Bend, take O.B. Riley Road 4 miles until you see the signs for Tumalo State Park. Turn left for the day-use area, right for the campground. $5 Oregon State Park day-use permit required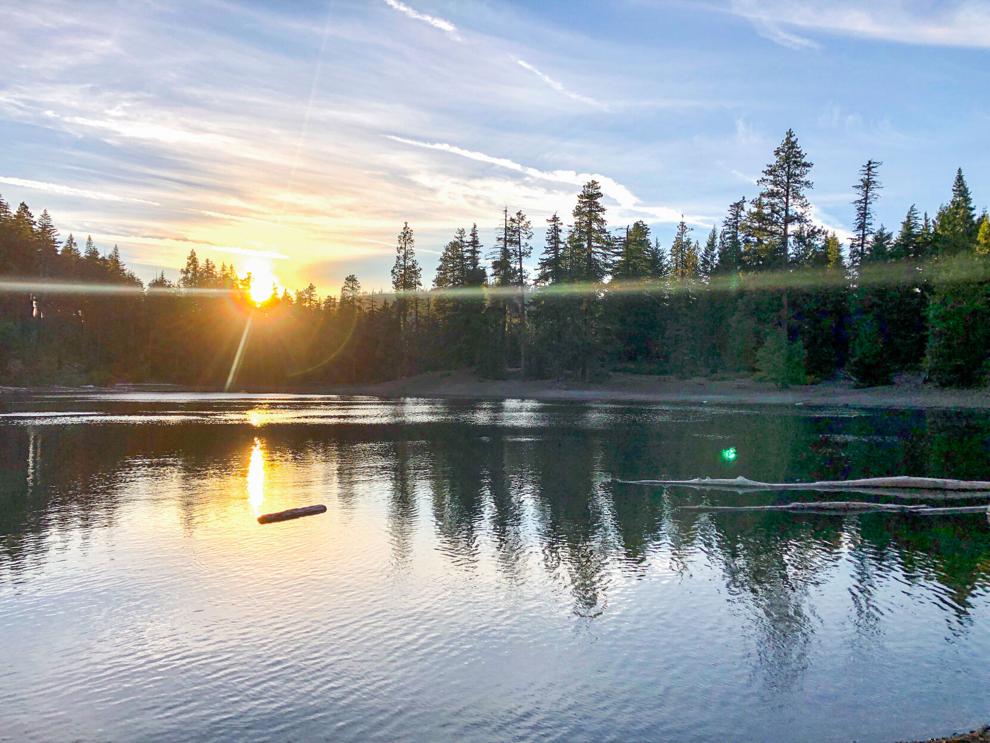 Suttle Lake and Scout Lake
Suttle Lake can be on the cold side, so ease your way into its clear blue waters.
The glacial moraine lake maxes out at 75 feet deep and has an average depth of 44 feet, but the shoreline has many nice sloping spots to take a refreshing dip in.
Nearby and tucked off Forest Road 2066 is the tiny-by-comparison Scout Lake. Because the lake has no outlet and it is popular for swimmers, dogs are not allowed at the lake and you can face a $100 fine if you bring your pooch.
The shallow lake is usually warmer than others like it, but because there are many people at the lake, it's best to get your visits in before the end of August and the water becomes less than inviting.
Getting there: From Sisters, take U.S. Highway 20 fr 13 miles and turn left for Suttle Lake. Continue on the road around the southern side of the lake for 1.2 miles then turn left onto Forest Road 2066 for one-half mile then turn right for Scout Lake. $5 day-use permit or recreation pass required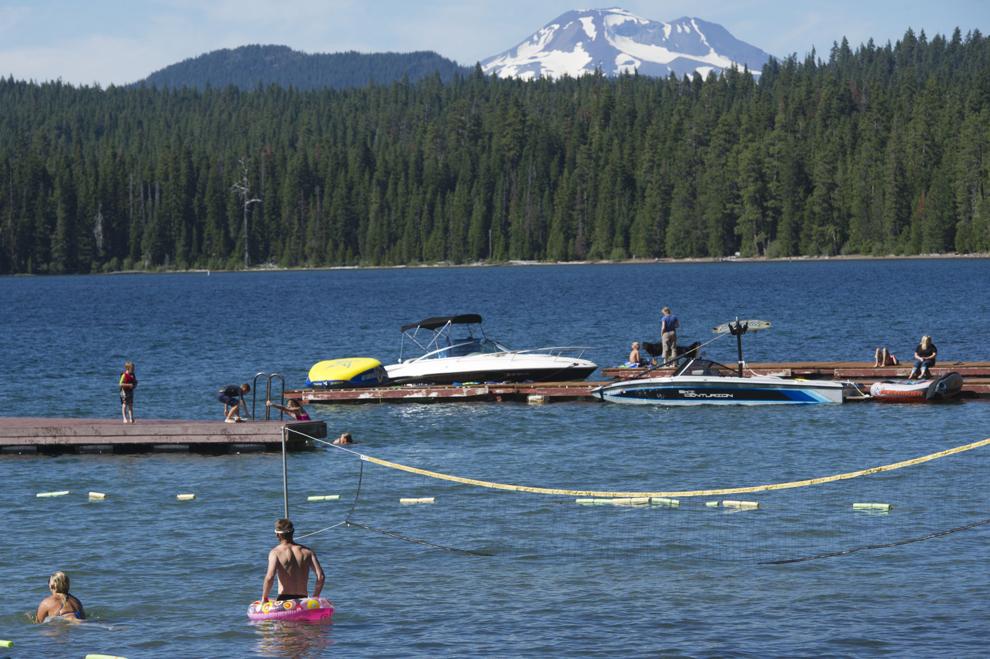 Cultus Lake
If you have a boat, Cultus is a great place to get out and motor around the brilliantly blue lake.
The natural, glacier-formed lake is popular for both those who want to go fast and who want to go slow with good fishing for mackinaw and other trouts — plus room to jet ski, water ski and even windsurf. The gently sloping shoreline in places makes it nice for little ones to enjoy too.
The day-use area has a wonderful and popular beach site to wade and splash around.
If you want a quieter lake, drive over to the nearby Little Cultus for a shallower, less popular lake. It's still a great spot to swim, but bring bug spray.
Getting there: From Bend, drive west on Cascade Lakes National Scenic Byway for 44.4 miles then turn right onto Forest Road 4635 for 2 miles until you reach the lake. $5 day-use permit or recreation pass required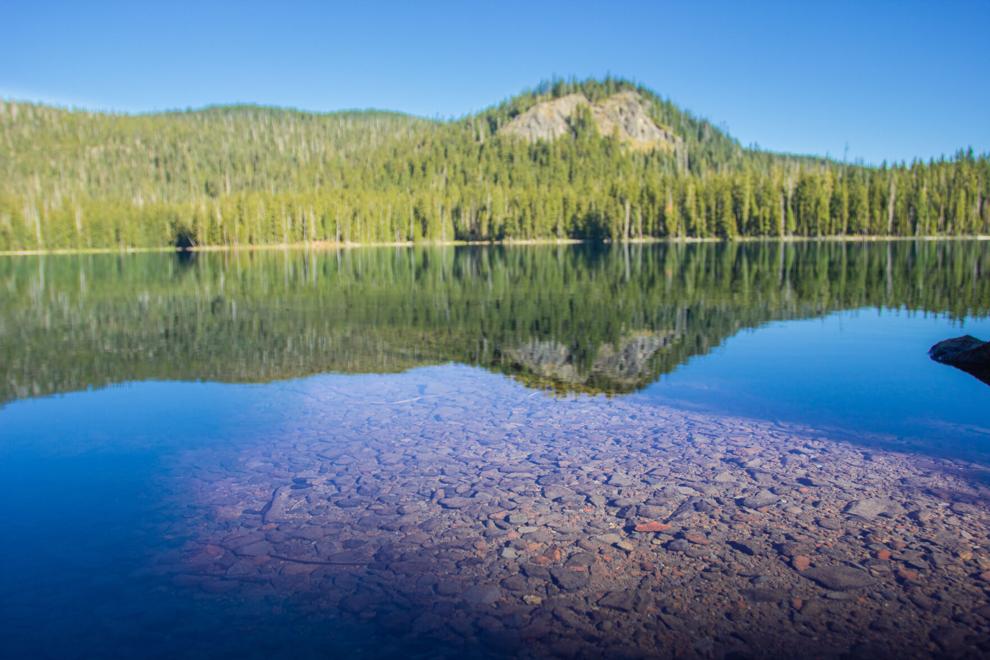 Doris Lake
You'll have to hike about 2.5 miles to reach it, but it just makes the cool waters of Doris Lake that much more special.
Hike along the easy Six Lakes trail past Blow Lake (which is also nice to swim in but has less beach access) and then reach Doris with an interesting rocky hillside and lots of good places to reach the water, and trees to hitch your hammock to for a relaxing day in the woods.
The trail out requires a free self-service permit at the trailhead, but if you want to camp out for the night, you'll need a Central Cascades Wilderness Overnight Permit.
You will need some intense DEET repellent while visiting if you don't want the mosquitos to carry you away.
Getting there: From Bend, head west on the Cascade Lakes National Scenic Byway for 33.5 miles then turn right at the Six Lakes Trailhead. Park your car then hike 2.5 miles to Doris Lake.