Elk Lake, one of the most popular lakes in the Central Oregon Cascades, is always a sumptuous feast for the senses, from the lake's clear, cool waters to the fresh-scented mountain breeze flowing through the surrounding pines.
But at the end of the day, nature's colorful light show, as seen from the vantage of the aptly-named Sunset View Day Use Area, ratchets up the lake's beauty considerably — at a time when most beachgoers have already headed down the hill for dinner.
Just how pretty of a sunset you'll see as Earth's nearest star dips below the jagged horizon is, of course, dependent on the conditions. But get lucky on the right evening and you might catch a sky ablaze with oranges, reds and pinks as birds flit over the lake's clear waters enjoying their own dinners.
This reporter made two trips up, one in July and one in August, the more recent a Monday night a few weeks ago, with my daughters, Lucy and Caroline.
The reason for our visit was ostensibly so that our dog could swim. We'd left him behind on the trip a couple of weeks earlier, only to discover we were the only group of people on that pebble-strewn beach who didn't have along a dog. And if I'm going to have a strange dog come over and shake cold water off on me (yes, really, it happened) it's gonna be MY strange dog, dang it.
Kaloo, aka Captain K-Dog or K-Man, is a 12-year-old border collie and lab mix, assuming what we learned 11 years ago at the Humane Society when we "rescued," or picked him out, was accurate. He also has a healthy dose of alpha assertiveness, which stays annoying but gets funnier as he ages into relative harmlessness (also applicable to humans who fancy themselves "alpha"). He also has a curly tail and spotted tongue that suggest some chow or other breed in the mix, but I'm too cheap to swab his cheek just to learn his canine genealogy.
Whatever Kaloo is, he's a born water dog. He has always loved the water. Even in bodies that amount to barely a puddle, he liked to submerge himself and hold stock-still, like a hairy alligator. Even absent water, he'll attempt this move on wet lawns to cool down while out on walks. Most neighbors don't seem to mind.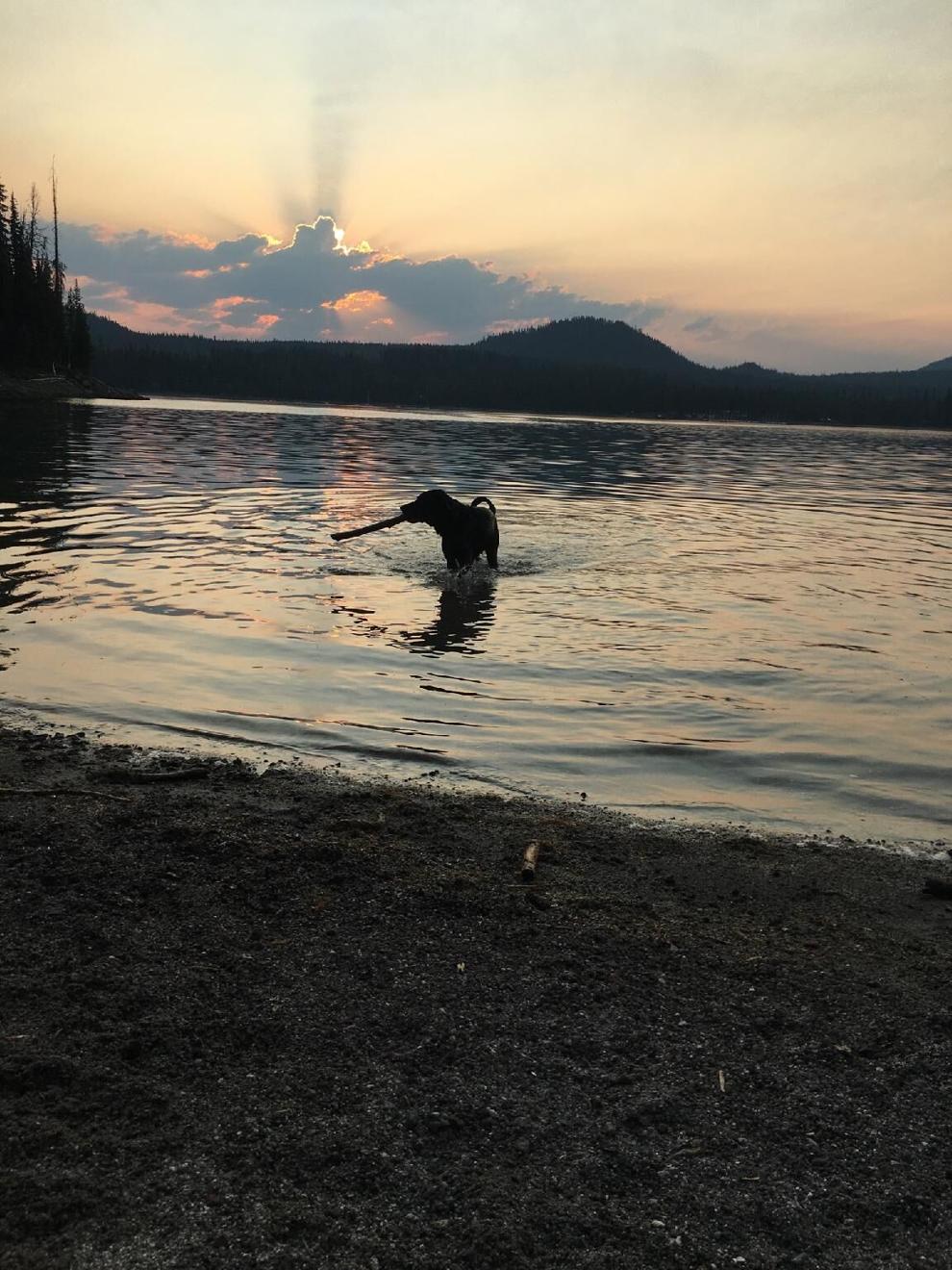 After we realized he hadn't yet gotten any actual water time this summer, we were determined to remedy that before the calendar rolled any closer to the dreaded fall equinox. At his advanced age, the mutt's hips and hind legs are getting weaker, making it difficult for K-Man to climb river and canal banks, not to mention deal with currents in said waters. So to Elk Lake we went. There, we found the water so warm and inviting that I had to get in and swim, too — for all of five minutes before the cooling evening temperature brought on shivering even as I swam.
Kaloo, in the meantime, fetched sticks and treaded water like a dog half his age — and for about half as long as he would've in his prime, if that. While K-Dog wore himself out something silly, we took in the glorious sunset.
Due to the smoky conditions that evening, we didn't get that the full-sky spectacle you sometimes see in the minutes after the sun sets, but still, the rays shooting over the clouds — and the sun peeking through them just before it went to bed for the night — made for a beautiful evening jaunt to Sunset Day Use Area.
And could he speak, I'm pretty sure Kaloo would attest to that.
Life's short, and summers are shorter. Don't let yours go by without getting your dog or yourself some time at a lake, preferably one with a sunset view.
Getting there: From Bend, head west on Cascade Lakes Highway approximately 32 miles, then turn left on Forest Road 4625 for another 1.4 miles. Watch for cyclists on this popular stretch of road, and drive carefully on the 4625 road, which is gravel and had some washboards and a pothole or two when this reporter visited last week. $5 day pass or recreation pass required.