Before the pandemic, it was popular to host a wedding or kids birthday party outdoors, especially in the summer. But as the public health situation has continued, even more celebrations are moving to fresh air locations year-round. If you're overdue for a family reunion, birthday celebration, anniversary party or even a wedding, you might consider fall, winter or spring in local Bend parks to catch up on an overdue gathering.
An outdoor event is a great way to host a fall or winter get-together while being as safe as possible in the open air. Bend Park & Recreation District has 17 rentable picnic shelters for just about any occasion, so consider if it's time to bundle up and embrace the cooler season for an event. It could be a great ending to an outdoor adventure with friends or family.
Not sure how to make your event more outdoor appropriate? Here are some recommendations:
before the event
Fall is a wonderful season to be in Bend parks. Nature-watching, bird-watching and just simply observing the changing colors of trees and shrubs are great reasons to get outside and connect with nature. I suggest asking guests to join you for a walk or hike before settling into a picnic shelter reservation in order to get the blood pumping and enjoy the season fully. Several of the park shelters listed below are in parks with walking paths or trails adjacent.
Bring the heat
If it's a little chilly on the day of your reservation, bring a crock pot full of your favorite seasonal hot beverage like hot cocoa or apple cider. Many picnic shelters have electrical outlets to accommodate just such an appliance. Hoping to get toasty? You'll need to submit a certificate of insurance that meets our requirements in order to obtain the necessary alcohol permit.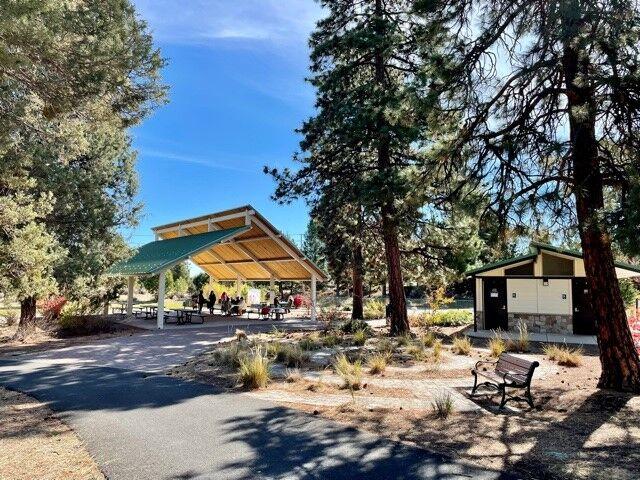 Really cold outside? Try renting a propane mushroom heater from a local rental company. Propane heaters adhere to our park rules and regulations. Please keep in mind you can't drive them up to the shelter, so be ready to wheel them in from the parking lot or from street parking.
Light the way
That electricity comes in handy for twinkle or bistro lights. If you're planning on an afternoon/evening event, hang lights inside the shelter (please don't make new holes) to keep the party going after dark. Most of our parks close at 10 p.m., which leaves plenty of time to revel once the sun goes down.
Bundle up
Use the cold weather opportunity to sport your favorite scarf, hat and gloves. You can also provide blankets for your guests and even offer them as a take-home gift. Working with a smaller budget? No problem. Make it BYOB — bring your own blanket!
Picnic shelters available for reservation include:
• Larkspur Park, 1700 Southeast Reed Market Road.
• Ponderosa Park, 225 Southeast 15th Street.
• Rockridge Park, 20885 Egypt Drive.
• Aspen Meadow at Shevlin Park, 18920 Northwest Shevlin Park Road . Note: the picnic shelter does not have electricity and closes at dusk.
Of course, park shelters are first-come, first-served unless you reserve in advance, which we definitely recommend if you want to ensure space for your memory-making event.