I kept jamming the toepiece of my cross-country ski boot into the binding, but it wouldn't click. I tried it at different angles. I pushed harder, then a little higher on the binding and a little lower. But none of it worked. 
I started getting frustrated. I'd been cross-country skiing a handful of times before and remembered simply pushing my toe down. What was I doing wrong?
My friend Erin Chipps came to my rescue, pointing out a clamp I had to pull forward to open the binding. I opened the clamp and smoothly clicked into the ski. 
We were standing just down the slope from Mt. Bachelor's Nordic Center, where you can pick up a free common corridor pass to cross-country ski or snowshoe to Todd Lake. 
According to a representative at the center, they typically give out about 150 of these passes on a busy weekend day, but will not rent skis if you're headed past the Cascade Lakes National Scenic Byway, which is outside of Mt. Bachelor's nordic trail system. The byway is closed during the winter months and used for snowmobiling. However, it is fine to rent snowshoes at the nordic center for Todd Lake. So before leaving town, I made a stop at Powder House Ski & Snowboard to rent backcountry cross-country skis, boots, and poles ($36, including $3 for insurance). 
From the Nordic Center, Chipps, our friend Jenna Sherman and I followed the common corridor, where we soon arrived at the byway (or Snowmobile Trail #5 during the winter months). Just past the corridor, we stayed to the left, making our way north to Todd Lake.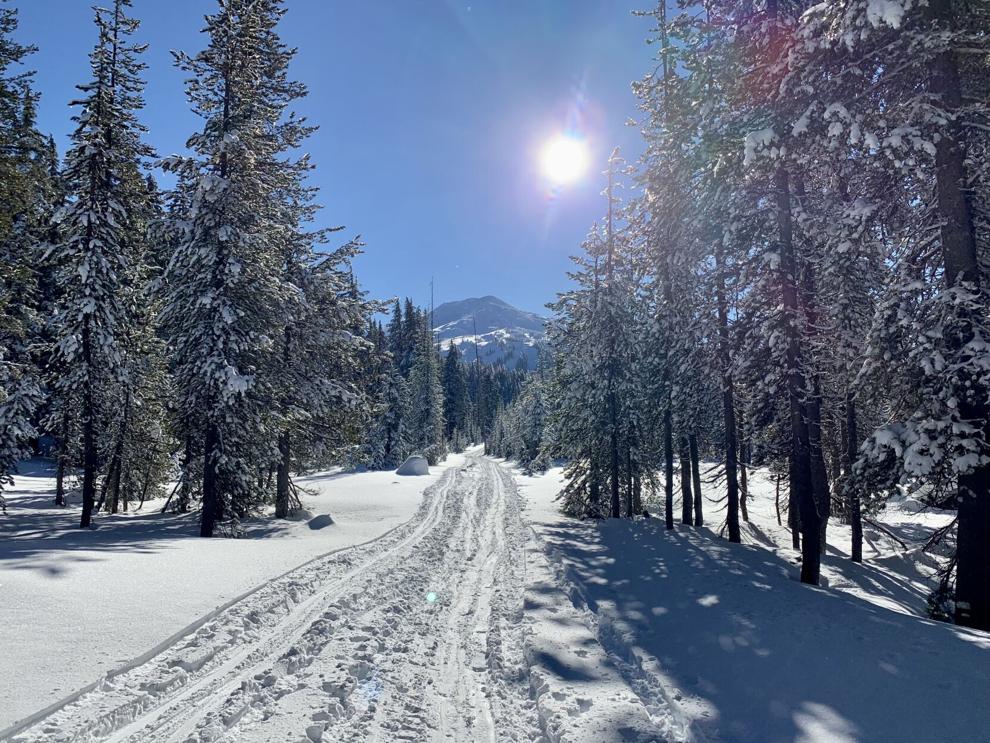 The conditions could not have been more perfect. In the mid-30s with the sun shining, the snow was just soft enough to allow our skis to slide easily. 
The conditions, however, could not help with my lack of backcountry skiing ability. With it being my first time cross-country skiing outside of machine-laid tracks, I was nervous. As we descended the slight decline on the other side of the corridor, I instinctively leaned backward and ended up on the ground. 
This happened several more times throughout the trip. Well, if I'm being brutally honest, four more times, but as we kept going, I slowly started to gain confidence and focus on keeping my weight forward and controlling my speed by turning my skis inward in an inverted v-shape, also known as snowplowing.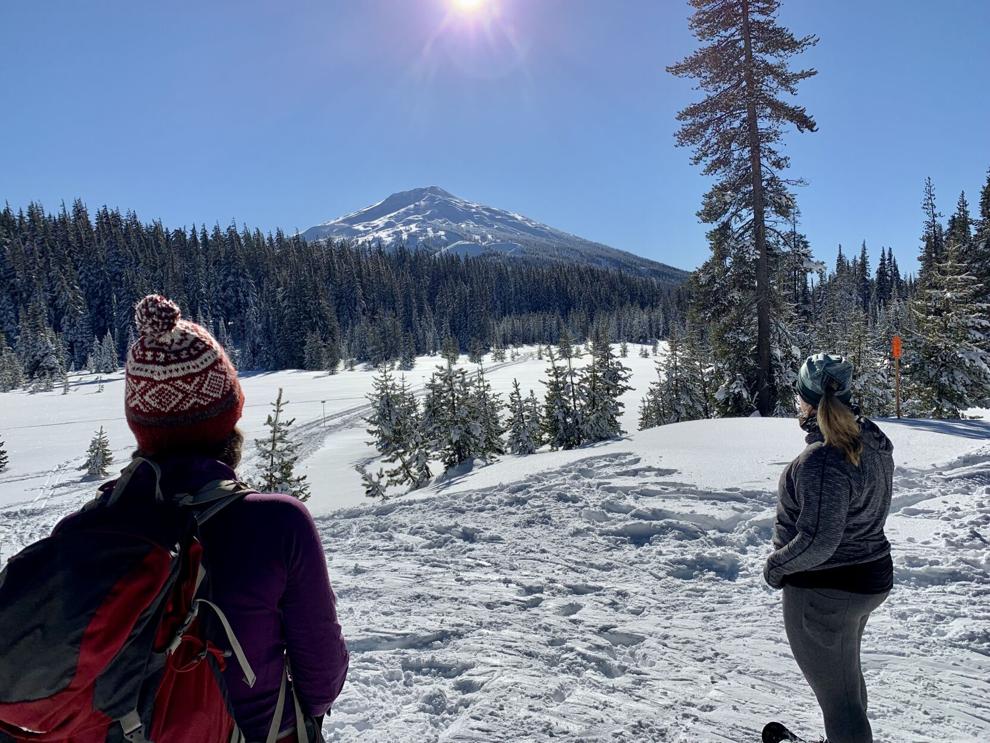 Despite my frequent falls, I could not have been happier, breathing in the fresh mountain air and traversing through the fresh-fallen snow with friends. The trail felt safe, as we never went more than 15 minutes without seeing other cross-country skiers, many of whom seemed to be struggling with balance just as much as I was. It was comforting, that while trying a new sport in an area I had never visited during the wintertime, that we were in a well-trafficked area with cell service.
Closer to the lake is a loop where you can choose to go either left or right. We followed the trail to the right, and the trail opened up for the first time to a beautiful open meadow with sparkling snow. Mt. Bachelor stood majestically behind us, and on the other side of the meadow, there was a small incline and a second snowmobile trail (Snowmobile Trail #8).
From there, it wasn't far until we reached the southernmost tip of Todd Lake. Arriving at the lake felt like a victory. Had we not had the end goal of reaching the lake, we likely would not have gone as far. But with our goal accomplished, we sat down and enjoyed lunch as several other groups did the same nearby.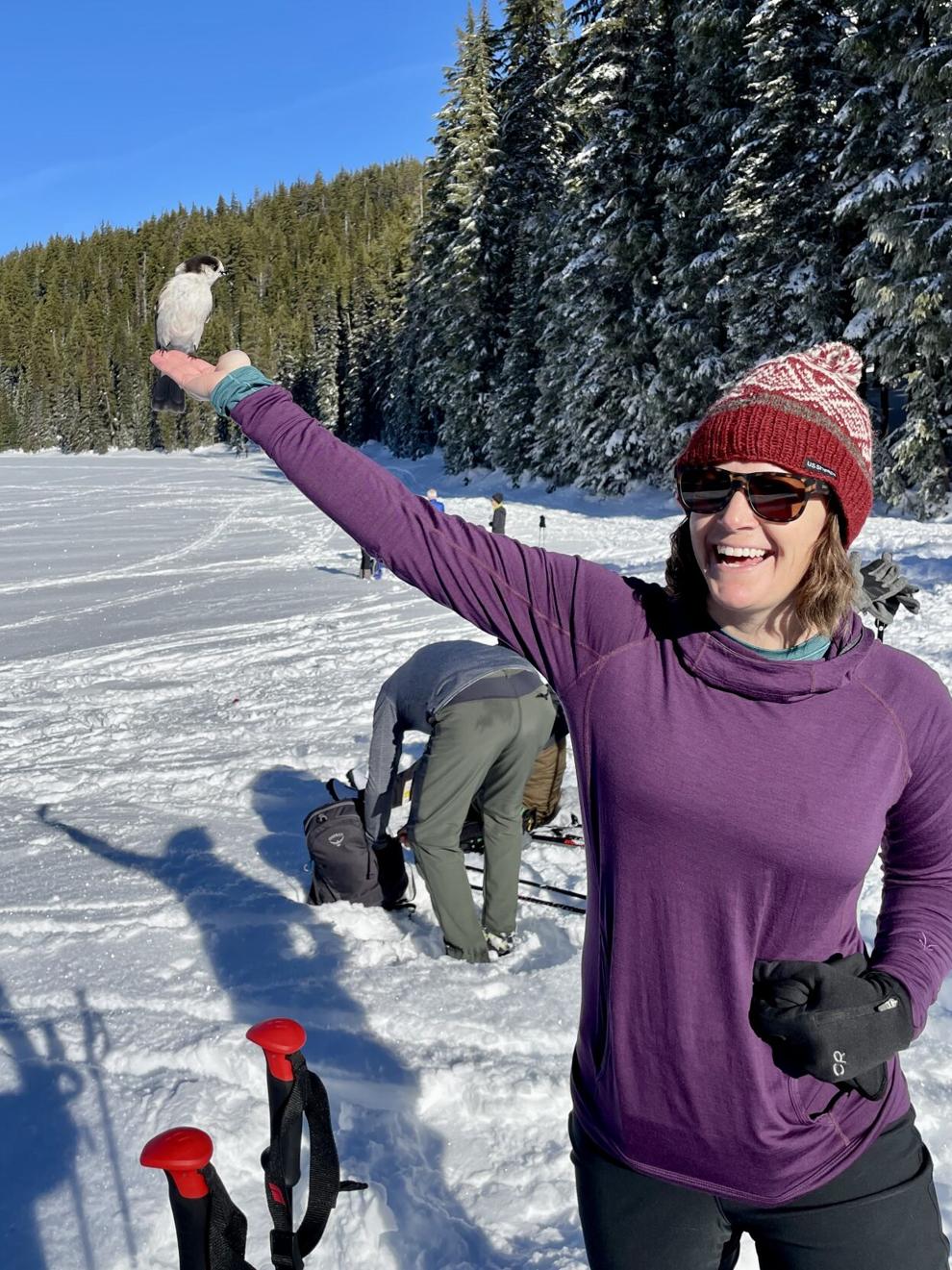 Gray jays flitted around us, landing on our poles and when Chipps held out her hand, one sat there too. It was clear the gray jays had learned it was an easy spot for a snack. As a National Parks employee, she reminded us it's always harmful to feed wildlife. 
When asked about their thoughts on the trail, Chipps said, "I loved the challenge and beauty of this un-groomed trail."
"What a fun, adventurous way to enjoy winter and see a different view of Mt. Bachelor," Sherman added.