The China Hat Road area east of Bend is chockablock with caves, two of which — Boyd and Hidden Forest — make for relatively easy hiking, accessible to anyone with a hankering for a few hours of casual spelunking.
You won't need ropes or hard hats, but you'll want to dress for cold weather, as Boyd Cave's temperature is in the low 40s. You'll also want one or more flashlights per person. Your cellphone flashlight might cut it as an emergency back-up, but headlamps are a far better way to go. And sturdy shoes, as the rocky floor is full of outcroppings, which will happen in lava tubes.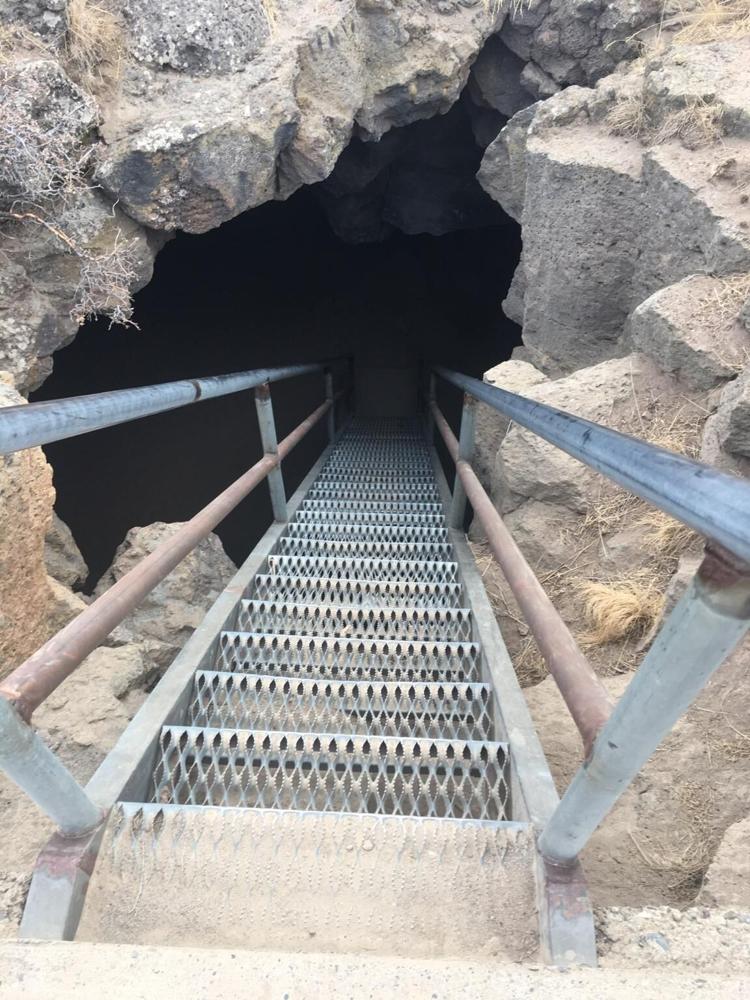 Last week, GO! Magazine music writer Brian McElhiney and I paid a visit to the two caves, making our way from my house in Southeast Bend to the intersection of Knott and China Hat Roads. From here, it's about an 8-mile drive east-southeast on China Hat to the signed left-hand turn to Boyd Cave. Be warned: Though they aren't as interesting as the rocks in the cave, the unpaved road to the small parking area is peppered with quite a few geologic features of its own.
From the lot, the fenced-off, steep staircase descends a hole in the ground that soon takes you down to the cave floor.
Some stretches of the cave are sandy like a beach. According to Scott Cook's indispensable guidebook "Bend, Overall," this sandy floor is made up of ash from the eruption of Mount Mazama that sifted through ceiling cracks. Those sections of the nearly 1,900-foot cave are brief and welcome, since the majority is fairly uneven and rocky.
Bulletin reporter Michael Kohn reported in March on the problems with vandalism and other ills of more use, which prompted Deschutes National Forest to ban skateboards, slacklines and glitter (yes, glitter!). While we didn't see much in the way of garbage, we did see dog excrement and even, yes, what appeared to be fresh urine. Not for the first time in recent weeks, I found myself asking aloud, "What is wrong with people?"
Let me stress one more time the importance of having a reliable source of light. At one point, I suggested we both turn off our headlamps. Well here was the definition of pitch-black. A sped-up heartbeat or 20 later, I'd never felt so grateful for the invention of the light bulb. And batteries — let's not forget batteries.
After a good long hike that included crawling at one point, we made our way back to the car and the short drive to Hidden Forest Cave. From the Boyd Cave turnoff onto China Hat, it's only a 2.5-mile drive farther east to Forest Road 200, on the right. The parking area is straight ahead, less than 1/4 of a mile.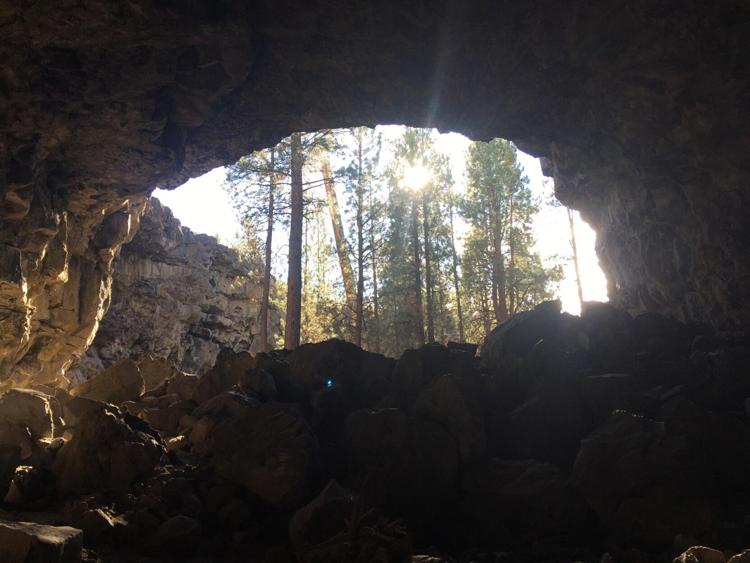 Right at the trailhead, off to the left, you'll see Arnold Ice Cave, which used to serve as Bend's source of ice before ice makers were a thing. We took a gander, but the formerly entombed-in-ice cave stairs are now completely gone, as is the ice. But this cave goes well beyond our amateur preparations, and we headed back up the trail and took an easy 1/4-mile walk to Hidden Forest Cave.
The trail gets less well-defined as you near Hidden Forest cave, and tread carefully, as you'll soon near the open pit that makes up part of the open-air portion of this collapsed lava tube. There are neighboring depressions, but they're not quite as interesting as Hidden Forest, with its stand of ponderosas growing from its floor.
Staying well away from the rim, keep heading along the trail and you'll soon come to a gentle slope leading down into the cave with its vaulted ceiling and large boulders.