Who: Artist Robin Salant divides her time between Bend and Memphis, Tennessee, where she earned her Master of Fine Arts from the Memphis College of Art and is known for her large-scale art installations. Currently living in Bend with her husband, Erik Jambor, who's the head of festival of programming at BendFilm, and their two kids, ages 2 and 7. Salant describes herself as "doing a lot of art with my kids these days." Her own recent work includes an eye-catching COVID-19-related installation in the front yard of their home at 504 NW Newport Ave., depicting two figures and the words "air hug" strung between them.
Q: I like your front-yard piece. Can you tell me a little about what sparked it and led you to make it?
A: Good question. … There's so much conflict and conversation around the handling of things socially right now, and there was a desire to have some kind of positive, nonpartisan messaging compliant with precaution. … I also love making stuff that's accessible, like anything that you can make out of what you've got in your shed or your garage or your recycling bins, so it was an environmental-impact installation.
Q: What materials did you use?
A: It's two garden stakes and clothesline and then there's monofilament fishing line and then there's caps that you get on your beer cans. We've been saving those to do something with. We have hundreds of those caps (laughs). They were destined to be something artistic at some point. I've seen them used in chain link in some really cool ways by artists before, but we don't have any chain link fence.
Q: Is it titled "Air Hug," or did you give it a name?
A: Nope, that's it. I didn't give it a name. You can call it whatever you like.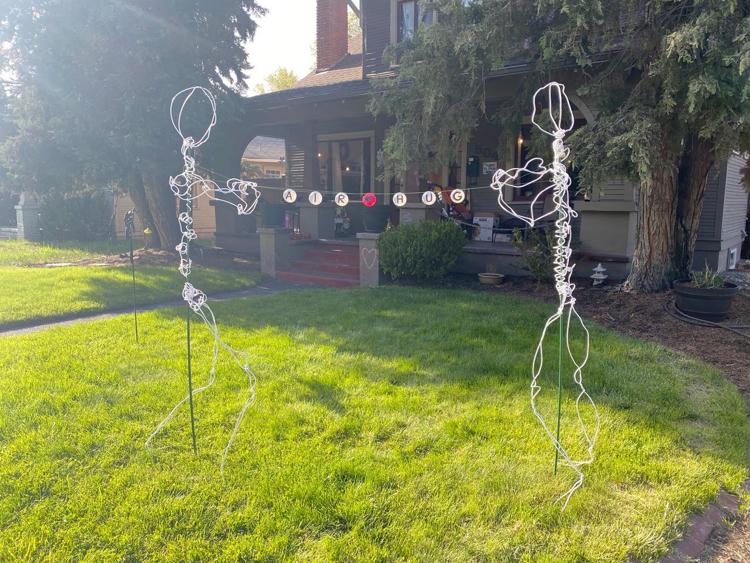 Q: Does it light up or anything?
A: It doesn't. I get several requests from people passing by if we're out there. People are like, "Can that light up?" (laughs) I would love for it to light up, yeah.
Q: If you had Christmas lights in your shed.
A: If I'd had Christmas lights, or really, EL (electroluminescent) wire is what I want to have. It's this stuff I worked with for a Burning Man installation one year. It's fantastic. It's kind of low-grade neon and it's flexible, illuminating. You see it on bicycles all the time now. People trick out their bikes. I have come close to picking up a kit at Newport Market. They sell it by the register to bait people like me into impulsive illumination.
Q: Yeah that doesn't seem like an impulse-buy kind of thing.
A: (Laughs) I guess it depends on your weekend plans.
Q: What do you hope passersby get from it?
A: I just love seeing people smile, especially if it catches them unaware. I think we all have a lot on your minds and hearts, and I don't think it's simple for most people, so anything uplifting is welcome. I do find children to be more responsive. They light up instinctively. They notice it instinctively. Adults are more likely to be on their phones and distracted, but I did have a woman pull over and roll down her window and yell that she loved it. "We drive by it every day on purpose. Thank you." … It was a super fun and impulsive way to give myself some joy, and I feel better when I look out there and I see it.
Q: Do you think it's important for artists to continue to make a statement during something like a pandemic, for the hope they can give people, or to put some beauty out in the world at a dark time?
A: I think everyone during this is leaning more heavily on art and artists more heavily than ever, whether they admit it or not. I hope they walk out of this remembering what they turned to in this crisis, filmmakers, musicians. … I think it's provided many artists with an opportunity to get work done, by consequence — artists perhaps without small children (laughs) are having by consequence more time.
— David Jasper, The Bulletin