If you're feeling anxious or uncomfortable these days — despite the gains made toward reopening Oregon — you're not alone.
In fact, Regan A.R. Gurung, Ph.D., might be more concerned if you felt no anxiety.
"It is very healthy to feel some anxiety," said Gurung, an author and the director of Oregon State University's (Corvallis) General Psychology Program. "Honestly, when you think about it, especially from an evolutionary perspective, that anxiety is a protective function: You look into a dark forest where you hear sounds. If you are wary of striding in, that's a good thing. If you stop before you go into a room with odd sounds in it, that's a good thing. This is exactly the same thing."
So while you may be ready to declare COVID-19 over and mingle with your friends and family, there are any number of people who feel nervous about the idea getting back out there, in spite of improving conditions and safety precautions.
Those people are not being unreasonable, or choosing to live in fear, as some critics of closure claim — especially considering the fact that, as Gurung said, "nothing's changed."
"Just because we consider a Phase 1, Phase 2 and Phase 3, we have to remember the virus is still out there, and all the social distancing that was done was to spread out the contagion and not eliminate it. It's wonderful news that we're opening up, but the reality is what we're really doing is changing, a priori, how we're going to interact, and then opening up," he said. "The virus is still out there. Being next to somebody without a mask is still going to increase your risk of catching it. … Don't be lulled into a false sense of security."
Though anxiety may cause you discomfort, humans in general are pretty resilient, he said. The real problem is when your anxiety gets so high you can't even perform day -to -day functions.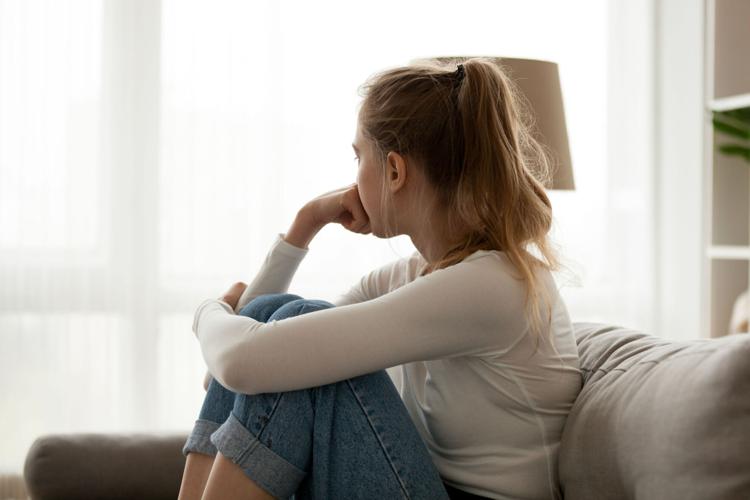 "The nice word is 'impairment,'" he said. "It can be an impairment of cleaning. It could be an impairment of sleeping. … That's when you're getting to the level where you may need external help."
If you're feeling a reasonable amount of anxiety and want to get back out among the living, be prepared with a Plan B — which could mean simply walking away, Gurung said, bringing up a student who shared her anxiety about going to a restaurant during the pandemic.
"She said, 'You know, things are opening up here. … I went to the restaurant, I got there and I just couldn't do it. I just couldn't do it, and I left.' That's a very key thing to keep in your back pocket. Whether it's going to a grocery store, whether it's going to a restaurant, whether it's going to a post office, be very sensitive to your own level of comfort," he said.
"If you go to a restaurant and you step into the door and it's just too high, gently walk out and try again some other time because, psychologically, the more we try things like that, we eventually habituate to it. The first time might be tough. So don't push it because I'm not exactly sure if eating an entire meal with a high sense of dread is worth it."
Ryan Reese, an assistant professor in OSU-Cascades' Counseling Program, concurs. He, too, knows people, including clients he counsels in his practice, who are feeling nervous about the reopening.
"It's like, 'Whoa, things seem to be opening too quickly,' and 'Whoa, we just had this spike,'" Reese said.
"I would encourage folks to safely test the waters, and maybe doing that outdoors," he said, citing some of the benefits of sunshine and exercise on one's health and sense of well-being. Connecting with nature, even gazing at landscapes, engages a physiological calming response in the body.
"So if a person is feeling stressed or amped up, if they actually spent time outdoors — it's rather focused time; this wouldn't be time when you're looking at your Facebook or Instagram — but really allowing yourself to immerse in an environment," he said. "If there's a favorite trail that folks like to go, and they're concerned about doing that, just remember that, hey, the transmission of this outdoors looks really different than when you're sitting next to somebody for an hour indoors."
It may be helpful to familiarize oneself with reopening guidelines and the science about how COVID-19 transmits — and doing so without tipping over into obsession.
"Something I really see with some of the clients I actually work with, where anxiety is present (and) there's almost this obsession of 'I'm going to lock myself away,'" he said, clarifying that these are not agoraphobic people, but rather folks with high levels of anxiety.
"I think that's one thing that you can control, your obsession," Reese said. "I would encourage folks not to obsess over it."
Checking in with one's own thinking processes can be difficult, especially during times of stress. Mindfulness practice is something he encourages a lot of his clients to engage in, and there are a number of free mindfulness apps available, he said. "That can help people better position themselves to be able to engage in effective thinking."
People who are experiencing persistent stress, depression, isolation or anxiety that gets in the way of work or relationships should reach out for help, Reese said.
"Even if it's just talking with a family member that they feel safe with to say, 'Hey, I'm really struggling right now,' or I would recommend really strongly connecting with a mental health professional."