A national coin shortage during the coronavirus pandemic led Main Street Market in Warrenton to get creative.
Limited by the bank to one roll of each coin a day in late June, the market asked the community in a Facebook post to bring in extra coins in exchange for cash.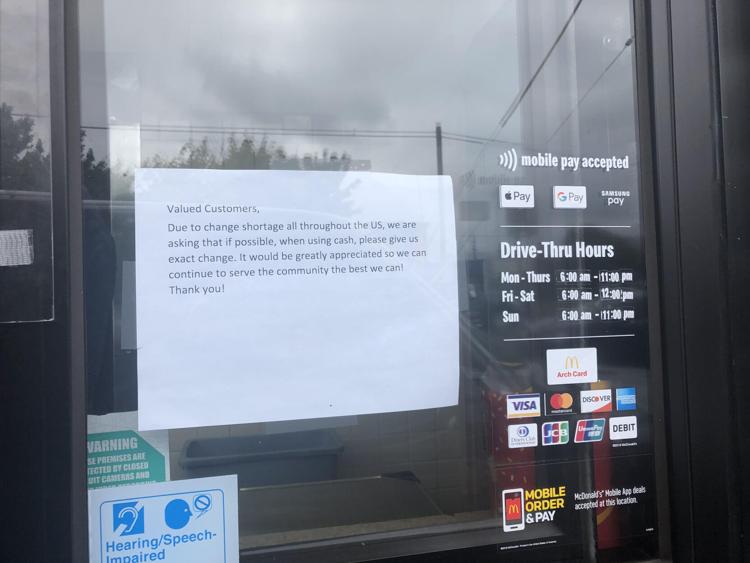 "The next day we had tons of people coming in and saying that, because we've helped them so much, they wanted to help us," said Kailee Kobe, the store manager.
Other businesses on the North Coast — like McDonald's in Astoria — have posted signs asking customers to pay with exact change.
Safeway in Astoria has not had incoming coins for three weeks. To help with coin circulation, the store has been using the Coinstar machine to recycle coins.
The Federal Reserve said business and bank closures during the pandemic have disrupted the supply chain and normal circulation of coins.
An increase in online shopping and the use of electronic payments to avoid handling cash have helped slow the flow of pennies, nickels, dimes and quarters to brick-and-mortar businesses.
According to the Oregon Bankers Association, recirculated coins represent more than 80% of the supply.
In early July, the Federal Reserve established the U.S. Coin Task Force, a group of industry leaders representing major participants in the coin supply chain. The goal of the task force is to reduce the consequences and duration of pandemic-related disruptions to coin circulation.
The task force aims to have the first set of recommendations by the end of July.
Coin circulation has improved as states reopen from virus restrictions, but the Federal Reserve said "the coin inventory issues will resolve once the economy opens more broadly and the coin supply chain returns to normal circulation patterns."
The Oregon Bankers Association is encouraging consumers to deposit spare change at their local banks or coin-cashing machines to help banks meet demand.
"There is adequate coin in the economy," Linda Navarro, the president and CEO of the bankers association, said in a statement. "However, the slowed pace of circulation means that a sufficient amount of coin is not readily available where needed.
"We need to jump-start recirculation of coins."